The first live photos of the Renault folk electric crossover are shown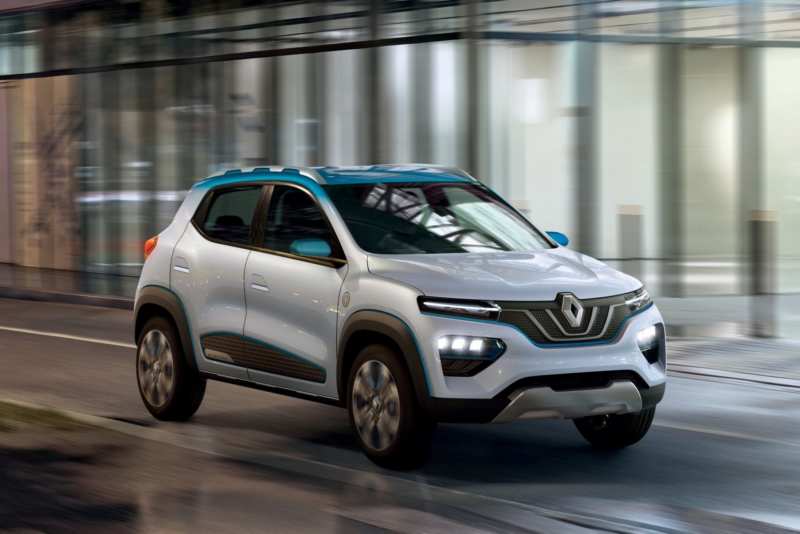 During the Paris Motor Show, Renault showed a conceptual model called K-ZE. The new model is a prototype of a budget electric car, which will be sold in 2019. The entire Renaud model range.
The novelty looks like a futuristic model "pseudoSUV" Renault Kwid. Most likely, the car is placed on the same "cart", as the French are still silent about the used platform. But at the same time the manufacturer with pleasure named the range: 250 kilometers according to NEDC.
It turns out that in reality the vehicle is able to travel about 150-200 kilometers. But most likely the serial version of the new electric Renault K-ZE vehicle will be equipped with a much greater range. If this does not happen, it will be very difficult for the new truck to compete with competitors, who can already drive about 300 kilometers without recharging (real conditions are taken into account).
At least, if the price list for a car will be within the range of 10-15 thousand dollars or lower, then such a battery will be enough, compared with competitors and their prices for their products. Renault's new electric car is equipped with a new infotainment system that provides access to connected services, navigation, rear camera and so on.
According to the French, first the future crossover with electric motor will be sold in the Chinese market, and only then will it "come" to European countries (by 2021). Interestingly, the company Renault admitted that the electric car will have an affordable price tag.
In addition, the French are planning to sell their environmentally friendly B- and C-segment vehicles on the Chinese market: for example, the hybrid versions "Kapture" and "Megan".
Similar news