Introduced the most powerful Toyota Camry in 2018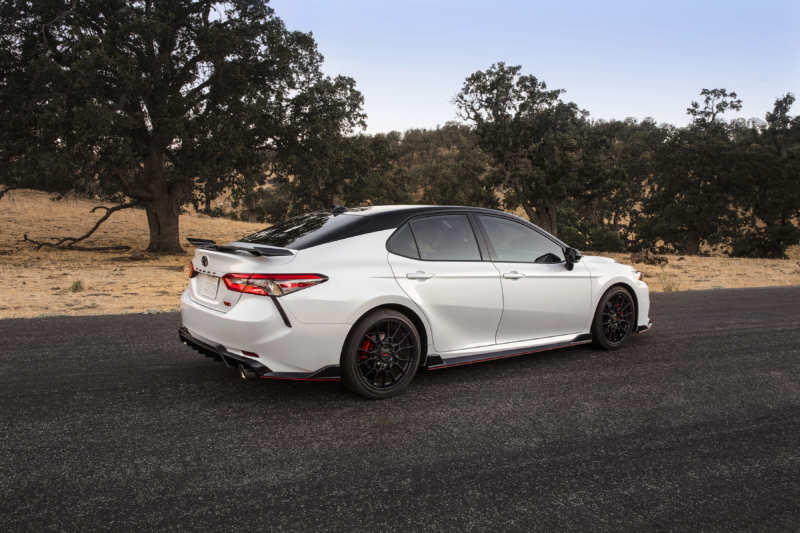 In almost all ratings of sedans the first places go to Toyota Camry. It is a convenient, maneuverable car, which is in unprecedented demand all over the world. The Japanese are not going to stop at what has been achieved and regularly improve their car.
For example, the presentation of Toyota Camry TRD is planned for November 2018. This is a sports modification with a radically new dodger. The updated Toyota Camry 3.5 V6 has aggressive bumpers, amazing exhaust pipes. And the boot lid is decorated with a sharp spoiler. The whole Toyota model range.
The roof of Toyota Camry 3.5 was painted black. The interior is also finished in red and black tones. The headrests of the armchairs are decorated with TRD logos. In this modification the Japanese sedan will be equipped with a 3.5-liter V6 engine with a power of 300 horsepower. However, the company does not disclose all the characteristics of the car yet.
What is TRD?
The combination of TRD in the name of Toyota Camry 2018 shows serious improvements of the car. We would like to remind you that for the U.S. market, the Japanese offer a line of cars with the revision of Racing Development. We are talking about pickups and SUVs. Among the cars that have joined the TRD line are Tundra, 4Runner, Tacoma. They can be equipped with aluminum protection, lightweight wheels, suspension in an elevator set.
In our country Racing Development received only one car – Toyota Fortuner. The SUV differs from its brothers by updated bumpers and emblems. On additional technical improvements does not inform.
Read more about the modified Camry V6
Japanese car concern presented at once 2 cars with tuning TRD: Avalon, Camry. Both sedans received a chic aerodynamic dodger. Also Toyota Camry V6 has unique technical characteristics reduced to flexible suspension settings, exclusive finishing. The model is offered with a dodger that was developed by Calty design studio.
You can easily distinguish the Camry TRD with the V6 motor version from the other modifications by the brake calipers of bright red color, 19-inch wheel rims, radiator grille painted in black glossy color.
What else do you remember about this car? It has shortened springs, upgraded stabilizers and shock absorbers, double piston calipers. V6 engine and eight-band automatic transmission Toyota Camry 3.5 perfectly get along with each other. In salon there is both a sports mode, and set of wheel paddles.
The exact cost and detailed characteristics of the novelty will be known at the end of November, when the official premiere of Toyota Camry TRD will take place in Los Angeles.
Similar news