KAMAZ-5308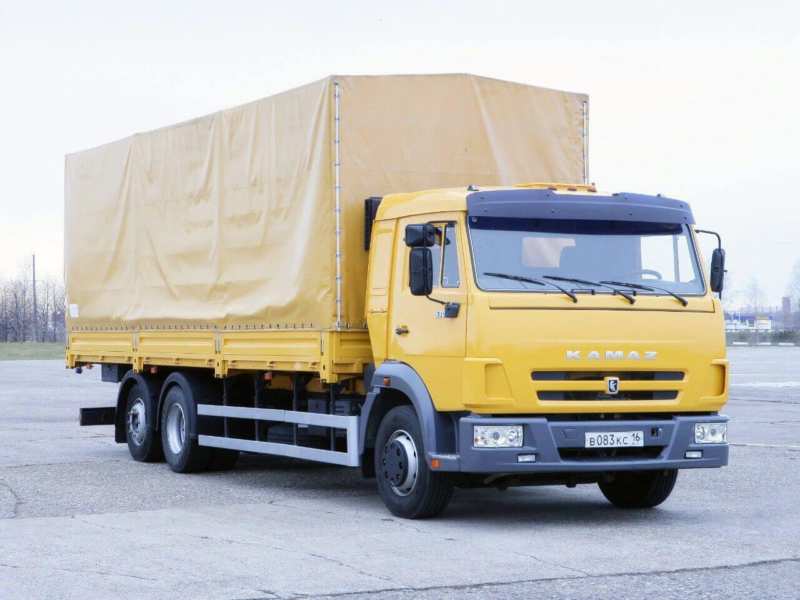 The car of the Kamsky Automobile Plant under the mark 5308 should be classified as a light class car. The similar car is applied to trips between cities and for suburbs, and, it is possible to transport various types of cargoes. The vehicle can withstand axle loads of up to 10 tons. KamAZ itself can be used with a total weight of 14 tons. The whole model range is KAMAZ.
The model can even withstand slightly higher overloads, so it is also used to transport massive batches of goods. The machine has a rear air suspension. The machine's distinctive design feature is its low-frame chassis, which has a loading height of 0.91 m. This figure was increased by the introduction of 19.5 inch diameter low-profile tyres and by reducing the height of the frame profile and non-standard suspension device.
With the help of the loading board and the low loading height of the frame, it was possible to reduce the duration of loading and unloading operations. This is an indication of the increased efficiency of the truck. Also as an auxiliary function of the KAMAZ body can be equipped with a tent. This article will describe the technical characteristics of the truck.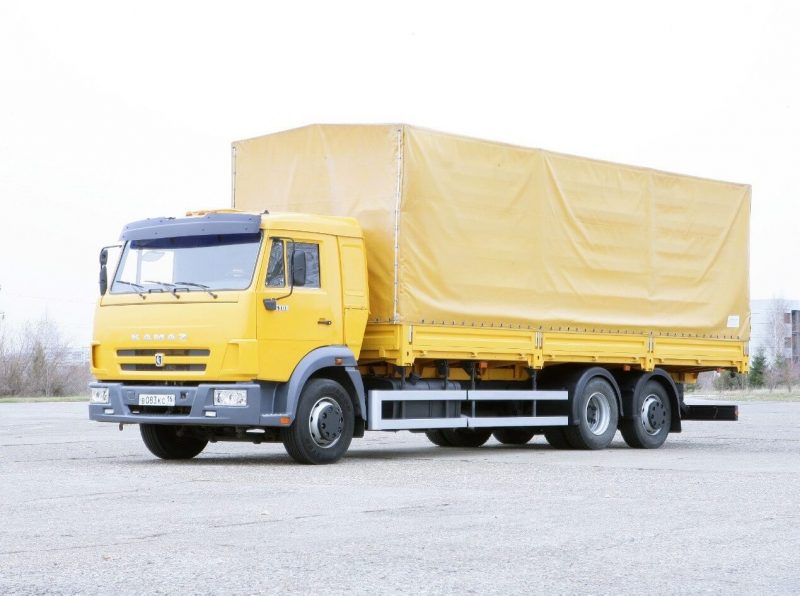 Looks
A small KAMAZ-5308, or as it is also called, "Kamazenok", can already be found quite often on the road. The power unit here was supplied with English assembly, German gearbox, and the rear axle is Chinese. There is another tank near the fuel tank, where there is a solution of urea, which is injected into the neutralizer. Comparing a small truck with his younger brother – the model 4308, 5308 began to lift the load by exactly 2,000 kg, and its length increased by 2 meters.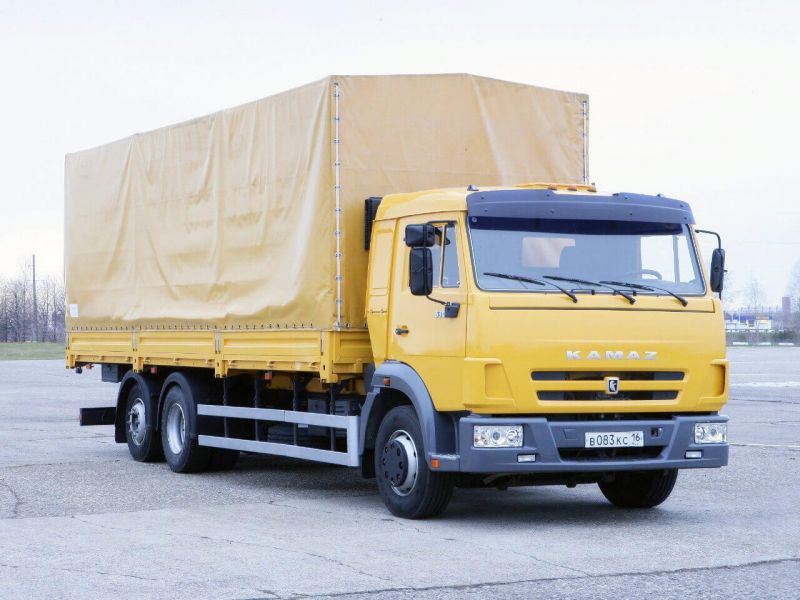 But the car turned out to be only for asphalt, because, for example, from the silencer to the roadway about 20 cm. Therefore, it is not recommended to drive off the asphalt to the country road. Even if we take the younger model, 4308, it has the minimum ground clearance of 35 centimeters (silencer). However, this is a side effect for a huge body, the volume of which is equal to 41.5 cubic meters. If you still connect the trailer, you can transport about 113 cubic meters of cargo. Even truckers will be able to envy.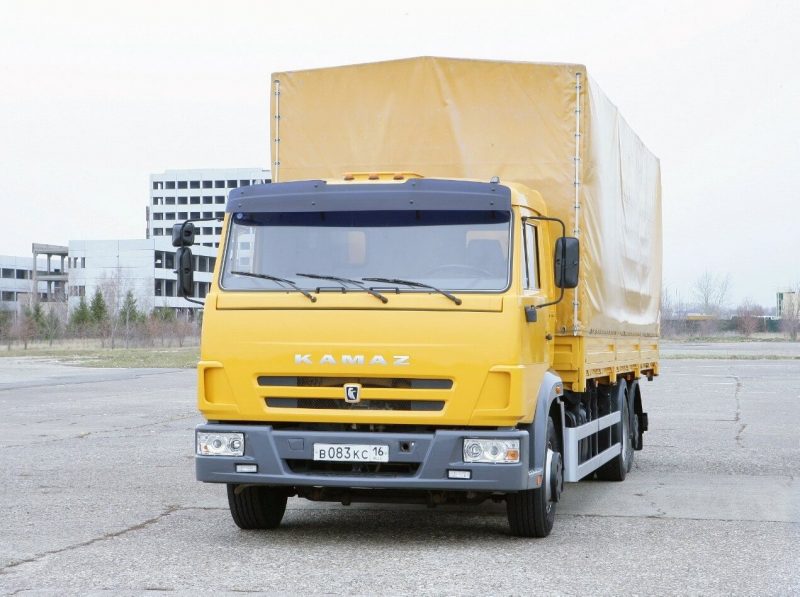 Automobile feels great in the city traffic, thanks to its small size components.
The truck itself, thanks to its small size, is quite maneuverable. It is not so difficult to drive in small and narrow areas, as well as it feels comfortable with a dense flow of cars. The cabin looks modern, and its restyling version turned out to be a pleasant one, which sometimes seems like a foreign car in front of you.
Cabin saloon
I want to start with a new dashboard in the improved cabin. The panel has a solid, pleasant to the sense of plastic material, which looks good enough. There is a stylish curvature in the central console area. While driving, the elements of the front panel design do not clatter and do not squeak, which is very pleasing. It is very important that when finishing the interior everything was done not only neatly, but even the finishing was able to fully hide the metal elements.
Speaking of armchairs, they are not even suitable for comparison with those that used to be placed on trucks of the Kama Automobile Plant. The new seats are sprung with comfortable adjustment devices, with well profiled high backrests of the seats, everything like in the European model! After comfortable seats, a real department for rest with a wide sleeping shelf has found its place. But the car is designed for a road of up to 1,000 kilometers, based on this, the driver will often need to stay overnight during the road.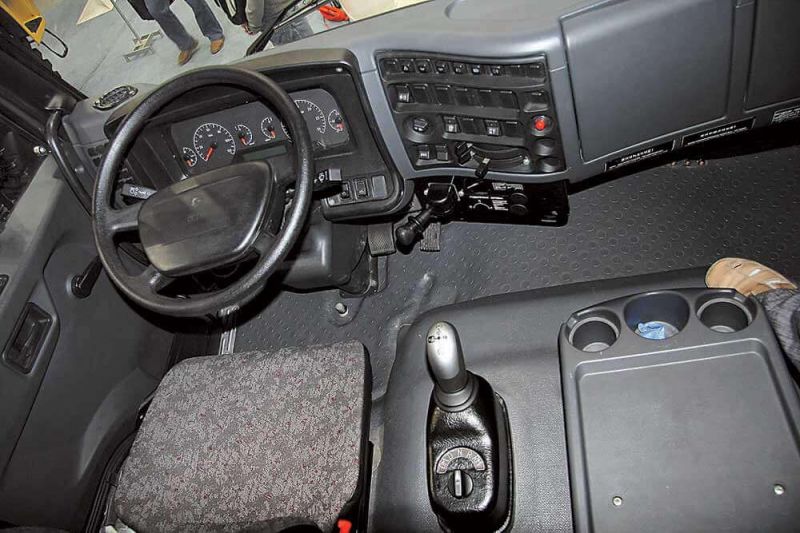 In the new KAMAZ-5308 there are comfortable seats and higher quality interior materials.
I was pleasantly surprised by the fact that the steering column was adjusted not only in tilt, but also in outreach, so it turns out that any chauffeur with any height can sit comfortably behind the steering wheel. The handbrake lever was placed conveniently on the right and below the steering wheel.
Dead zones in front and on the side of the machine were chosen by mounting some auxiliary mirrors of external visibility. The cabin itself is double, metal and is located above the power unit. Thanks to the low position of the cab, a comfortable fit and disembarkation is ensured.
However, as is often the case, there is only one obvious disadvantage – a relatively small glazing area according to current criteria. At the moment, those who carried out the renovation were seriously limited by the size of the cabin, which was purchased during the design of the first generation of KAMAZ vehicles.
This shortcoming will be eliminated when the KAMAZ will start to install a completely different cabin. To confess, this model can not be said that the inside of the car is crowded. There is enough free space above the head and doors openings in order not to feel difficulties when landing and disembarking. When you sit behind the steering wheel, you feel quite free, nothing crowns you.
Specifications
Powertrain
The Kamskiy Automobile Plant's car for the model 5308 was equipped with 3 variations of in-line 6-cylinder diesel-powered engines (CUMMINS 6 ISBe 245 and 6ISBe 285 with the support of environmental standards Euro-3, 6ISBe 300, which meets Euro-4). The engines received a working volume of 6.7 liters, turbocharged and cooled by inflatable air.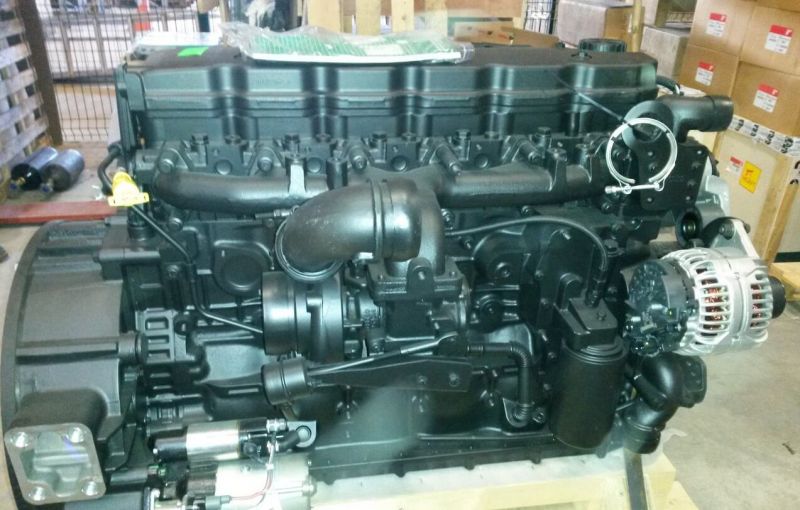 It produces three units of 245, 285 and 300 horsepower, and a torque limit of 850, 950 and 1,100 Nm respectively. The car consumes about 28 litres of diesel fuel per 100 kilometres of road at a speed of 60 km/h. The machine's power unit is equipped with an additional clutch, which switches off the fan.
It guarantees a reduction in fuel consumption and provides the necessary thermal conditions. In order to reduce the penetration of dust into the part, the power supply system has an air filter. The fuel tank has a capacity of 350 litres and will last a long time without refueling.
Transmission
If the power unit was installed of American production, the transmission is represented by a German mechanical 6-speed gearbox ZF 6S1000. Top-of-the-range equipment comes with a 9-speed gearbox ZF 9S1310. Such a part has a telescopic-mechanical drive and a diaphragm dry friction single disc clutch brand FS MF-430, or MF-395. The drive has hydraulic control and has a pneumatic amplifier.
Suspension
Ahead it was installed on parabolic leaf springs, which are characterized by low internal friction. There were also supplied stabilizers of transverse stability together with hydraulic shock absorbers.
The suspension is successful enough to swallow pits and unevenness on the road.
On machines with 4×2 wheelbase, a 2-cylinder air suspension is installed behind the machine, where there is a transverse stability stabilizer. Trucks with a 6×2 wheel platform have a 4-cylinder air suspension at the rear. The front axle has an all-forged I-beam. Low-profile wheels and tubeless tyres help to reduce the loading height of the compact truck.
Roller control
It was able to prove itself well. Not every domestic car will be able to boast such a balanced response to the steering wheel turns and a small effort applied to it. Moreover, the steering wheel almost does not get hit by the front suspension in case of road bumps. The steering system is equipped with an integrated hydraulic power steering system, which facilitates cornering.
Brake system
It has a pneumatic 2-circuit system with ABS support. The brake device has a disk device of the leading axle on which there is a pair of floating pads. A front braking device has a similar device. Do not forget about the installation of parking brake, which works on the pneumatic drive. It was decided to install disc brakes on all wheels.
Specifications
Vehicle type
Bort car
Wheel formula
4×2
Weight parameters and loads
Gross train weight, kg
28000
Gross vehicle weight, kg
15000
Carry weight, kg
7200
Lifting capacity, kg
7800
Permissible front axle load, kg
5000
Rear cart load capacity, kg
10000
Dimensional dimensions
Length, mm
9670
High, mm
2550
Maxis distance, mm
2635
Forward overhang, mm
5600
Rear overhang, mm
1270
Bus size
2800
Bus size
285/70 R19.5
Platform
Body type
Bort platform
Platform volume, m3
13.3
Platform dimensions, mm
7200x2470x750
Tent, frame
Es
Cabine
Cab type
Restling
Sleep
1
Engine
Ecological standard
Euro-5
Motor model
Cummins ISBe6,7 E5
Powerfulness of l. s.
300
Fuel equipment
TNVD CR/CP3S3/L110
Tank volume, l
350
Transmission
TCP model
ZF 9
Coupling model
ZF9&SACHS/MFZ 395
Pendant
Pneumatic
Maxial differential lock
No
Mezhkolodnaya lock
Es
Transfer ratio of main transmission
3,91
Other parameters
Track type
Hinge pin
Price and equipment
The price of the compact truck KAMAZ 5308 starts with a mark of 2 400 000 rub. It is possible to buy, if necessary, a used version, for example, models of 2011-2012 will cost about 1 600 000 – 1 800 000 rub. It is also possible to rent a car in the car market, which is quite popular today. For one hour it will be necessary to give about 900 rubles.
The KAMAZ-5308 Automobile Plant manufactures various modifications of the KAMAZ-5308 subdivision vehicles, among which there are 6×2 and 4×2 vans, 6×2 and 4×2 car chassis, which is intended for the introduction of specialized superstructures of various types (including road, construction and utility companies), with a wheelbase of 6×2 and 4×2, as well as flatbed tractors with a wheelbase of 6×2 and 4×2.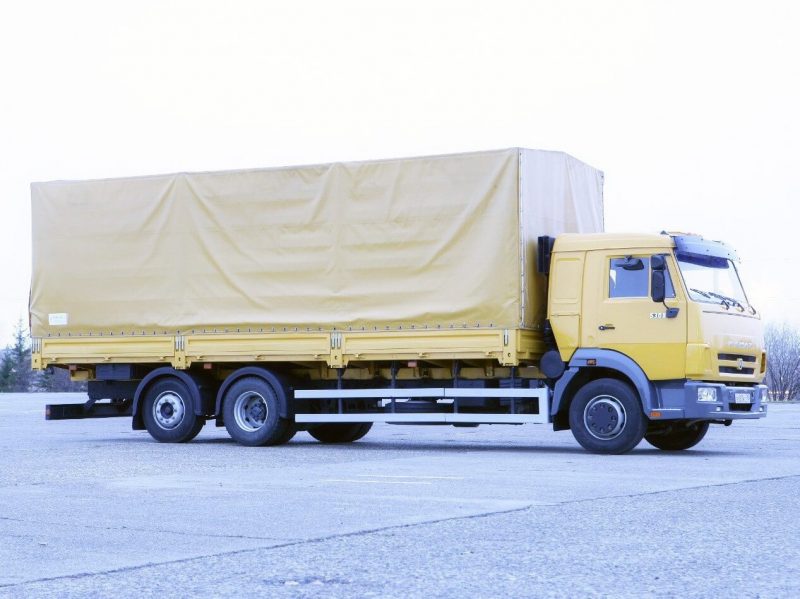 Pluses and minuses
Pluses cars
New, upgraded cabin;
Good load capacity at low loading heights;
Ability to install various superstructures and specialized equipment on the chassis;
Incost prices for car spare parts;
Not a bad powertrain that meets European environmental standards;
Small dimensions;
Improved cabin ergonomics;
Availability of comfortable seats;
The quality of the parts used in the interior decoration has increased;
Improved payload compared to the previous model;
Opportunity to transport cargo with a trailer;
German gearbox;
Powerful power units;
Large volume of bodywork for cargo transportation.
Cons of a car
Uncomfortable clutch pedal position, foot simply has nowhere to put after the clutch has been released;
The truck is not designed for off-road use;
Still high fuel consumption;
The price is a little high;
Interior is still far from foreign options;
Low ground clearance height.
We sum up
It's nice that the Kama Automobile Plant not only thinks about off-road coarse trucks, but also produces medium-duty trucks, which are perfect for urban conditions, as well as for small and medium businesses. The appearance of KamAZ-5308 has become much better, the cabin looks more modern.
Inside, the quality of materials used in the interior of the cabin has increased significantly, now there are no uncovered metal elements. The designers have worked hard to ensure the proper level of comfort for the driver and passenger, having equipped the cabin with comfortable seats, and the driver's cabin is sprung. Both seats have comfortable adjustment mechanisms and well profiled backrests.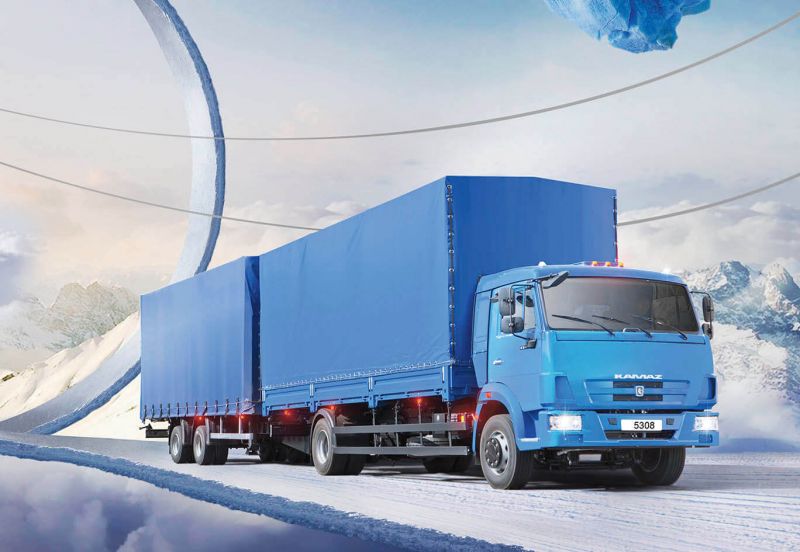 The technical component of Kamaz is at a high level, there are American power units that meet European environmental standards, and a German gearbox. However, it is not recommended to drive on the off-road and rough terrain, the car is not designed for such roads, and the height of the ground clearance itself is quite low. Interestingly, it is possible to additionally connect the trailer and transport large loads.
As for a compact truck, it is very good, even not bad. But the European models are still far away, but the car company KAMAZ is on the right path of development. Its efforts show that they are striving to be competitive and are constantly developing in this area. And, in general, the Internet reviews of the owners of this car are positive.
We advise you to read the article: KAMAZ – cars of the era
KAMAZ-5308 photo
Video overview
Similar news