KamAZ-5490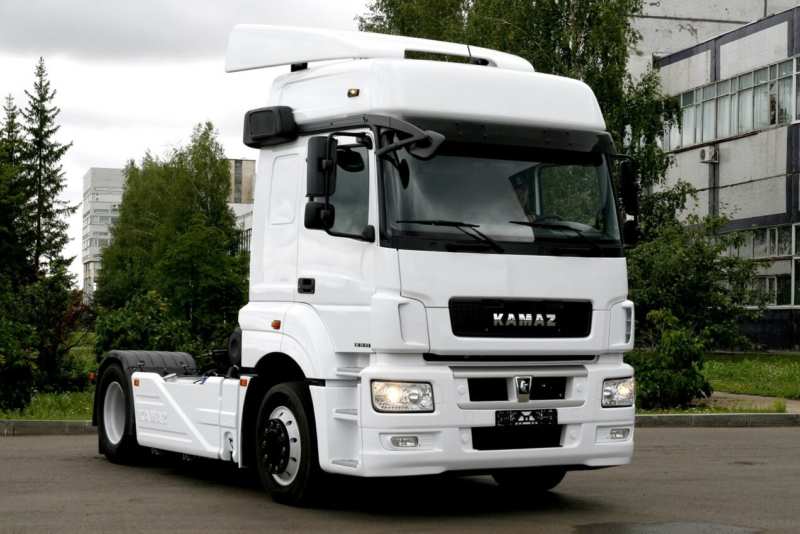 The new KAMAZ-5490 is a modern truck tractor with a cab with a keen comfort, a German-made engine and increased payload. The cabin was made of solid metal and has an attractive appearance, high-quality four-point air suspension, aerodynamic dodger and electric tilting drive.
The interior of the car was improved, it included: a high roof and a couple of beds, with which the machine can be used for freight traffic on an interregional and international level. In this article it will be possible to know the technical characteristics of the vehicle, to see the test drive of KAMAZ 5490. The catalogue of basic equipment will also be listed. The whole model range is KAMAZ.
Car history
Many people consider the KAMAZ 5490 truck tractor to be a flagship truck, which won the annual contest "The Best Commercial Vehicle of the Year in Russia". It was also awarded the honorary title "Perspective of the Year". The leadership of Tatarstan called it a diamond. They created a model in order to replace the previous variation of the family 5460. Therefore, the new truck could become a real technological find in the field of domestic trucks.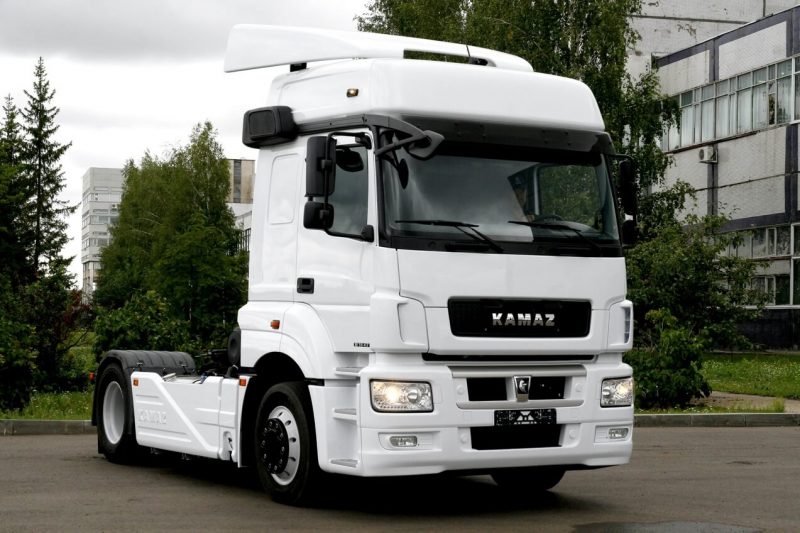 The novelty was presented at the ComTrans-2011 exhibition. The development was carried out by KAMAZ, Russia's largest manufacturer, and Daimler Trucks. Back in 2007, an international tender was held for the design of a new cab for the next generation of trucks. The winner is the South Korean production company DMEC, which is a subsidiary of KIA Motors Group.
The latter was able to develop a power unit and a bridge, and specialists from the Russian Federation were able to design a new cabin. The design required about 40 000 000 $. The management of the Kama Automobile Plant plans to occupy about 1⁄4 part of the Russian automotive market among the mainline tractors. In the meantime, their share is just over 5 percent. The renewal allowed to get rid of many mistakes. If specialists found a malfunction, it was immediately corrected.
Looks
Initially, as stated, it was planned that the design staff from Russia would make a cabin, and professionals from Germany (Daimler Trucks) were engaged in the design of the bridge and the powertrain. As a basis we took the Mercedes Axor cab, which was subject to some updating, thanks to which headlights together with turntables looked a little different.
But it would be wrong to say that the Kamskie experts stole another idea, because it is a fundamentally new development of their company, in which, as mentioned above, 40 million dollars were invested. The Russian employees managed to bring the idea to a logical conclusion and produce a cabin in agreement with the new chassis.
The modified cabin has a stylish design solution, as well as it is quite streamlined, which for obvious reasons has improved the aerodynamic component of the Swedish truck. It would not be superfluous to mention that the appearance of the Russian car has changed more than once in recent years. The engineering staff was able to eliminate a considerable number of drawbacks in the design component of the new machine.
If a little bit earlier assemblies looked like "European" models of the early 2000s, now the machine can be called as one of the most technologically advanced in Europe. Designers decided to give up completely obsolete square headlights and rectangular body forms. The car has undergone many changes in appearance. For example, the headlights began to have a round shape, and turn signals were placed separately.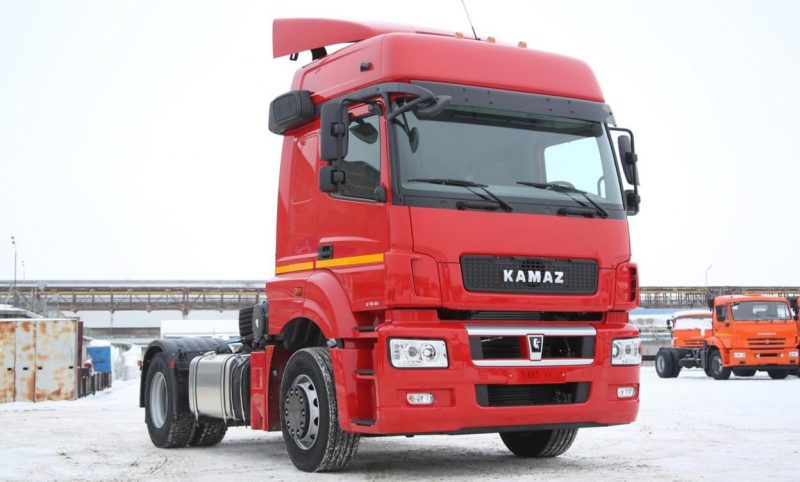 From a practical point of view, the engineers made the right decision, because during the deformation of one element of the optics there will be no need to replace the entire headlamp. Speaking in general, the new truck tractor line has become more modern. At least take its design – the developers were able to remove all the defects. It would not be superfluous to mention that the front end of the truck is quite similar to the Italian "Iveco Stralis", which was produced in 2014.
Cabin saloon
Truck tractor with the index 5490 turned out to be almost a debut machine, which received a couple of cabin variations at once. The first one was made and developed by Koreans from DMEC. But they produce it in small batches. The main cabin is a German version, which is based on a fundamentally redesigned and modified cab of the Axor truck from Mercedes.
However, this does not mean that the Russian model of the cabin is not unique. On the eye, it has not so much resemblance to the image from Germany, but the real Kamaz elements are noticed here at once. To confess, only in appearance, and getting into the cabin, it is noticeable that this is a fundamentally different and new car, atypical for the Kama plant in terms of neither ergonomics, cabin, layout, nor even the level of comfort provided to the driver and passenger.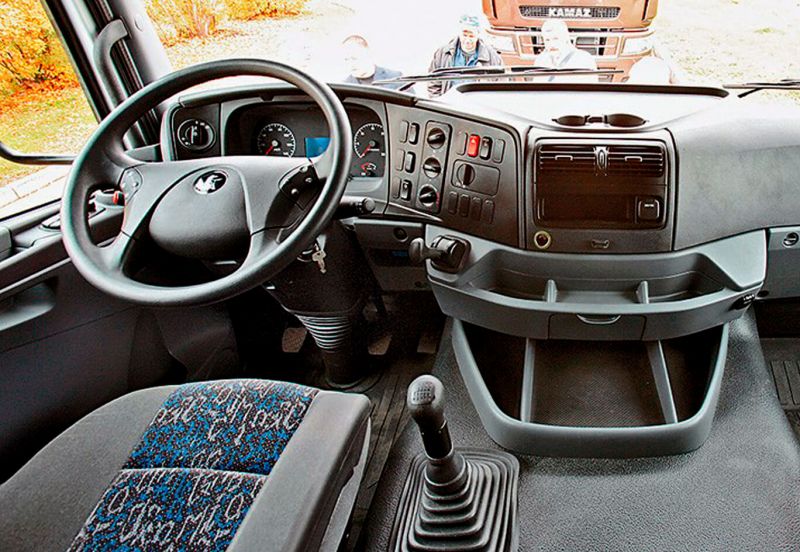 It is enough to look at the interior of KamAZ-5490 even quickly to understand what the German specialists actually did – their focus on the comfort of the driver is difficult to confuse with anything. The cabin itself is more spacious. It reaches a height of 1.91 meters and gives the driver the opportunity to stand up and straighten at full height. Armchairs were installed by Grammer and Isringhausen, which are comfortable enough and have a damping suspension with all the necessary settings. The steering column is also adjustable to different positions.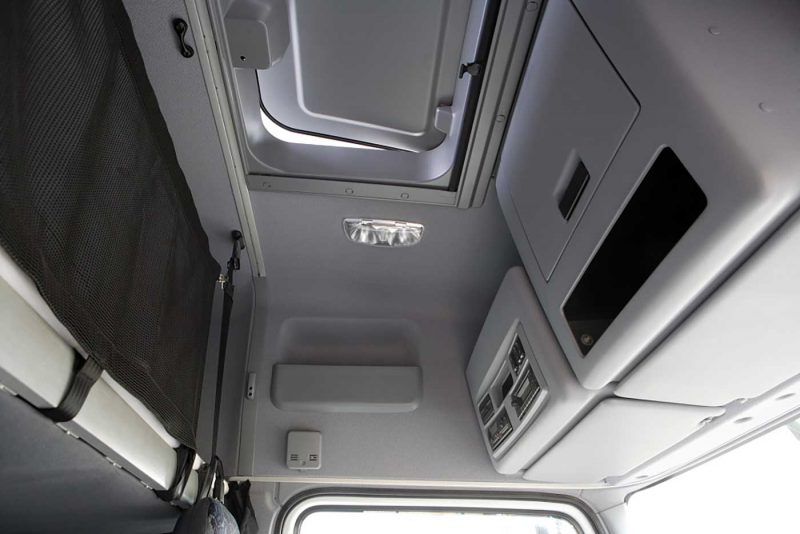 Moreover, the car is equipped with cruise control, as well as power windows and air conditioning. And this is not a top-of-the-range equipment, but a standard one. KAMAZ fans did not even dream of such a thing before, and today the most necessary thing is present in the salon of model 5490.
The pleasant moments did not end there, in the salon of Kamaz – it was decided to install a couple of bunks inside the mainline tractor. Even though they are small (having a 2-meter length, their width is only 68.5 and 70 cm), they provide an opportunity for both drivers to rest at once while parking.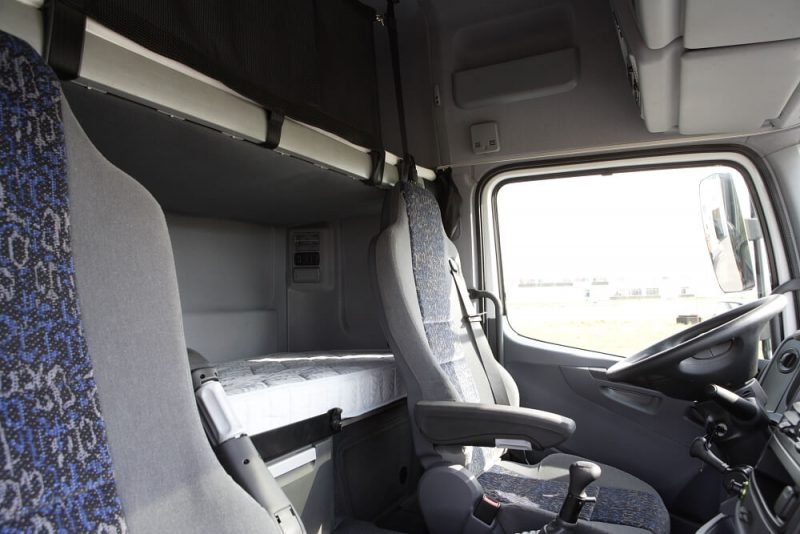 There are plenty of compartments for all kinds of driver's belongings. But special attention should be paid to the front panel, which is optimally composed to provide easy access to the necessary controls. The steering wheel has a pair of buttons.
It was nice to install armrests, which is very useful, given that travel can be very long. You can find a couple of cup holders, a gearbox handle and a handbrake lever near you. The dashboard has an anti-reflective coating. The basic equipment has independent heating and audio system.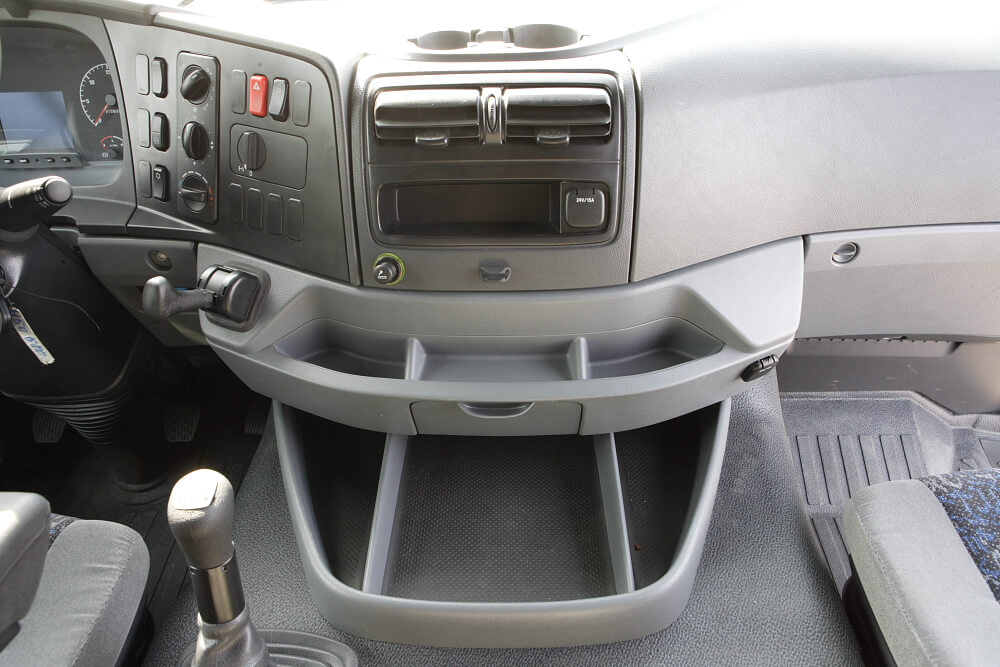 As a separate option, customers will be able to order an air conditioner and mini fridge. The navigation system is also planned to be a novelty. According to experts, with the help of such equipment, the domestic truck managed to get a little closer to European cars, and they can compete with them.
The interior of the cabin KAMAZ-5490 is produced in two versions, Asian version and German version. Although the latter is more common, as the Asian salon is not produced in such a large number.
Specifications
Powertrain
The new truck tractor line simply surprises with its own technical component. The first thing I would like to note is a couple of new power units. There is a basic 11.76-liter 4-stroke engine with 8-cylinders and working on diesel fuel KAMAZ-740.75-440.
It was equipped with a turbocharged system with intercooled air. The engine produces about 440 horsepower, and the torque is 1,900 rpm. Specialists plan to make this engine able to meet the environmental requirements of Euro-4 and was on the modification KAMAZ 5490 DMEC.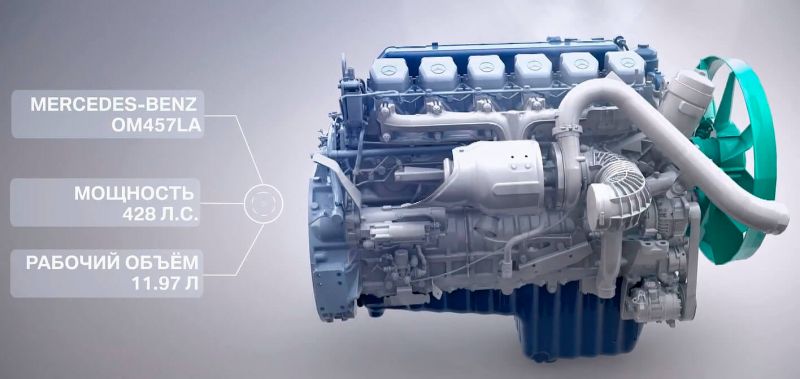 It also provides for an engine, which was developed by specialists from Germany. It is represented by a six-cylinder 4-stroke turbodiesel Mercedes-Benz OM 457LA. Despite the fact that it meets European environmental standards, the engine produces about 428 horses, so it can not be called weak.
According to the manufacturers, its main advantage is economy. The engine has an injection system with fuel mechanism PLD. The declared service life of the engine is 1,200,000 kilometers, which is very impressive. The old engine continued to consume a lot of diesel fuel. The novelty eliminated this problem. The 5490 tractor consumes about 33 litres of diesel fuel per 100 km.
Transmission
If we talk about the gearbox, the developers also provide for a couple of variations. A 16-speed synchronized gearbox gearbox AF 16S-2221 is connected with the German engine. This variation serves as an excellent assistant for the driver of a long-distance vehicle. It is distinguished by the presence of the main hypoid gear, as well as it has a remote control.
This parameter is very important. The box also has an intarder. The box is connected to the power pack by means of the ZF-Sachs MFZ-430 single disc diaphragm clutch. The Russian engine has purchased a 12-speed non-synchronized gearbox ZF-AS-Tronic 12AS-2131. The maximum speed level of the model 5490 is 110 kilometers per hour.
Suspension
The domestic truck tractor was designed on the platform of two-axle frame base with 2-balloon air suspension. The vehicle has purchased rear drive wheels and is supplied with a leading hypoid axle Daimler HL6 (3.077 – gear ratio), where there is a differential lock. The new KAMAZ is also equipped with an air suspension. In front of the car there is a transverse roll stabilizer and springs on the fingers.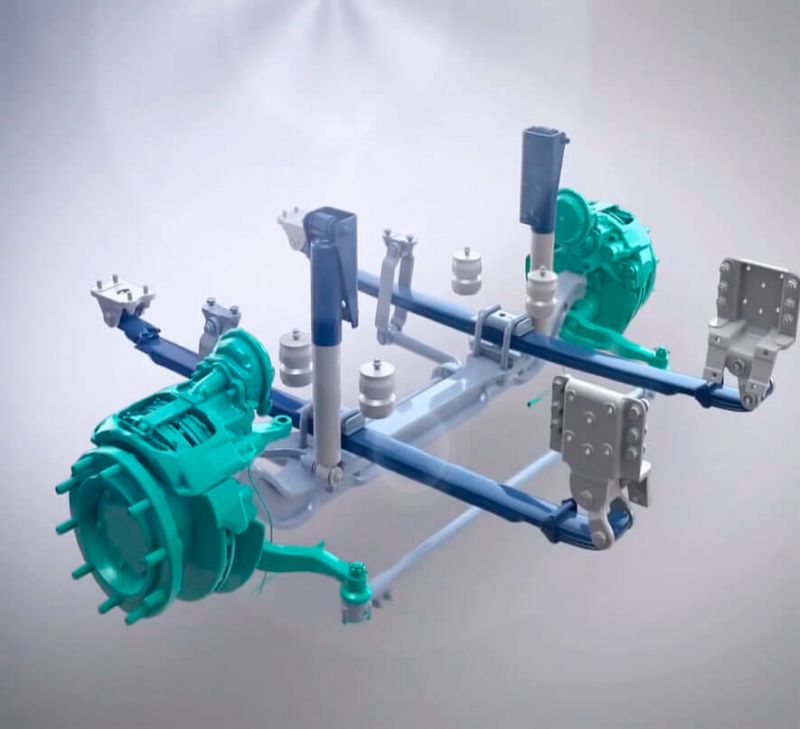 Fingers, by the way, should be regularly lubricated, then they will maintain smoothness of movement and level of comfort during movement even better. A 2-balloon air suspension system has been installed on the rear. It is controlled by the ECAS system, which allows the height of the ground clearance to be adjusted. The formula of the wheels is 4×2.
Brake system
Absolutely all KAMAZ-5490 wheels are equipped with disc brakes. In addition, they have the addition of an electro-pneumatic control drive EBS and traction control system ASR. The ESP directional stability system has not been forgotten.
Roller control
The steering mechanism was developed by an engineering team from Germany, which was initially tested on trucks that took part in the Dakar rally. Despite the fact that the steering wheel is massive enough, it is simple and easy to operate. It helps the driver to control the hydraulic power steering.
Specifications
Weight parameters and loads
Constrained chassis weight, kg
7900
front axle load, kg
5300
Rear axle load, kg
2600
Switch load
10550
Gross vehicle weight, kg
18600
front axle load, kg
7100
Rear axle load, kg
11500
Gross train weight, kg
44000
Gross vehicle weight, kg
36100
Engine
Motor model
740.75-400 (Euro-4)
Motor type
diesel turbocharged with intercooling of charge air
Maximum useful power, kW (hp)
324(440)
at crankshaft speed, rpm
1900:20
Maximum useful torque, Nm (kgsm)
2060(210)
at crankshaft speed, rpm
1300:50
Location and number of cylinders
V-shape, 8
Working volume, l
11.76
Power system
Tank capacity, l
2×400
Electrical equipment
Voltage, B
24
Batteries, I/O
2×12/190
Generator, I/W
28/2000
Coupling
Type of clutch
diaphragm, single-drive
Drive
hydraulic with pneumatic booster
Gearbox
Model
ZF 12AS 2131
Type
mechanical, asynchronous, twelve-step
Management
automated
Brake
Drive
energopneumatic
Type
front/back
disc
Wheels and tires
Type of wheels
disc
Type of tyres
pneumatic, tubeless
Rime size
9.0-22.5
Bus size
315/60 R22.5
Cabinet
Type
over motor
Execution
with two beds
Total mass characteristics of the car
Maximum speed, not less, km/h
110
Angle of ascent to be overcome, not less than %
18
External turning radius, m
8.5
Price and equipment
At the time of the presentation, the car manufacturer named the price to a new truck tractor – 2 900 000 rubles It seems that the cost is not so high, but experienced drivers advise to cut the price in order to be more successful start of selling cars, about 20-30%. Simply, then there will be no sense in buying a new, untested KAMAZ, and it is better to take a reliable and time-tested "Iveco Stralis", or even pay extra from 400,000 to 800,000 rubles and buy Volvo FH12.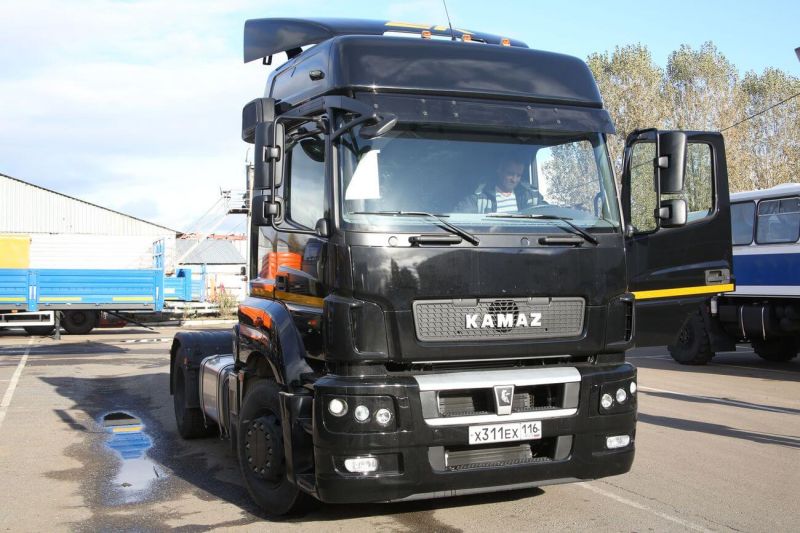 By the way, the latter will be new and has the maximum equipment. But the company will decide. However, do not forget that if the trucker chooses to buy a new KAMAZ or MAZ, or a three-year-old Volvo truck, he will confidently decide in favor of the European. Based on this, we can conclude that the Russian company should gain trust, as the Scandinavian companies have done.
Basic equipment has:
Hydraulic power steering;
Dashboard glare protection;
Electric window lifters;
Heating system;
Conditioner;
LED headlights;
LED headlights
Brake pad wear sensor;
Start heater;
Fog lights;
Audio preparation.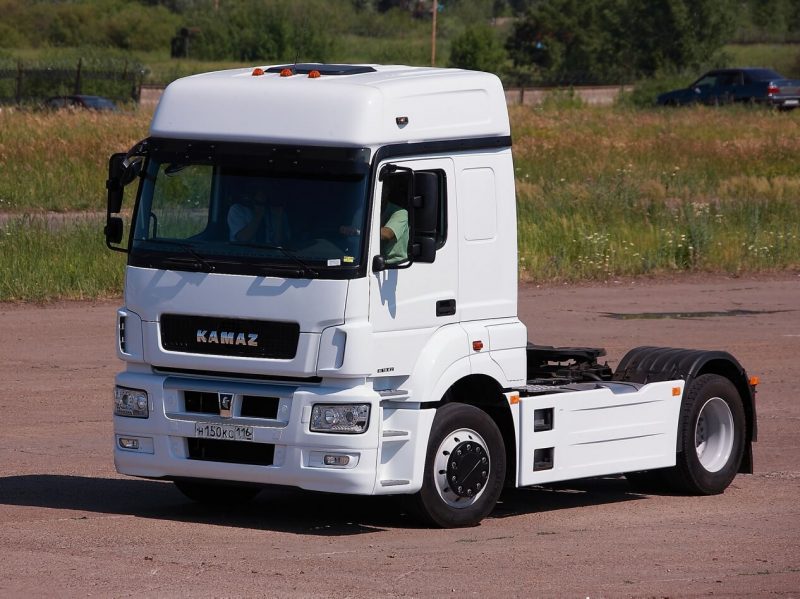 It should be recalled that this truck is the first Russian truck, which has such a rich staff equipment. In addition, it is possible to put as a separate option the availability of the latest multimedia system from Intel, satellite navigation system and a small refrigeration unit.
Pluses and minuses
Pluses cars
Modern appearance of the car;
Relatively low brand value;
Good basic equipment;
Powerful power unit that meets modern environmental requirements;
Good aerodynamic component;
KAMAZ 5490 fuel consumption (33 liters per 100 km)
Selection of power units (one Russian, one German);
Not bad gearboxes;
Cab air suspension and rear axle availability
Rear axle remote control;
Good dynamic indicators;
Electronic assistants;
Comfortable and comfortable interior;
Nice seats, complemented by a pneumatic system and an abundance of adjustments;
Comfortable steering wheel;
Roller column adjustable;
Information dashboard;
The presence of two beds;
It's a stand-alone heater;
Good visibility;
There is an electronic method of cabin lifting;
Low saddle position;
Not afraid of big loads.
Cons of a car
Two 400 litre tanks are not the best solution for such vehicles;
Bedroom width could be bigger, which would allow you to feel more comfortable while relaxing;
International driver's seat and passenger's seat in the German version of the cabin has a strange space that does not allow you to move freely around the cabin;
Domestic engine consumes more fuel;
Trailer tractors have not been tested yet, so there is no point in talking about reliability yet;
Still low ground clearance height.
We sum up
After getting acquainted with the novelty of the domestic company KAMAZ-5490, there were mixed feelings. On the one hand, the truck has nothing in common with the obsolete cabin – now there is a real European stylish cabin, which has significantly improved aerodynamic performance. There is a new optics, new mirrors, new power units along with improved gearboxes.
Inside the car it became much better, which happened due to the hard work of foreign experts, who tried to make the maximum comfort for such money. Now it is just a pleasure for the driver to work, to sit on a comfortable pneumatic seat, to change any settings, to keep a pleasant steering wheel, which can be adjusted to his desire.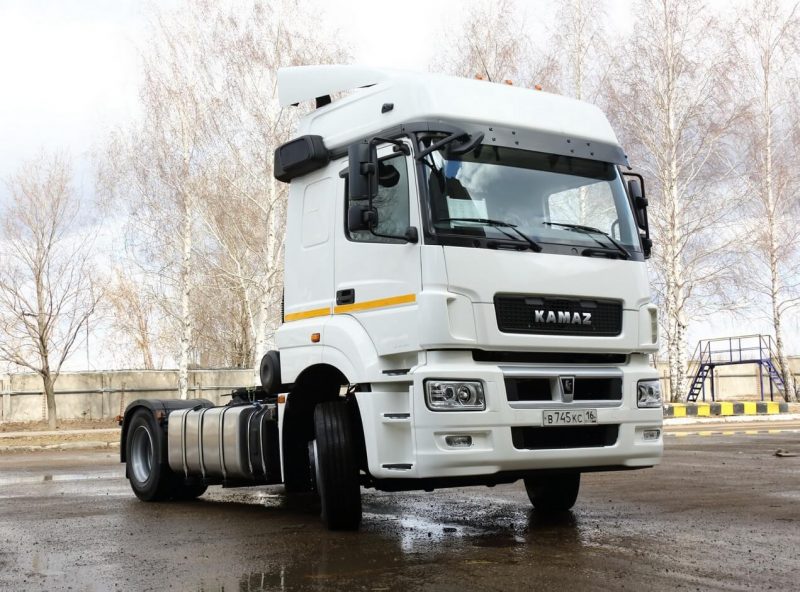 All the controls in their place and at their point of use can be easily reached without distractions and without distractions, while at the same time, the process of driving. The dashboard will be immediately appreciated by car enthusiasts. Now, at last, both drivers can have a rest in the parking lot at once, not afraid that they will freeze in cold time, because there is a stand-alone heater, which is already in the basic configuration.
The latter, in general, received a lot of pleasant functions, which undoubtedly pleased and at the same time pleasantly surprised many people. There are many electronic assistants. Navigation systems, products from Intel company also have, which can be purchased as a separate option. But on the other hand, it is not clear how this model will show itself in business – and it will only show time.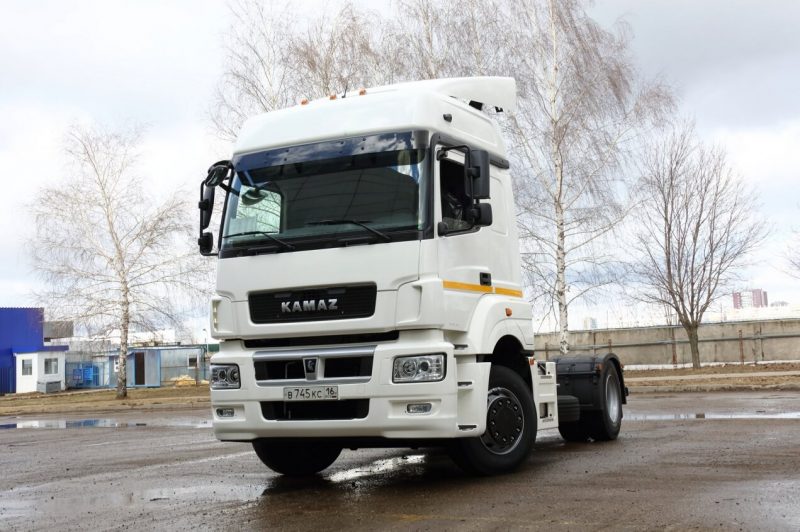 Another trump card of the Kama company is that their product is not so expensive, which will allow some drivers to buy this model. Now KAMAZ-5490 can more confidently compete even with many European analogues. And it is very pleasant, because you understand that the company does not want to sit back, but wants to keep up with modern technologies, constantly improving their cars. KAMAZ goes in the right direction!
We advise you to read the article: KAMAZ – era cars
KAMAZ-5490 photo
Test drive
Video overview
Similar news