KAMAZ-5410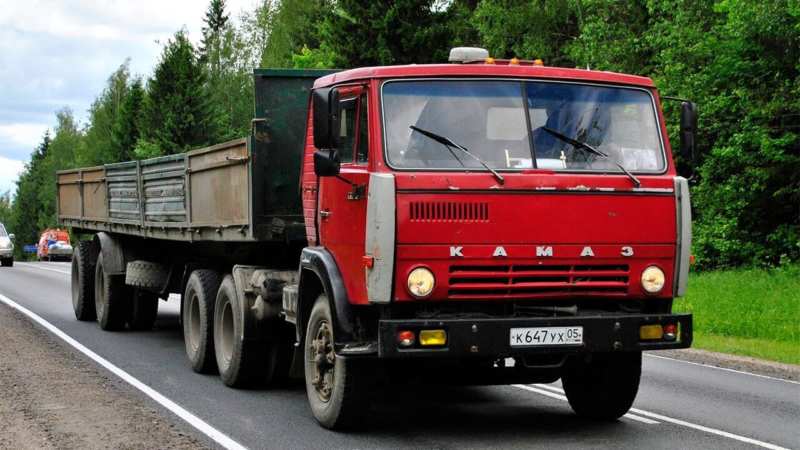 KAMAZ-5410 is a popular Soviet truck tractor. Such a machine was produced at the machine plant in Kama from 1976 to 2006. The truck tractor is already a legendary car of domestic production. Serial production of the truck continued for almost 30 years.
The model received a cabover body and 6×4 wheel arrangement. In this article we will find a description of KAMAZ 5410 technical characteristics of the fuel consumption of KAMAZ 5410. There will also be a scheme and characteristics of KAMAZ timber carrier. The whole model range is KAMAZ.
Car history
The Kama-based automobile company provided some designs of the car, among which was the presence of a classic one, for severe Arctic frosts and for the hot tropical climate. As a result, this made it possible to operate the machine in different regions of the Union of Soviet Socialist Republics and Russia.
The multifunctional design of the car's mountings and saddle made it quite popular in various fields. This can include the rescue sector (to transport specialists, special mixtures and water to the emergency area), transportation (to move bulky goods, dry goods, gases and liquids) and agriculture (to transport fertilizers, land and crops).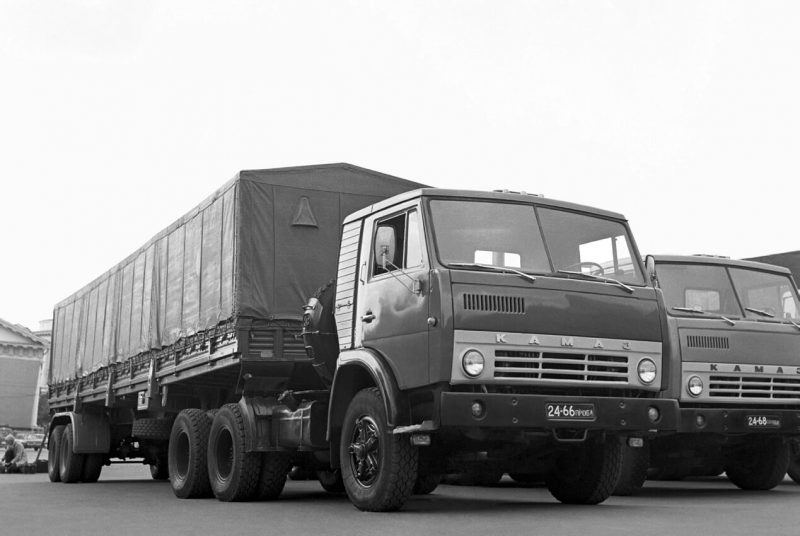 With the help of its multifunctional device, the machine has been able to earn a good reputation as one of the most efficient and unpretentious machines, which are able to function in difficult circumstances with different loads. The Model 5410 is a good choice for medium to larger companies with high transport volumes.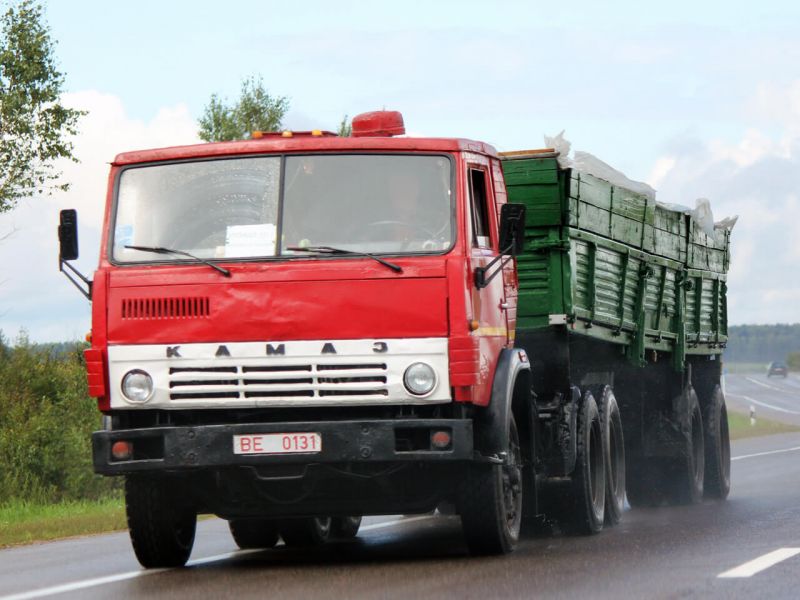 The KAMAZ 5410 itself with its semi-trailer leaves the impression of a reliable machine and a loyal partner who is able to cope with difficult tasks without much difficulty. The Russian Federation still actively uses this brand, but it is also in demand in some foreign countries.
When the twentieth century ended, the model almost fully exhausted itself, as it was replaced by more advanced vehicles of the Kama Automobile Plant. For example, a successor to the KAMAZ 65116, which already had a powerful engine and improved performance, appeared.
Looks
The exterior of our model differs in its brevity and simplicity. Since the truck tractor was created in the Soviet Union, its design was focused on the technical component, but not on the beautiful and stylish appearance, although it can not be said that the three-axle truck turned out to be terrible.
The cabin itself is cabover and has a strict rectangular shape. Ahead of the tractor was equipped with round headlights, as well as a massive radiator grille, where there is a corporate logo of the company, which produces this model. The bumper was made of metal content or plastic.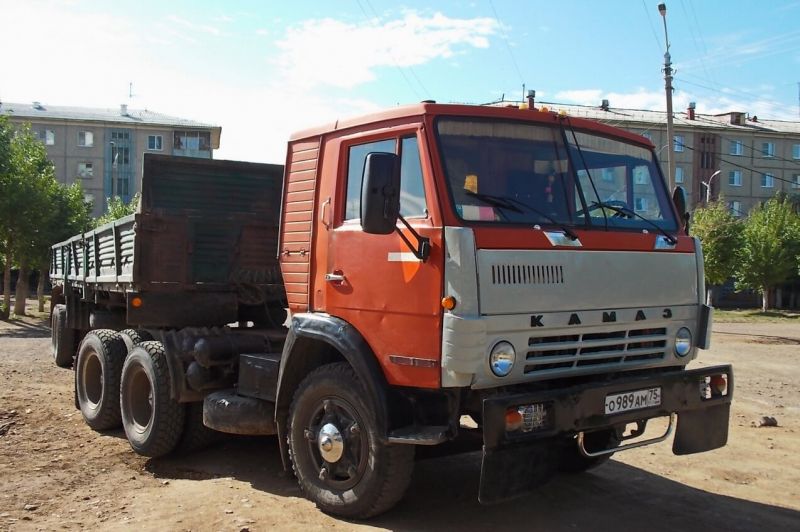 It is one of the most important parts of a passive safety system that effectively takes on the impact of an emergency. The front glass is clearly arranged vertically and is also separated by a transverse molding to increase stability. This has also helped to withstand airflow at high speeds and oncoming winds with greater confidence.
During bad weather, the machine's glasses clean the large, long-life wipers, which are equipped with specially equipped brushes. Side visibility mirrors have received different angles of direction to reduce the degree of dead zone and make it easier to control the overall size of the truck. There is even a timber truck, which is not afraid of overloads and confidently copes with its work.
Cabin saloon
Getting to the driver's workplace you realize that it was carried out in a restrained style with a minimum number of crownings, but with extreme practicality to better perform their own functions. The KAMAZ 5410 model is available in some versions of the cabin – by the number of seats (2 or 3 seats), as well as the installation of sleeper.
It is easy to guess that when there is a berth in the equipment, it makes it possible to operate the car more productively for long-distance multi-day trips in the Russian Federation and CIS countries. This introduction is very useful, because then it is possible for two drivers to sleep well, without causing unnecessary harm to their health.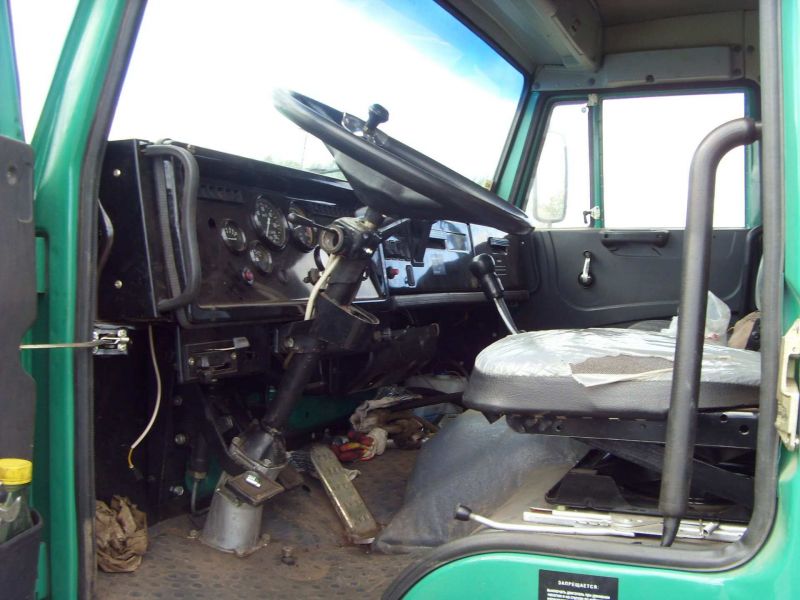 The sleeping place was placed right behind the chairs and it means a small compartment with a shelf for a couple of people. The saloon has been equipped with plug-in options that include three- or two-point seat belts, which are equipped with restraints, heated driver's seat and fog lights mounted on the front bumper.
What was very pleasing is that the cab was cabover version, the power unit was placed under the cab, which allowed developers to use the free space in the cabin more rationally. The dashboard has all the necessary sensors and controls, which are not so far away, which allows the driver not to be distracted from the control of the car, and, at the same time, to change the parameters without leaving the driver's seat.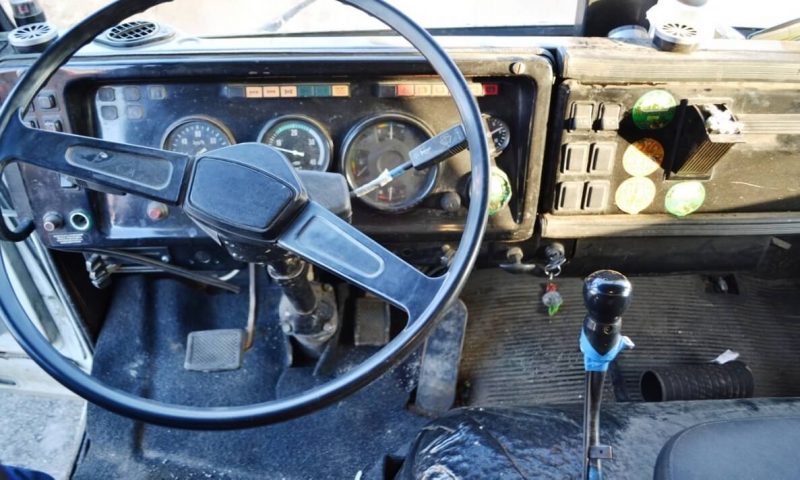 The chair itself is better adjusted for the distance from the steering wheel, and the speaker can change its height, which makes it possible to adjust an adequate angle of control for each person. Despite the different tuning, the car was deprived of shock absorbers in the body, so it was decided to install a driver's seat on a specialized spring of pneumatic type to reduce vibration and kickback.
Thanks to it, it is possible to gently absorb all the bumps on the roadway, while reducing the shaking inside the cabin. But, as usually happens for the domestic car industry, this function is not designed for passenger seats.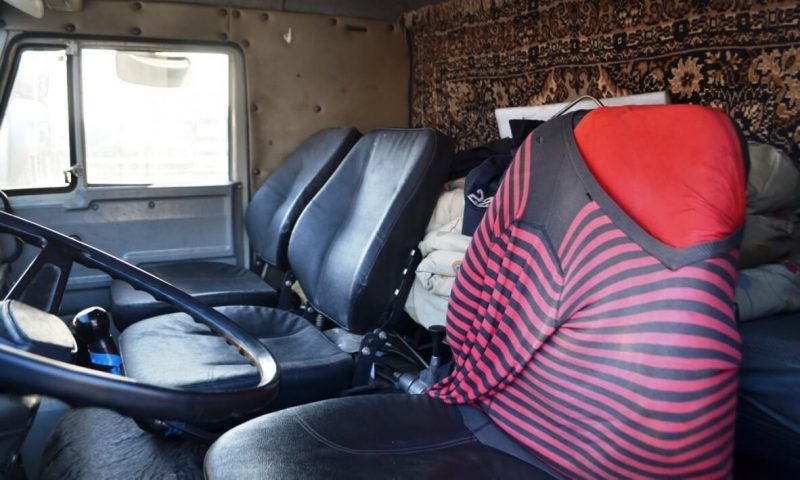 Almost everything inside the car is a clear indication that the 5410 is a working tool, which does not distract from the performance of their direct duties. But it is impossible to say that the interior has not received a competent design and convenient distribution of devices, which, albeit a little, but still increases the level of comfort.
Specifications
Powertrain
The Kama car comes with a turbo diesel engine KAMAZ-740.11-240, which was produced by Yaroslavl engine builders. It is a V-shaped 8-cylinder 10.85-liter engine and produces 240 horsepower at 2200 revolutions of the crankshaft per minute. The diameter of the cylinders is 120 mm.
Consumption of this engine is about 33 liters per 100 kilometers in average mode. Diesel fuel for the engine is taken from the fuel tank, which capacity is 250 liters. Such an engine meets Euro-1 environmental standards.
Transmission
The torque of the engine is transmitted to the wheels by a mechanical 10-speed gearbox. It is controlled by mechanical remote control. The clutch is represented by a friction dry two-disc type, where there is a hydraulic drive together with a pneumatic booster. The diameter of the linings is 350 millimeters. The large gear ratio provides a quick reaction of the technical side of the vehicle, which is very important in case of overloads and difficult situations.
Suspension
Both in front of and behind the car there is a spring suspension, which allows even to use the car as a logging truck, and it is there that it is the most overloaded and rides on a bad road.
Wheels and tyres
Many people started to make their own tuning of KAMAZ 5410, but initially it comes with diskless wheels of pneumatic department, designed for 20 inches. The tires come with the camera and with the help of their design features are very resistant to hernia and bumps. Also, they behave confidently during punctures and punctures, allowing you to drive quite a long distance on the flat rubber.
The wheelbase 6×4 provides good steering, stability of the truck tractor, as well as excellent traction properties. Rubber is made on high quality and is not afraid of blows and wear resistance. The truck will be able to pull out of any ditch hard load.
Brake system
It has a pneumatic actuator. Brakes on all wheels are represented by the drum type, where the diameter of the drum is 400 millimeters, and the width of the brake pads 140 millimeters. Braking is not bad.
Specifications
Weight parameters and loads
Constrained chassis weight, kg
6650
– front axle load, kg
3350
– rear cart load, kg
3300
Seat hook load, kg
8025
Gross vehicle weight, kg
14900
– front axle load, kg
3940
– rear cart load, kg
10960
Gross train weight, kg
25750
Engine
Motor model
740.11-240
Motor type
turbocharged diesel
Rated power, gross, kW (HP)
176(240)
– at crankshaft speed, rpm
2200
Maximum torque, Nm (kgsm)
833(85)
– at crankshaft speed, rpm
1200-1400
Location and number of cylinders
V-shape, 8
Working volume, l
10.85
Cylinder diameter and stroke, mm
120/120
Compression
16
Power system
Tank capacity, l
250
Electrical equipment
Voltage, B
24
Batteries, I/O
2×12/190
Generator, I/W
28/800
Coupling
Type of clutch
friction dry, two-disc
Drive
hydraulic with pneumatic booster
Sheet diameter, mm
350
Gearbox
Type
mechanical, ten-step
Management
mechanical, remote
Brake
Drive
pneumatic
Dimensions: drum diameter, mm
400
Width of brake lining, mm
140
Total brake lining area, see2
6300
Wheels and tires
Type of wheels
diskless
Type of tyres
pneumatic, radial
Rime size
7.0-20 (178-508)
Bus size
9.00 R20 (260 R508)
Cabinet
Type
front above engine, 3 seats
Execution
with sleeping space
KAMAZ 5410 with GVW of 22200 kg
Maximum speed, km/h
90
Maximum slope angle, chassis to be crossed at GVW, deg
18
Outside turning radius of the car, m
8.5
Advanced equipment
– preheater
– it is possible to install a fuel tank of 350 l
– fog lights
– high cab roof
– seat belts
Price and equipment
Despite the fact that the 5410 model is no longer produced for more than 10 years, it is quite common to find it on the automotive market. Therefore, you can buy a used version. Automobiles of the 1990s will cost about 150,000 – 300,000 rubles. The 1999-2000 models range from 450,000 to 500,000 rubles. The cost of rent will be from 1 500 rubles per day.
In addition to the standard equipment, the machine is available in arctic and tropical design, which are designed for operation in extreme conditions. Moreover, KAMAZ-5410 can be used in the rescue industry, for transportation of mixtures, personnel, as well as as a timber truck, dump truck. Many drivers prefer a small tuning to decorate the car. The model is perfect for any large or medium sized company fleet engaged in mass production or transport of large and heavy loads.
Pluses and minuses
Pluses cars
Missing hood, increasing visibility from the cab;
Good cross-country ability;
Carrying capacity;
High ground clearance;
Automobile is not difficult to operate and repair;
No problems with buying parts and spare parts;
Little turning radius;
Capable of operating at low and high temperatures;
Relatively low machine price;
Many different modifications available;
Good powertrain and gearbox;
Comfortable driver's seat
Some models have sleeping space.
Cons of a car
High fuel consumption;
Older cabin;
Low level of comfort in the cabin;
Absence of full drive;
Free space is distributed irrationally;
There's a tendency to break down.
We sum up
The truck tractor KAMAZ-5410 will remain not only in our memory, but also on the roads of the Russian Federation and many other countries for a long time to come. After all, this car is not whimsical, it can work in low and high temperature conditions, and is able to perform those tasks, even if they are difficult, which not all trucks can cope with. Only the car still has a high fuel consumption per 100 km. It is clear that in terms of ergonomics and interior model is outdated, but in those days the country needed a good technical truck, not a comfortable car.
Although, many people today make tuning with their own hands, and you can find a whole catalog on the Internet, how to do it. However, the fact remains that KamAZ 5410 truck tractor is an indispensable tractor of truck type, which is not so expensive in the secondary market, but can become your loyal friend in any road, without fear of dirt and impassability.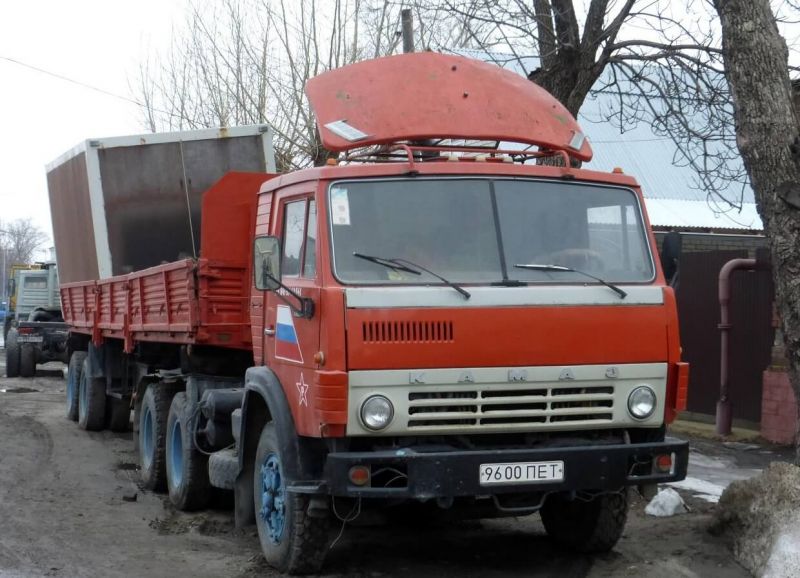 We advise you to read the article: KAMAZ – cars of the era
KAMAZ-5410 photo
Video KAMAZ-5410
Similar news