KAMAZ-5511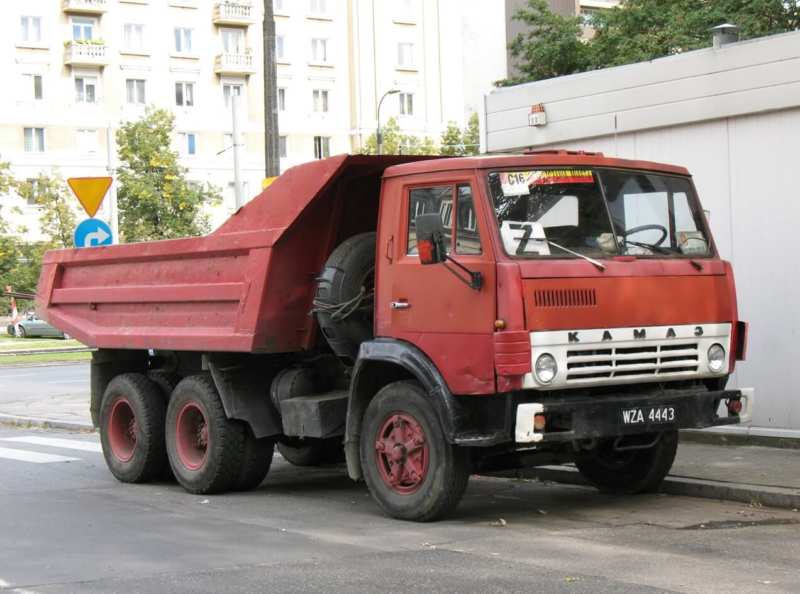 KAMAZ-5511 is a rather popular model of dump truck, which was produced by the Kama Automobile Plant. It was produced for 13 years (1977-1990). KAMAZ 5511 dump truck was one of the first vehicles of the factory, but its use was not stopped.
Even today one can notice this brand quite often on the roads of the Russian Federation, and not only. The Soviet market did not have a large choice of dump trucks before. This article is a description of KAMAZ-5511 dump truck. Here you can learn about the characteristics of KAMAZ 5511. The whole model range is KAMAZ.
Car history
The beginning of the 1970s marked the "big construction" in the USSR. On this basis, quality machines were needed that would be able to function for a long period of time, regardless of the heavy loads. Therefore, they began to develop a model of a dump truck for construction sites. The truck differed from the similar models by the non-standard bright yellow coloring for other domestic machines.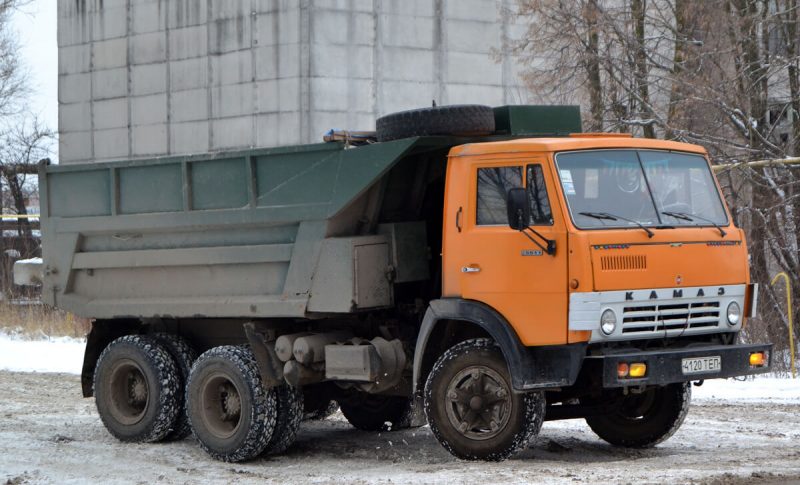 The truck was a sturdy three-axle construction, which had the wheel arrangement 6×4. KAMAZ 5511 dump truck has increased payload, excellent cross-country ability and multifunctionality. Model 5511 was used for transportation of various cargo (to which can be attributed the bulk) on different road surfaces.
The presence of the main parts and assemblies allowed unifying them together with other parts of other products of the automobile plant in Naberezhnye Chelny. In addition, this vehicle was able to acquire the most modern technical layout of those times. For example, it is possible to highlight the presence of headlights with an asymmetric beam of light, which allowed reducing the chance of oncoming cars to be blinded.
Body
Taking into account the operating instructions or the catalogue, the truck had a large welded all-steel body, which can be attributed to a bucket sample. It was also equipped with a special visor on the cab side to provide additional protection. Experts decided to expand the bodywork a little to make it easier to unload bulk materials.
As an additional option, the body had a special heating system, which was operated by means of exhaust gases. Moreover, it could prevent the cargo being transported from freezing in cold weather. The lift of the truck body itself was quite high.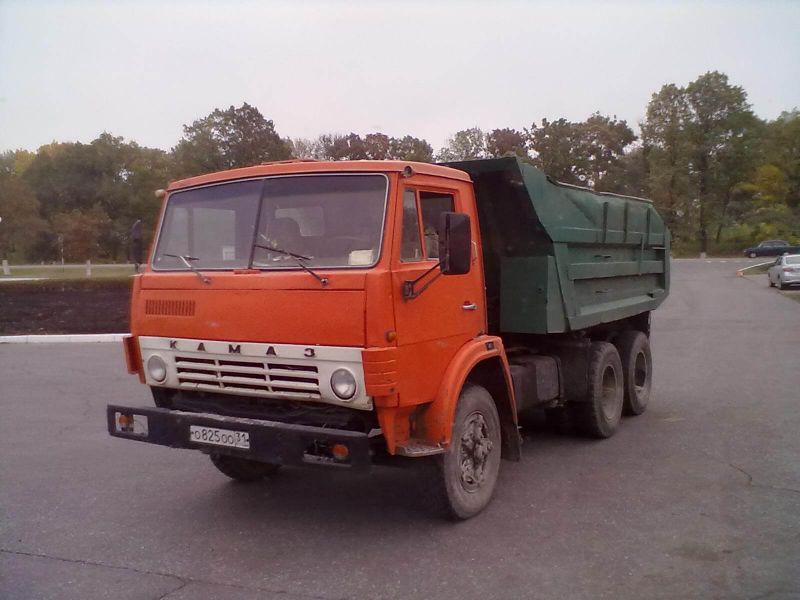 It was fixed in working order by means of locking fingers, which were mounted on the sleeves of tilt brackets. They did not forget to install a special safety cable, which prevented the body from tipping over.
With the help of a spring it was possible to provide packing of a safety cable in the transport mechanism. The machine differed in the presence of a frame of increased durability. Varnoy sub-frame, which was made of transverse beams and stamped steel spars, was connected with the help of tie rods and brackets.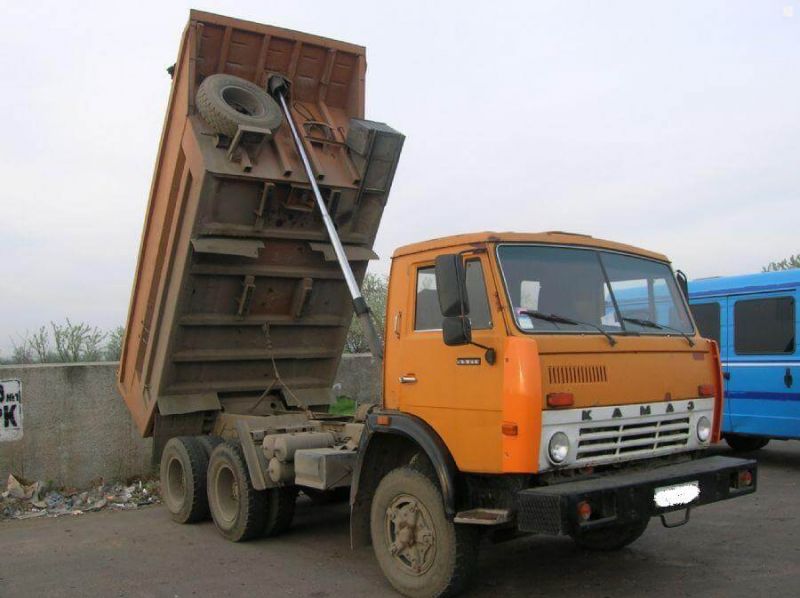 The hydraulic tipper mechanism includes an oil actuator, power take-off box, control valve, hydraulic cylinder, oil tank, restriction valves, pneumatic actuator, electric pneumatic valves and oil pump. It will take no more than 20 seconds to raise or lower the body.
Cab saloon
This model has a sprung cabin, which is attached to the frame. KAMAZ 5511 cabins were designed for a couple of people. It can be tilted forward with the help of a torsional device, which is very convenient for care and maintenance of the powertrain. Triplex type glass can be lowered and raised, and the vents can be turned.
The floor together with the wall was covered with noise and thermal insulation material. Remember to provide the cabin with heating and ventilation. The cabin was later able to get small changes, for example, stood 3-layer glass with additional protection against damage.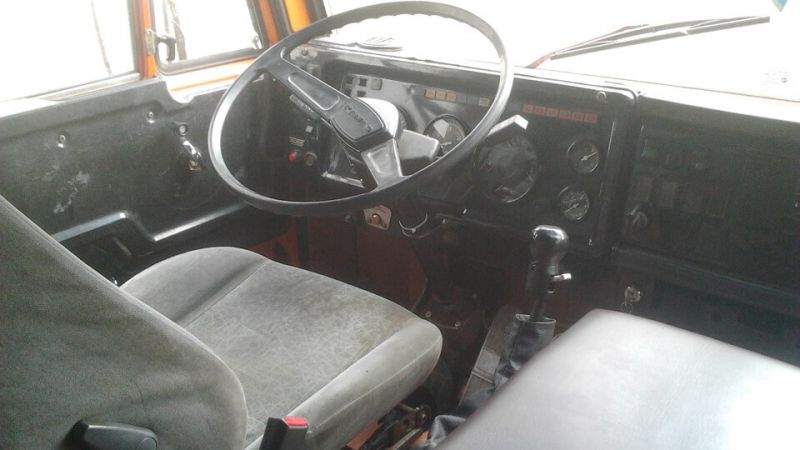 Also, the driver's seat was improved, which allowed to adjust it, taking into account the height and weight of each individual driver. The cab also received a high roof. The vehicle was designed for suburban transport, so there was no sleeping space.
Specifications
Powertrain
A 210 hp engine without turbocharger was installed on the 5511. The engine is a four-stroke, solar-powered engine and has a V8 at its disposal. It has a longitudinal position and is installed in front under the cab. If we talk about the cooling system, it is of a closed type, which forces to constantly and forcibly supply a special liquid (antifreeze). The latter system has a pair of thermostats and the cooler drive has an automatic hydraulic coupling.
The engine allows you to develop a maximum speed of 80 km / h. Consumers the dump truck at a speed mode of 60 km/h about 27 litres of diesel fuel on the passport.
Transmission
The transmission was a 5-speed manual gearbox with a 2-disc dry clutch. The main speed has a couple of degrees, which contain the presence of cylindrical and bevel gears. All the car's equipment has a rear wheel drive.
Suspension
The front suspension has a pair of longitudinal springs with sliding rear ends. There are also fingers with rubber bushings that synchronize the suspension shock absorbers with the dump truck frame. The rear mounted suspension is equipped with a single axle balancer, which is pressed into its bracket. Dual rear wheels are of discless type and are of three-part type.
Brake system
In addition to the main brake system, there are three other brake systems: spare, auxiliary and parking. All of them operate in stand-alone mode. The main brake mechanism has a dual circuit type and is pneumatically controlled, acting separately on the rear bogie and mounted in front of the axle.
It can be started by pressing the pedal. If it fails, you can use the lever to activate a spare system that only works on the rear wheels. The parking system is part of it. To unload the main system and cool it down, an auxiliary system that uses a gas-dynamic mechanism in the exhaust unit is required.
The latter is able to shut off the supply of diesel fuel, which will entail smooth braking. In addition, the dump truck has a drive emergency removal from the brakes. It is clear that there was no ABS system in the model KAMAZ 5511.
Rail control
As the assistant of a steering control the hydraulic amplifier what the plastic gear pump and the valve of spool type has serves. The pump drive is powered by the crankshaft of the power unit. If to speak about a longitudinal pull of a steering wheel of the car it is forged, and transverse – full. All of them have ball joints.
Specifications

| | |
| --- | --- |
| Motor type | KAMAZ-740 |
| Moving speed (maximum) | diesel, KAMAZ-740 |
| Carrying capacity | 80-90 km/h |
| Front axle load (maximum) | 10 t. |
| Rear axle load (maximum) | 4.4 t. |
| Motor power | 14.6 t. |
| Rotary frequency | 146 kW. |
| Torque (maximum) | 2600 rpm |
| Engine cylinder number | 667 Nm |
| Cylinder diameter | 8 pcs. |
| Piston stroke | 12 cm |
| Working volume | 10.85 l |
| The volume of the fuel tank | 175 l |
| Fuel pass at 100 km (in winter) | 30 l. |
| Fuel consumption at 110 km (in summer) | 27 l |
| Wheel formula | 6×4 |
| Turn radius (maximum) | 9 m |
| Front track size | 2.01 m |
| Rear track size | 1.85 m |
| Base (between the front and middle axes) | 2.84 m |
| Back trolley base | 1.32 m |
| Light under the rear axle | 0.265 m |
| Light under the front beam | 0.347 m |
| Weight (full) | 19 t. |
| Weight (armed) | 8.85 t. |
| Width (rear tires) | 2.5 m |
| High-visor height | 2.7 m |
| Length (full) | 7.1 m |
| Body type | bucket, rear loaded |
| Body volume | 6.6 cubic meters. m |
| Body length (base) | 4,075 m |
| Body length (visor) | 5,535 m |
| Body width | 2.31 m |
| Body angle | 60 ° |
| Full body lifting time | 19 C |
Price and equipment
It is logical that the new model simply cannot be bought, as the car was taken out of production in 1990. But the domestic market is just full of used models. According to the price policy they differ greatly and are determined by the date of production and the general condition. Thus, for example, dump trucks of the mid-1980s will cost about 150,000 – 200,000 rubles.
Models of 1989-1990 are estimated from 300 000 to 400 000 rub. It is possible and a variant of rent if there is such necessity. The price is from 900 rubles per hour. KAMAZ 5511 with a trailer is often used to carry even more cargo, and the technical component of the machine allows to do so.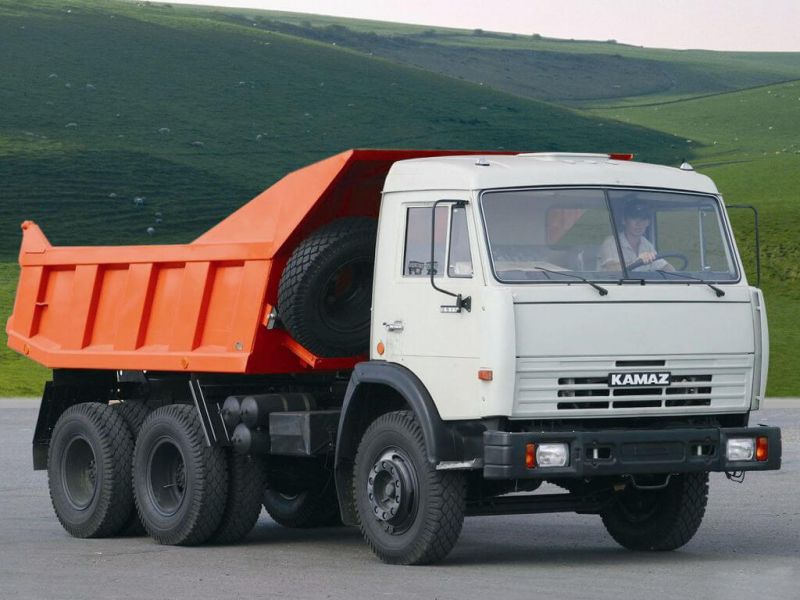 Pluses and minuses
Pluses cars
Good passability;
Appceptable ground clearance height;
Not bad maintainability;
No problems with necessary parts and parts;
Relatively low cost of dump truck;
It is an option to heat the body with exhaust gases;
Rapid body lifting/discharging;
Not afraid to carry heavy loads;
Not bad brake system;
Obsensibility;
Can work in different temperature modes;
Hydraulic power steering;
Small size;
Missing hood.
Cons of a car
Moral outdated cabin in all aspects;
Quality of assembly materials and the interior itself raises many questions;
Uncomfortable chairs;
Lack of space in the cab before the torpedo;
Many useless space;
Weak powertrain;
High fuel consumption;
Many details often fail;
Wheel drive is missing.
We sum up
Despite the fact that the KAMAZ-5511 truck has been produced for a long time, today it can be quite often found on the roads of the Russian Federation and the CIS. The dump truck has small dimensions, which allows it to feel more confident even in the urban environment.
Of course, it is not a European with a pleasant interior, powerful engine, good gearbox, but Kamaz is able to perform heavy and dirty tasks. It also has other shortcomings in terms of high fuel consumption per 100 km.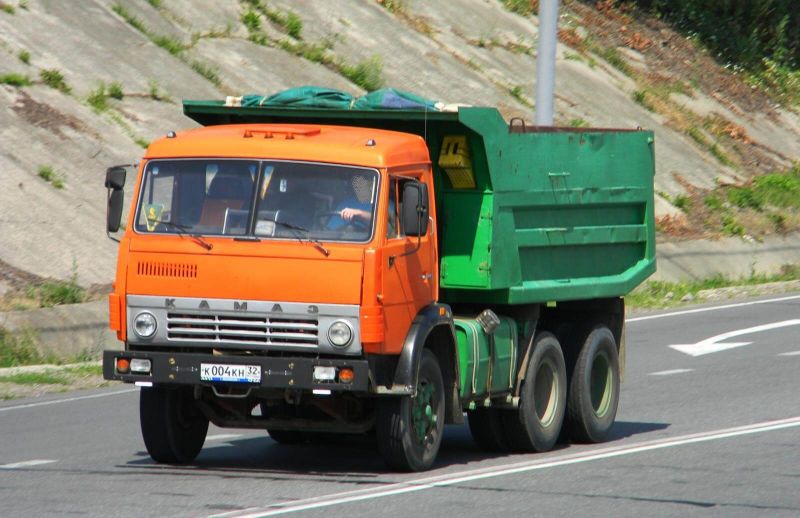 We advise you to read the article: KAMAZ – era cars
KAMAZ-5511 photo
KAMAZ-5511 Video Overview
Similar news