KAMAZ-6460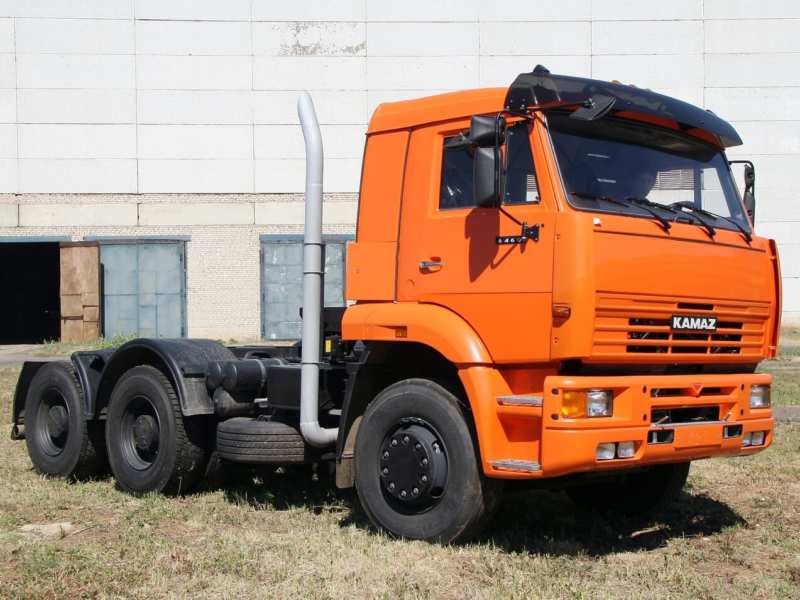 KAMAZ-6460 is a truck tractor, which was created by the Kama Automobile Plant. They started to produce the truck in 2003 and created a model on the basis of KAMAZ 54115. The vehicle has the ability to mount various kinds of special equipment and serves as a real unique "highlight" of its own line, which explains its popularity and frequent use in industrial and construction industries.
Kama Automobile Plant manages to produce more than one dozen different modifications of the KAMAZ 6460 model, where there is a choice of different payload, different service life and power unit capacity. The whole model range is KAMAZ.
Looks
Model 6460 fits perfectly into the department of Russian "heavyweights", due to the fact that the walkway was adapted to our roads. There is also an interwheel and inter-axle differential with the possibility of using the car in different climatic regions and with different quality of the road surface.
It also has allowed to make the car rather known. Despite the fact that the KAMAZ 6460-73 truck has a foreign gearbox and advanced power plant, the truck tractor is not designed for high-speed driving. Rather, it is used for long-distance transportation, as the technical component does not have the settings of adapted aerodynamics of the car.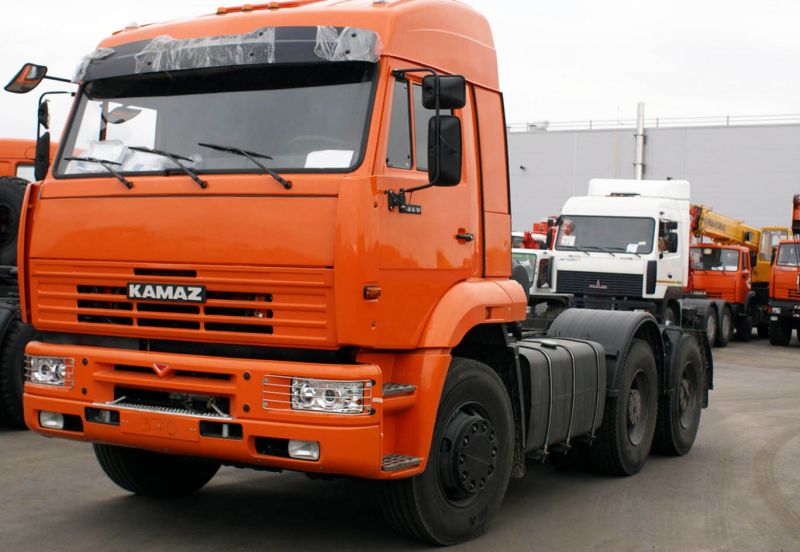 But the machine can perform long-haul freight transportation as a part of a road train, the gross weight of which reaches 62 tons, which is certainly impressive! Model 6460 received a design with the formula of 4×6 wheels. The cabin has a cabover design, a high roof, as well as a sleeping place.
From the above it is clear that the truck tractor is not the only modification. Later models are equipped with an upgraded cabin. If you take the vehicle for international flights, you can install an ultra-high cabin, which is equipped with an aerodynamic visor.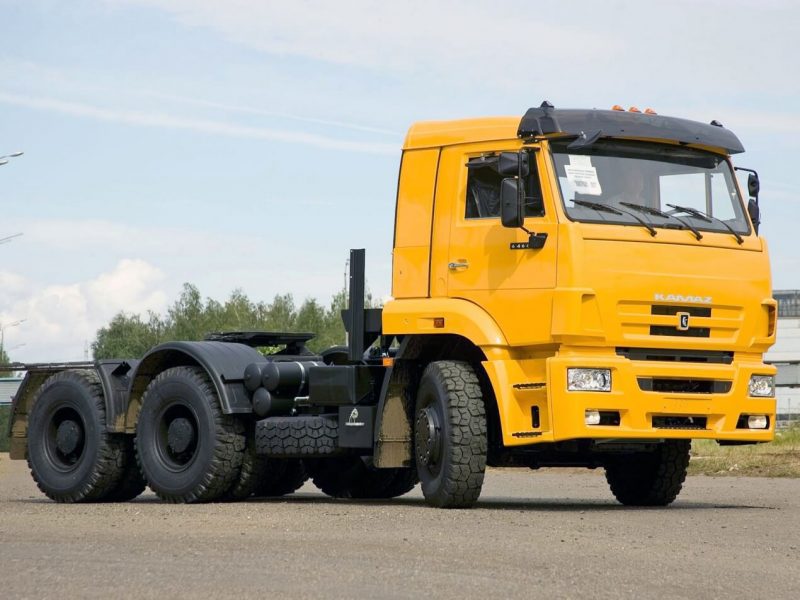 All versions of the cabin models are positioned above the engine and have a hydraulic lift. As separate options, the 6460 can be fitted with a variety of equipment that enhances the machine's user-friendliness and comfort. The appearance of the cabin is quite recognizable for KAMAZ, although a small restyling model survived.
There was a convenient visor, which can often be seen only on the famous European cars, and now on the domestic truck. The car received a good height of ground clearance, which allows it to be more confident in bad road surface.
Cabin interior
Since the latest modifications have already improved cabin, inside KamAZ 6460 there are beds, the comfort of which has grown significantly. There is a choice of equipment, though not so huge, where any driver can choose everything he needs.
For example, there is a three-seater cabin, which is equipped with a stand-alone heater and pneumatic seats. The instrument panel is quite good and has good information. Most of the controls are in sight and reach of the driver, which allows you not to be distracted from the control of the truck tractor, increasing safety.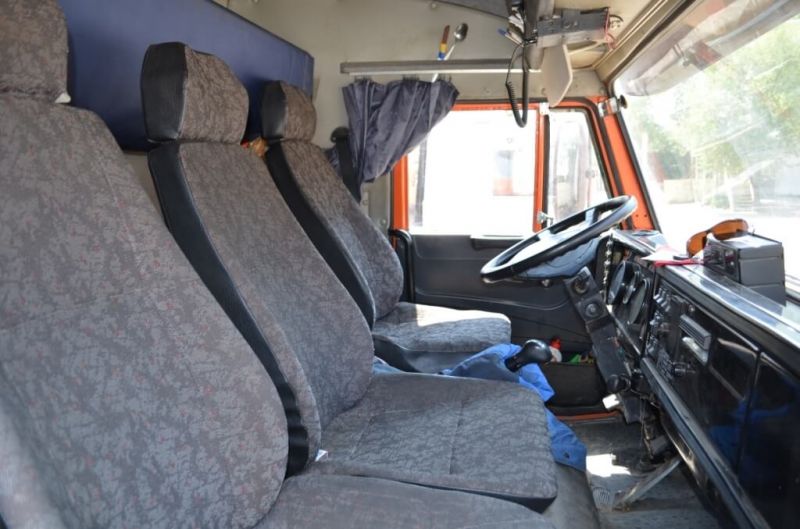 Upstairs, near the windshield, you can find various connectors for built-in appliances and small glove boxes and compartments for things. The steering wheel has a large biaxial rim, but it is not as hard to operate as it might seem at first, as there is a hydraulic power steering. The windshield is solid, not divided into two parts. It can be cleaned from the rain by three wipers.
Specifications
Powertrain
The truck tractor KAMAZ 6460 has at its disposal an 11.76-liter 4-stroke 8-cylinder V-type diesel engine KAMAZ-740.63-400. It has intercooling of charge air and turbochargers. This engine has been drastically improved by specialists, which allowed to reduce the degree of diesel fuel consumption by 10 percent and at the same time increase the dynamic component of the car.
As a result, it has made it possible to increase its power to 400 horsepower. The engine of the car meets all European standards Euro-3, which makes it possible to operate the car even among settlements, without fear of harming the environment.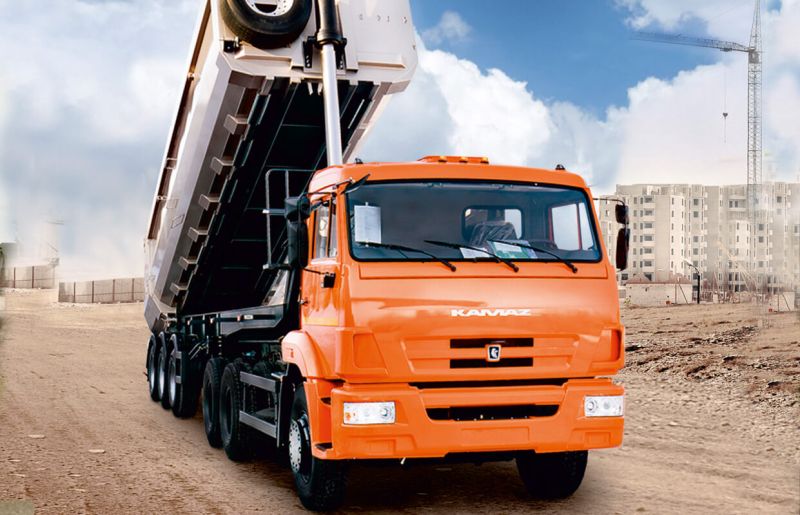 Moreover, it allowed to significantly increase the export market. The engine was made to be of high quality, which was reflected in the increased time between maintenance. The domestic engine can accelerate the road train up to 95 km/h, as well as overcome the maximum angle of ascent of 18 degrees. Contained KAMAZ 6460 73 requires about 50-60 liters per 100 km. Fuel consumption by KAMAZ is very high, which is a drawback.
Foreign engine Cummins L360 exceeds the Russian version of the engine for KAMAZ 6460 in fuel consumption. The 400-horsepower domestic engine will obviously lack a 600-liter fuel tank.
In addition, the automotive company produces modifications of model 6460, which are intended for international transportation of goods. These machines are powered by the Cummins L360 engine, which is not very demanding on fuel quality.
The American engine meets the European Euro-3 standards and can be started without difficulty and at low temperatures with the help of a mechanized fuel supply. The advantages of the L360 are that it does not have a fuel injection pump control system, and a mechanical fuel management system makes it much easier to repair and maintain.
If the Russian power units are designed to carry cargo up to 36 tons, the American is able to carry a road train from 49,000 to 62,000 kg. A foreign engine with a maximum load requires about 48 liters per 100 kilometers, which is much better than the domestic version. The fuel tank has a capacity of 600 litres.
Transmission
As a transmission, the truck tractor received a 6-speed gearbox ZF16S of German manufacture, which provides productive operation of the machine.
The model also received a single disc diaphragm clutch, which has a hydraulic pneumatic booster and brake with pneumatic drive. KAMAZ 6460 63 managed to achieve good cross-country ability with the help of interaxle and interwheel differential.
Suspension
The machine received a dependent spring suspension, which is not afraid of all the existing problems of "Russian roads".
Brake system
The brake mechanism is pneumatically actuated and has drum braking systems. The drum diameter is 420 mm. What is very pleasing is the antilock braking system – ABS.
KamAZ-6460 goes with presence of the cast saddle-coupling mechanism, manufacture of what company Georg Fischer, or Jost is engaged in. The height of a saddle varies from 1 285 to 1 410 mm. Permissible loading – to 16 500 kg.
Specifications
Weight parameters and loads
Constrained chassis weight, kg
9350
front axle load, kg
4580
Rear cart load, kg
4770
Switch load
16500
Gross vehicle weight, kg
26000
front axle load, kg
6000
Rear cart load, kg
20000
Gross train weight, kg
62000
Gross vehicle weight, kg
52500
Engine
Motor model
740.63-400
Motor type
diesel turbocharged with intercooling of charge air
Maximum useful power, kW (hp)
294(400)
at crankshaft speed, rpm
1900
Maximum useful torque, Nm (kgsm)
1766(180)
at crankshaft speed, rpm
1250-1350
Location and number of cylinders
V-shape, 8
Working volume, l
11.76
Cylinder diameter and stroke, mm
120/130
Compression
16.8
Power system
Tank capacity, l
550
Electric equipment
Voltage, B
24
Batteries, I/O
2×12/190
Generator, I/W
28/2000
Coupling
KAMAZ clutch type 65116
diaphragm, single-drive
mod. ZF SACHS MFZ-430 Drive
hydraulic with pneumatic booster
Slave disk diameter, mm
430
Gearbox
Model
ZF 16S 1820
Type
mechanical, sixteen-step
Management
mechanical, remote
Brake
Drive
pneumatic
Dimensions: drum diameter, mm
420
Width of brake lining, mm
180
Total brake lining area, see2
4800
Wheels and tires
Type of wheels
disc
Type of tyres
camera
Rime size
8.5-20
Bus size
12.00R20
Cabinet
Type
above the engine, with a high roof
Execution
with sleeping space
Switchboard
Type SSA
with 2 degrees of freedom, cast
King pin diameter, mm
50 (2″)
KAMAZ 6460 with GVW of 62000 kg
Maximum speed, not less, km/h
95
Angle of ascent to be overcome, not less than %
18 (100)
Stability
There are many modifications of our hero, so the Kama Automobile Plant provides the opportunity to choose a machine with functions that are extremely suitable for the required conditions of operation. Price policy in different modifications will change, but the base price of KAMAZ 6460 – from 2 000 000 to 2 500 000 rub.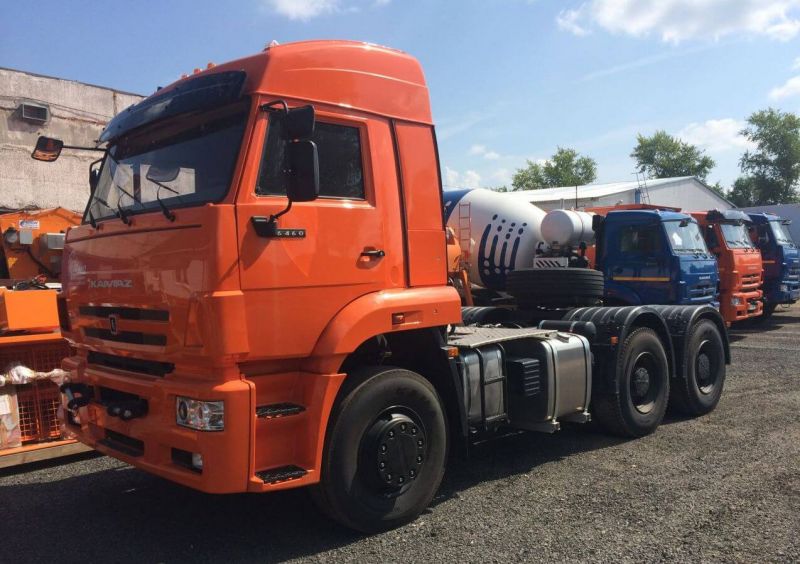 You can also buy a used version, which will cost much less. Thus, the old model truck tractors (2005-2007) will cost about 750,000 – 950,000 rubles. Later versions (2011-2013) are estimated from 1 200 000 to 1 600 000 rubles. There is also an option to rent a truck. For one hour it will be necessary to pay about 1 300 – 1 500 rubles.
Carrying capacity of KAMAZ-6460 is one of the largest among domestic trucks. The road-train can reach a weight of 62,000 kg.
KAMAZ 6460 comes in some configurations:
KAMAZ-6460-028 – the model has a 360-horsepower engine, anatomical seats, hydraulic cabin lift, interwheel lock, RBL steering gear, 22.5-inch tires, BOSCH high pressure fuel pump and AirTop 2000;
KAMAZ-6560-30 – the car is dispersed from the previous equipment only by the reduced 20-inch diameter of tires;
KAMAZ-6460-031 – if we compare it with the complete set 028, there is still a protective cover here;
KAMAZ-6460-91030 – this variation of the machine has 20 inch tires and is supplied by KOM;
KAMAZ-6460-91031 – this variant is a top version on which there are all the above mentioned parameters and R22.5.
Pluses and minuses
Pluses cars
Lack of hood, which increases visibility;
High load capacity (road train up to 62 tons);
Appceptable ground clearance height;
Machine is not heavy in operation and repair
There are no problems with purchasing parts and spare parts;
Moderate pricing policy of the Kama Company and the possibility to purchase second-hand options;
Powerful power units (there is a foreign more economical engine);
Qualitative German manual gearbox;
Later versions have an improved cabin appearance that stands out for style and improved aerodynamic performance;
Improved dynamic component of a tractor unit;
Better interior design;
Comfortable air suspension seats;
Some equipment has up to two beds available;
Have a stand-alone cabin heater;
There are a lot of modifications that allow you to use the car in different areas;
There are many modifications that allow you to use the car in different areas;
Brand saddles.
Cons of a car
Cabin interior still lacks European options in terms of build quality and comfort;
Cabin interior
From some time there will be questions about the quality and level of interior and car assembly in general;
Small tank of 600 litres compared to its analogues;
The domestic power pack has a very high fuel consumption;
Rear suspension does not have an air suspension, the tractor still uses an outdated spring version;
Cabins without air suspension.
We sum up
Undoubtedly, KamAZ-6460 is one of the leaders in heavy traffic. It is not the first year that the Kama vehicles have been coping with difficult tasks every day, overcoming uneven terrain and operating in different temperature regimes. KAMAZ trucks are unpretentious to fuel, have good maintainability and moderate price.
More recent versions of the 6460 markings boast an improved cabin and interior. It's nice to have a choice of a pair of power units, one of which (American) consumes much less fuel, not yielding in power to the Russian version. And thanks to the mechanical German gearbox, gear shifting has become smoother.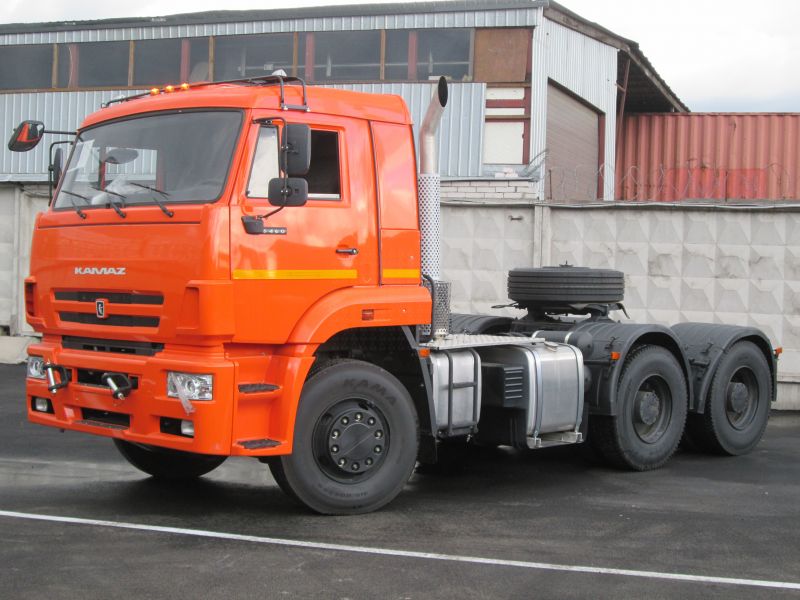 Not enough for a more comfortable air suspension for the cab and rear drive wheels, which will allow you to change the height of the saddle. The latter was also borrowed from European colleagues, which allowed the combination to reach a gross vehicle weight of up to 62,000 kg.
Yes, KAMAZ may still be far from European "kin," but for such money you will not find a better truck tractor. Moreover, the Russian company is constantly improving and producing new trucks. We hope that in the future the trucks will be able to compete directly with the leading European automobile companies.
We advise you to read the article: KAMAZ – era cars
KAMAZ-6460 photo
Video overview
Similar news