KAMAZ-4326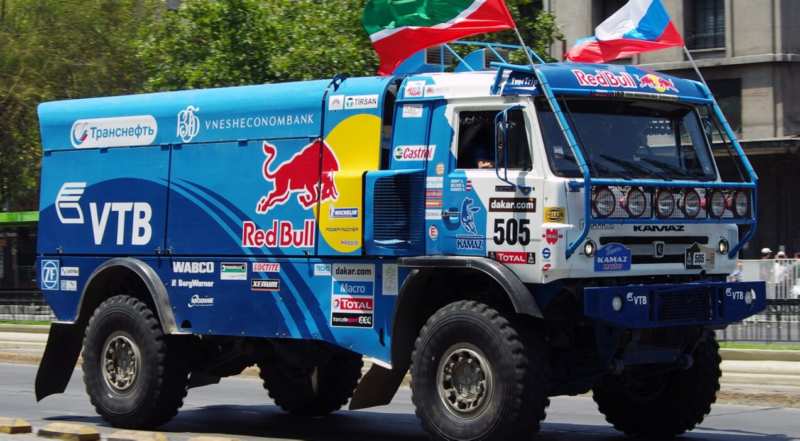 The mid-1980s of the twentieth century allowed the designers of the KAMAZ automobile plant to start designing a truck with a 4×4 wheelbase, which was named KAMAZ-4326. Despite the similarity in cab, engine and axles with three-axle all-wheel drive systems, the new truck was not considered for the expansion of this generation. Often the KAMAZ 4326 model is called a classic hard worker, which is ready to transport cargo not only in urban areas, but also over long distances. The whole model range is KAMAZ.
Car history
This model was supposed to get a ten-speed gearbox, but in those years the company, which produced more than 100,000 trucks per year, did not allow to start their development. The development of the truck was completed in the late 1980s, but the famous restructuring and subsequent collapse of the country did not allow the factory to produce it as a production vehicle.
The debut industrial batch came only in 1995. By this year, the design solutions of this model have made minor changes. For example, the car already had a new engine, the capacity of which was about 240 horsepower. They have not forgotten about the installation of the turbocharger system.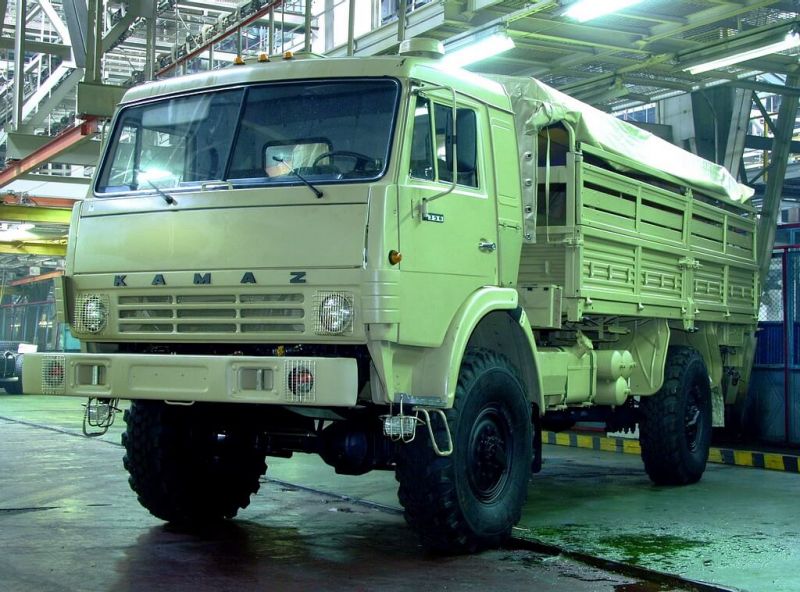 Many parts and components of the two-axle vehicle were similar to the new KAMAZ 43114 military vehicle, which had a 6×6 wheelbase. There was an all-metal flatbed with tilting sides in Kamaz. Taking into account the different modifications, the platform may have a tubular frame, tarpaulin tarpaulin and benches. The load platform has such dimensions – 4,800 by 2,320 millimetres.
Some people make a wheelhouse using a special modification from the factory, which allows you to travel as a family and not be afraid of lack of roads. Everything you need to live in a car is there.
It is interesting that the platform of the two-axle model 4326 was used to develop a special armored vehicle BPM-97 "Shot". A little later, the company was able to set up production of equipment, where there was a shortened version (up to 3,670 mm wheelbase).
There was also a special order from the Federal Security Service, for which the workers assembled a couple of copies of 4326 dual-purpose trucks in a specialized modification. When the operating conditions were harsh, the machines hit more than 10,000 km in a couple of months.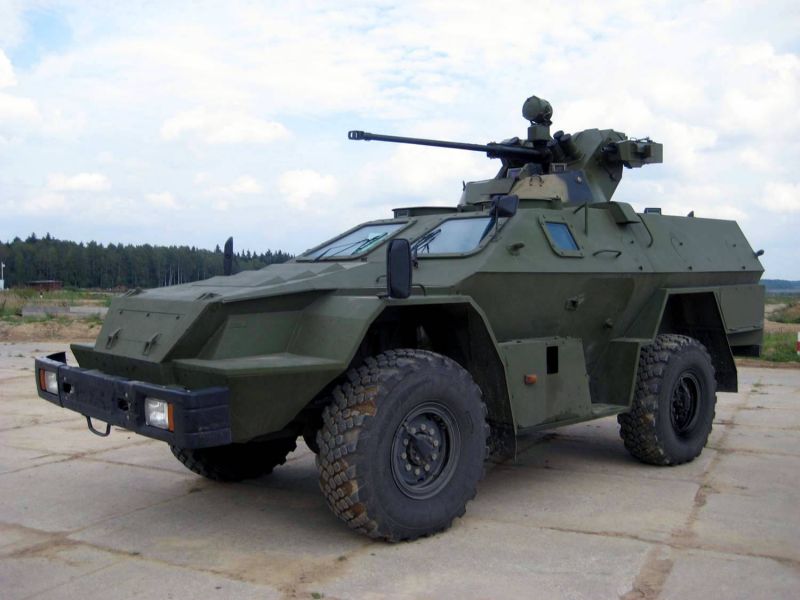 Chauffeurs, together with the technical staff of the North Caucasus Border Guard Department, which was just the test drive of KamAZ, spoke about the high performance of trucks. Testing machines stood out due to their easy operation, excellent maneuverability, powerful power unit, which allows you to easily drive on long hills, confident behavior in extreme road situations, smooth running.
Cab saloon
Kama truck 4326 has a traditional three-seat cabover cab with hydraulic lift. If we take a purely civilian variation of the truck, the cabin 4326 looks a little ascetic. The driver's seat has an abundance of settings, but there is no air suspension on it, which is not enough.
The creators probably did not think about providing comfort for passengers, as they screwed the seats to the floor of the cabin. The footboard together with the handrails provide an opportunity to get inside the cabin without much effort, despite the fact that it is located quite high.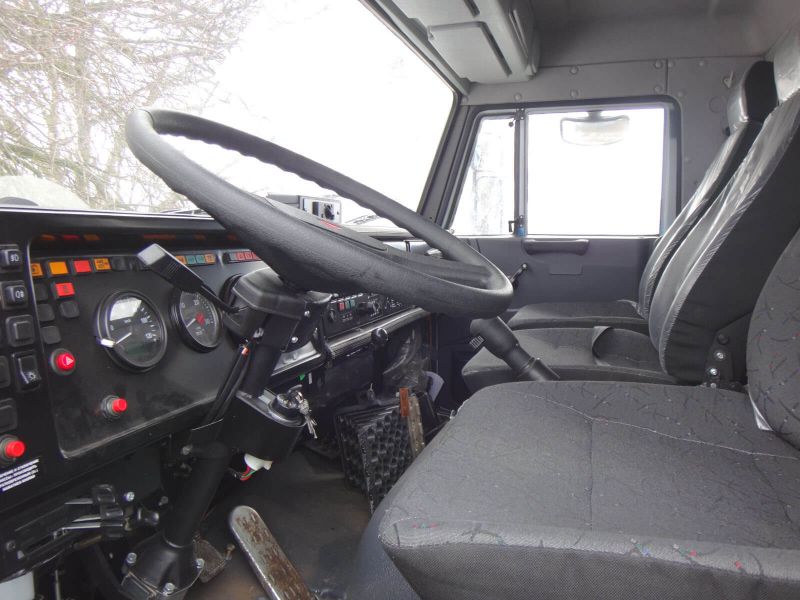 One of the drawbacks that the machine acquired from the previous generation was the switch of the motor brake. To replace it with an electric drive with the option of switching on the panel or install a retarder, it was not the first year. But the model is still produced in an older version. Although, all foreign and even Russian brands have already renounced this key.
Interestingly, the tank of windshield washer was mounted in the cabin. The developers did not want to mount the part in the outer part of the truck. When you open the door, you can see almost the entire cabin, which is at the level of human eyes. On the floor you can see the auxiliary key of the foot switch of the engine brake. There is a hatch at the top and a sleeping place at the back of the front seats.
Specifications
Powertrain
In order to drive a two-axle off-road truck, it was decided to install a V-type 4-stroke 8-cylinder turbo diesel engine KAMAZ 740.11240, which fully meets all environmental standards EURO-2. The engine has a function of intercooling of inflatable air.
The model can be referred to as a liquid-cooled top-valve sample. As a result, it can produce about 240 horses and has a capacity of 10.8 litres. This allows it not only to be well off-road, but also to reach speeds of up to 100 km/h on flat terrain.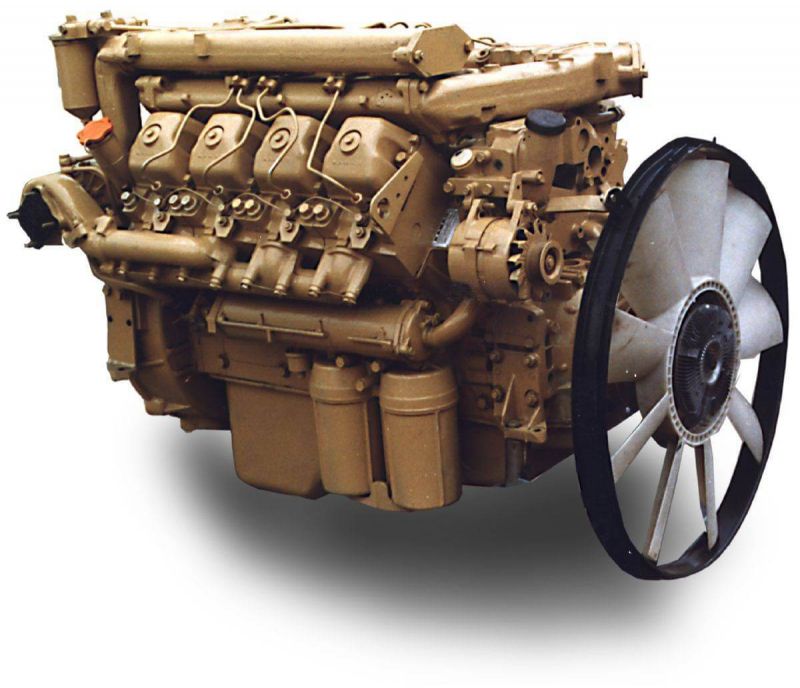 It is not as demanding on the quality of the solar fuel pump as it is due to the fact that there is no electronic control of the fuel pump. This is also achieved by means of a mechanical fuel supply system which facilitates starting the engine in cold weather. Consumption of such a strong diesel engine is about 30 liters per 100 km.
And this is a lot, given the fact that with its weight of 11.5 tons the car can lift an additional 3.5 tons of cargo. For example, foreign variants "eat" a half or two times less fuel. Fuel tanks are designed for 295 liters. If necessary, they can be doubled, but only at service stations.
Transmission
KAMAZ is also a versatile vehicle thanks to its transmission. It has a 2-speed mechanical dispenser, together with a lockable axle differential and pneumatic control. Mechanical gearbox is represented by 10 speeds, where there is a remote control. The box has a two-disc dry friction clutch with hydraulic drive.
Brake system
It has a pneumatic actuator that works together with the drums. The drum diameter is 400 mm.
Suspension
The chassis has a 4×4 wheel arrangement, which has a spring suspension at the front and back. Large wheels with remote adjustment of tire pressure level will make you feel comfortable even on the road.
Dimensions
The two-axle model has a length of 7,625 mm, of which the wheelbase is 4,200 mm and the front overhang is 1,420 mm. The chassis height is 3,395 mm. It turns out that the total length of the on-board equipment will not exceed 7,742 mm.
The height is 3,395 mm, width – 2,560 m. The height of the ground clearance is 385 mm, which allows the machine to overcome steep hills up to 31% and not to be afraid of fords, the depth of which is not more than 1.5 meters.
Automobile KAMAZ-4326 is able to overcome steep ascents and is not afraid of fords, the depth of which can reach 1.5 meters.
Specifications
Carrying capacity, kg
4000
Trailer weight, kg
7000 on the highway
5000 on the ground
Gross weight, kg
11600
Concentrated mass, kg
8025
Dimensional dimensions (DхххВ), mm
7935 x 2500 x 2945
Platform Dimensions (DхххВ), mm
4800 x 2320 x 500
Loading height, mm
1535
Road clearance, mm
385
Wheelbase, mm
4200
Rear wheels wheels, mm
2010/ 2010
Outside radius of rotation, m
11.3
Maximum speed, km/h
90
Fuel consumption, l/100 km
25.0
Fuel tank volume, l
170 + 125
Travel range, km
1180
Engine: KamAZ-740.31-240 (Euro-2)
Diesel, four-stroke 8-cylinder V-shaped 90°,
Turbo with VHF, overhead valve, liquid-cooled
Cylinder diameter, mm
120.0
Piston stroke, mm
120.0
Working volume, l
10.85
Compression degree
16.5
Engine power, HP. (kW)
(with speed limiter)
240 (176)
at 2200 rpm
Torque, kGc*m (Nm)
93 (912)
at 1100-1500 rpm
Transmission
Coupling
two-disc dry
Gearbox
mechanical 10-step
with a front divider
Task box
2-step (1,692:1 and 0,917:1)
Main transmission
double, bevel pair and spur gear pair (6,53:1)
Drive front axle
Permanent non-detachable
Bus size
425/85 R21 (1260×425-533P)
Movability
Treated ford, m
1.5
Related rise, deg.
31
Price
If we talk about the pricing policy of the new KAMAZ-4326 in the market of the Russian Federation, its cost will start from 1,750,000 rubles The car with on-board performance will be slightly more expensive – from 1,900,000 rubles. But what prices for two-axle trucks with mileage depends on the number of "wrapped" kilometers and production time.
For example, cars of 2012 year of production, mileage of which is about 40 thousand kilometers, will cost 1 200 000 – 1 300 000 rubles. Complete sets of the 2000s with the mileage of more than 100,000 kilometers can be taken for about 650,000 – 750,000 rubles. Moreover, the rental market is provided by yamoburgs created on the 4326 platform.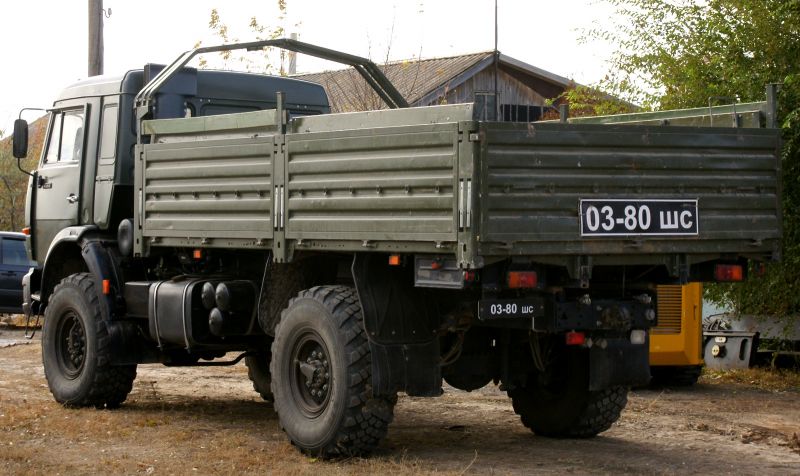 For one hour of work it will be necessary to pay about 1 500 – 1 800 rubles. The rent for the whole day will already be estimated at 14 000 rubles. As a separate option, the car can go along with the increased height of the roof, you can also install a winch, where there is an addition to the power take-off box, and a sleeping place. The Kamskoe enterprise provides various superstructures, among which there are: forklifts, construction hoists, vans, tankers.
Pluses and minuses
Pluses cars
Powerful appearance;
Excellent cross-country ability;
High ground clearance;
Wheel drive system;
Ability to change tyre pressure remotely;
Machine not so heavy in repair and operation;
Machine
Easy to find required parts and spare parts;
Can work at different temperature modes;
Relatively low machine cost;
There are many different modifications to this car;
There's a place to sleep;
Not afraid of fords with depths as high as 1.5 meters;
Can be set as a separate option to winch.
Cons of a car
High consumption of diesel fuel;
Old cabin appearance;
Old truck interior requiring improvement;
Less payload;
Available air suspension of the driver's seat;
Older dashboard;
Uncomfortable location of the accelerator pedal;
Incomfortable steering wheel.
We sum up
In the end, summing up the results of the two-axle off-road truck KAMAZ-4326, there are pleasant impressions. As the truck has excellent technical and running characteristics, which allows even surpassing the foreign-made vehicles. Similar KAMAZ vehicles even take part in rallies and occupy not the last places, which is very pleasant.
Although, it should be admitted that the European analogues to the domestic Kama car are still far away. This includes the cabin – both externally and internally, you immediately notice that it is long outdated and in need of modernization and increased comfort. There is also a large consumption of fuel.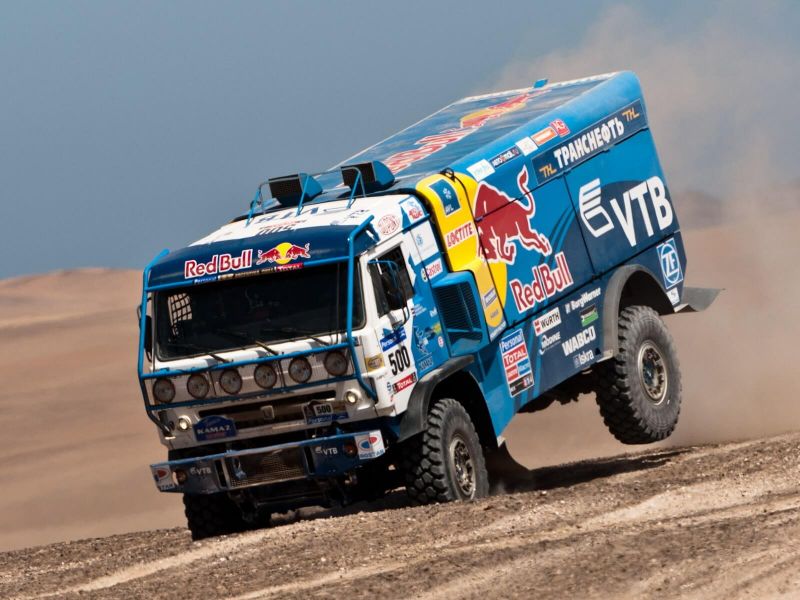 However, everybody understands that such a situation simply requires a large amount of money, which is simply not available during the crisis. But the truck has found itself for the needs of the army, where comfort and comfort are not the most important criteria. There is an important reliability, power, overcoming the impassability, and here the model 4326 feels like a fish in the water.
And, in some sense, even literally – so, the car can drive ford up to 1.5 meters deep. Here, on the off-road, Russian cars show themselves in all their glory. Though, it would be very desirable that in the automobile company thought about modernization and improvement of comfort level.
We advise you to read the article: KAMAZ – cars of the era
KAMAZ-4326 photo
Video Rally KAMAZ-4326
Similar news