KamAZ-6520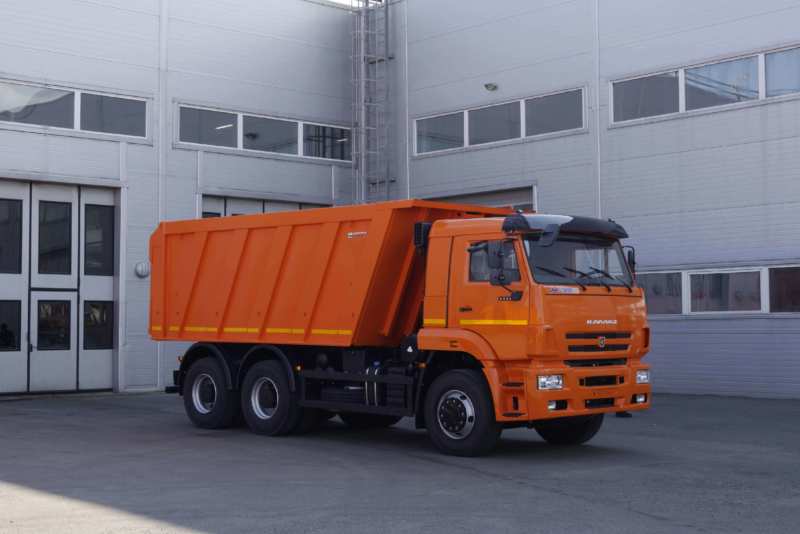 KAMAZ-6520 truck is the leading truck between the trucks of increased payload. It is no longer a secret that KAMAZ trucks serve as reliable assistants and workable, regardless of any conditions and situations. Dump trucks of such a company are the most enduring in the world, which is confirmed by 10 times first places in the transcontinental rally.
Even the most important competitors, Czech and Dutch racers, can not come close to such results. The dump truck version of KAMAZ can function not only in the city, but also in the construction industry. This article will describe the fuel consumption of KAMAZ 6520, as well as the electrical scheme of KAMAZ 6520. The whole model range is KAMAZ.
Car history
For some time now, the line of the Kamsky Automobile Plant has not had a heavy class car that could meet the latest market standards. That's why we decided to produce an efficient model of KAMAZ 6520, which, in addition, made it possible to increase its payload. This car was kept among the leaders of the car market for more than 10 years and, at the same time, remained popular and in demand.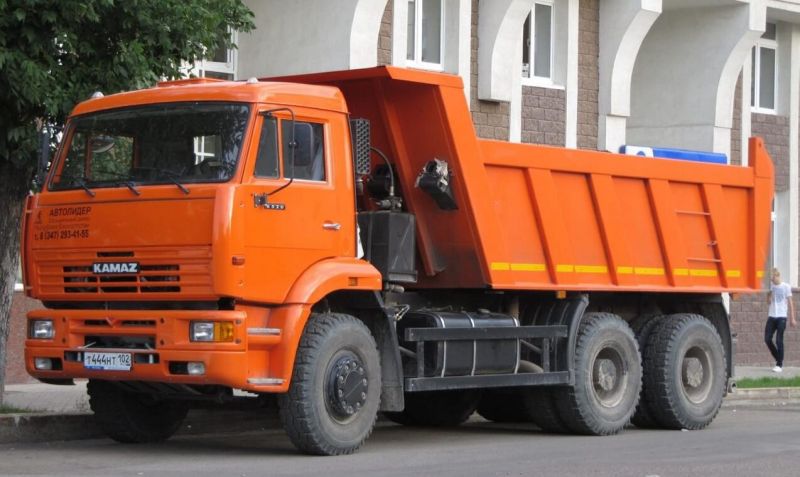 The history of design of the car began in the distant 1990s. It was at that time that the domestic market of cars was experiencing a lack of special vehicles, which would be ready to operate in difficult Russian conditions and carry heavy loads. Though, in those years the plant produced not so few cars, however, their technical component was much inferior to foreign variants.
KAMAZ 65115 with a payload of 15,000 kg was used quite actively, but it was already lacking. As a result, the Kama Automobile Plant managed to develop a car with the marking 6520, the formula of which is 6×4. He could be called a wonderful worker, who could cope with almost any task. It had design features such as ABS, an all-metal welded platform, and a cab control.
Looks
The working systems and components of the truck were designed for difficult operating conditions. Our guest of review can not be called an improved version of the working version – it is a completely new model, which was developed from scratch. From the very beginning, the truck was equipped with a cabin of the previous model, which is already outdated.
It was decided not to touch it yet because of the main efforts to research the innovative chassis. A little later, the cabin was replaced by a more advanced one. This made it possible to abandon, literally, the obsolete old cabin. The new one looked more beautiful, received new headlights (lens optics) and visor. The car had a high roof, which had a lower belt and a unique buffer.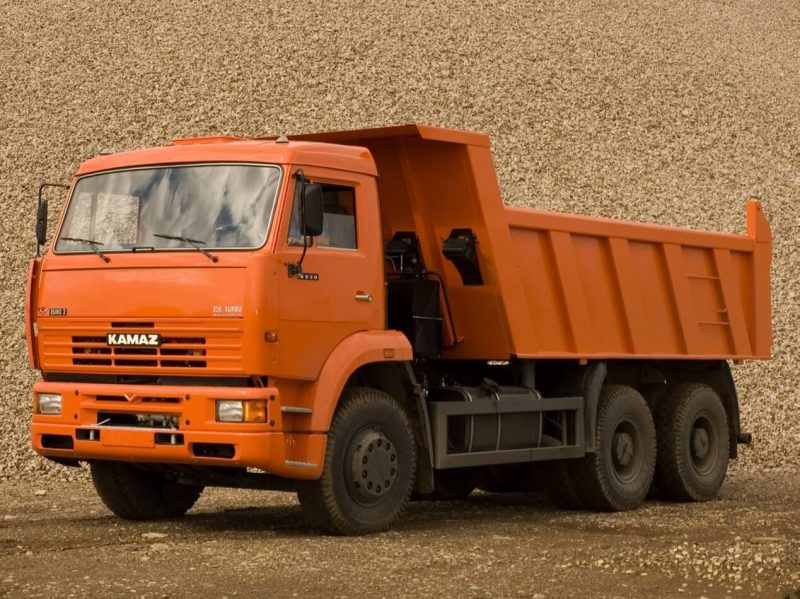 The fact that this element was introduced into the design allowed to provide the most comfortable landing and disembarkation of people. The windshield was not divided, but solid. As many as 3 wipers will be able to clear it of rain or snow, which will give them a better view. There are also additional mirrors, which will help to be more mobile, not afraid to catch the car and damage it.
The cabin is lifted with a standard hydraulic booster. The department for the mechanical method of lifting the cabin is placed on the traditional right side, but under the passenger door between the lowest and the uppermost leg.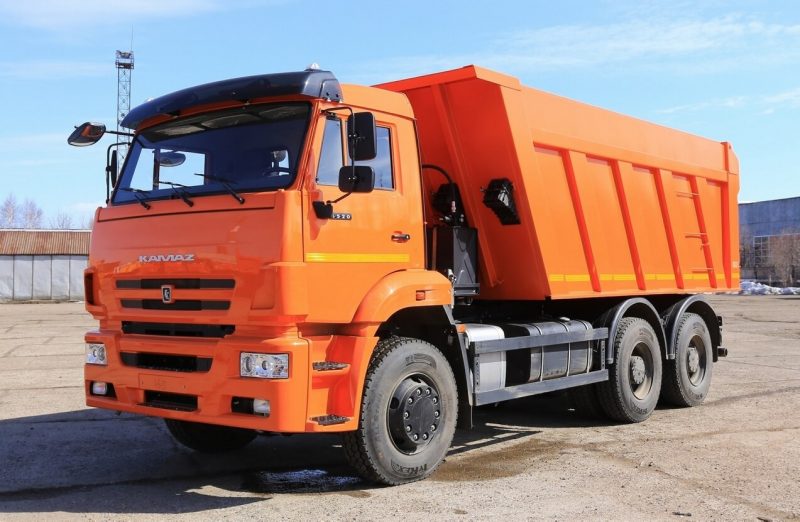 In the event of a special need to transport bulky goods, it is possible to increase the volume of the bodywork with special sides. They can be set up by the factory itself.
The body itself is also represented with an oval cross-section of 16 cubes. The shape of the body provides an opportunity to reduce the adhesion of the load by changing the center of gravity of the load closer to the middle of the body.
Cabin interior
Getting into the cabin of KAMAZ-6520, you immediately notice the presence of injury-free steering wheel, which got a new look. The steering wheel control device already had a hydraulic steering stop, which was designed to eliminate the exit from the steering rods. The steering column itself can be adjusted to the angle of inclination, which will allow it to be adjusted to any driver.
The dashboard is rather informative, all the necessary controls are at hand, buttons are all comfortable and pleasant to feel. The instrument board received two large dials, where the left shows the speed mode, and the right – the speed of the power unit (up to 3 000 rpm.). There is a monochrome small rectangular display that shows other necessary information (mileage, etc.).
They have not forgotten to install cup holders, and there is a small island table on the front panel, which can be used for your needs. The cabin is much more comfortable than previous models, the glass is installed panoramic type, which increases visibility. The design staff of the company decided not to install a sleeping place.
Moreover, KAMAZ 6520 can have even an air conditioner for an additional fee, which allows to close the windows in summer in hot weather and work in a cool environment, less tired at the same time. There is convenient access to fuses. The upper part received a pair of speakers spread on the sides, glove boxes and a hole for various things located in the middle. The doors have still not received power windows, which is a bit upsetting.
The engine and gearbox were insulated with thermal and noise, which made the driver and passenger feel more comfortable. The cabin received an air suspension, which increases the comfort level of the driver and passenger.
In addition, KAMAZ-6520 has air seats, where there is an independent adjustment (can be raised, lowered, moved forward and backward). The new domestic dump truck is driven quite easily, not much heavier than a passenger car.
Specifications
Powertrain
If we take the time up to 2008, the Russian company completed the dump truck 6520 with a standard engine running on diesel fuel, which meets all the standards of "Euro-2". Such a power unit received intermediate cooling and turbocharging system. But later, the automobile plant decided to make amendments to the engine.
As a result, it allowed to equip the advanced diesel engine so that it meets environmental standards "Euro-3". V-shaped 8-cylinder engine KAMAZ 740.63-400 has a working volume of 11.76 liters and produces up to 400 horsepower at a maximum torque of 1,225 Nm.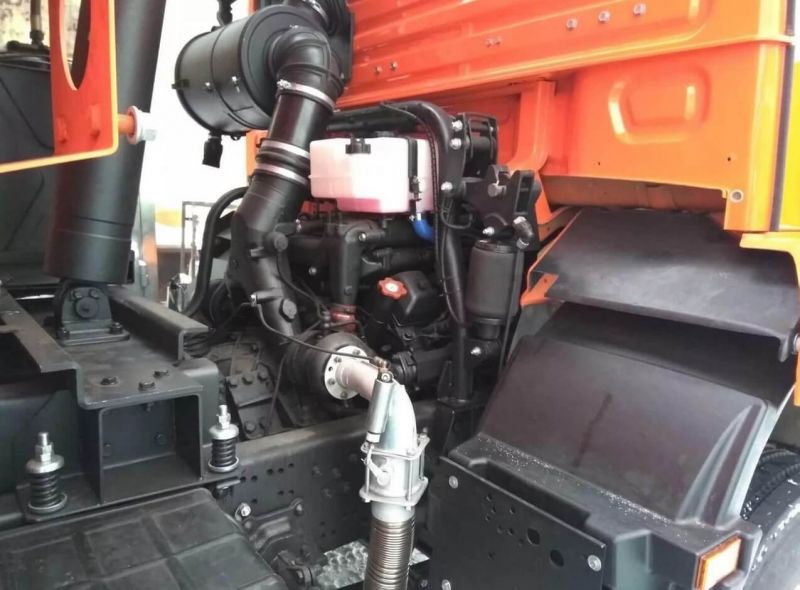 This installation allows the dump truck to reach a maximum speed of 90 km/h, which is quite a lot for a truck. The American Cummins engine with the same capacity is also provided. In summertime, the KAMAZ 6520 engine consumes about 46 liters per 100 kilometers, but in winter time – 53 liters. The fuel tank is designed for 350 liters.
Transmission
A new mechanical sixteen-speed gearbox ZF Ecosplit 16S 1820 TO was presented for the Russian dump truck. Interestingly, the gearbox is the company's own production, and its structural elements allow using it for 1 000 000 km. The clutch is a diaphragm single disc clutch with a hydraulic drive with a pneumatic amplifier.
Suspension
The suspension is of spring type. Wheelbase 6×4. The curb weight is 12 950 kg. Carrying capacity is 20 000 kg (often drivers carry more, for example, up to 25 tons, but the plant does not recommend to overload the dump truck).
The total number of wests is 33,100 kg. To increase the stability of the KAMAZ 6520, stabilizers of transverse stability have been installed on the front axle and rear axle. Therefore, a bad road does not frighten the dump truck.
Brake system
The braking system is pneumatically actuated. Brakes on the new vehicle are represented by drum mechanisms. There is an ABS system.
Specifications
Weight parameters and loads
Concentrated mass of a/m, kg
12950
front axle load, kg
5230
Rear cart load, kg
7720
Carrying capacity of a/m, kg
14400 (20000*)
Gross vehicle weight, kg
27500 (33100*)
front axle load, kg
7500
Rear cart load, kg
20000 (25600)
Engine
Motor model
740.63-400 (Euro-3)
Motor type
diesel with turbocharger, with intercooling of charge air
Maximum useful power, kW (hp)
294(400)
at crankshaft speed, rpm
1900±50
Maximum useful torque, net, Nm (kgsm)
1766(180)
at crankshaft speed, rpm
1300±50
Location and number of cylinders
V-shape, 8
Working volume, l
11.76
Cylinder diameter and stroke, mm
120/130
Compression
16.8
Power system
Tank capacity, l
350
Electrical equipment
Voltage, B
24
Batteries, I/O
2×12/190
Generator, I/W
28/2000
Coupling
KAMAZ 6520 Clutch Type &gt
diaphragm, single-drive
Drive
hydraulic with pneumatic booster
Gearbox
Model
ZF 16S 1820TO
Type
mechanical, sixteen-step
Management
mechanical, remote
Brake
Drive
pneumatic
Type
drums
Wheels and tires
Type of wheels
disc
Type of tyres
pneumatic, chamber
Rime size
8.5-20
Bus size
12.00 R20
Cabinet
Type
over motor
Execution
without sleeping space
Dump platform
Platform volume, m3
16
Platform angle, deg
50
Unloading direction
back
Total mass characteristics of the car
Maximum speed, not less, km/h
90
Angle of ascent to be overcome, not less than %
25
External turning radius, m
9.3
Dump truck price
Model 6520 pricing policies may vary greatly depending on the specifications to be applied. For example, for a 320-horsepower configuration without a sleeping berth, which has a payload of 20 tons, you will have to pay from 2,500,000 rubles. There will also be an inter-axle and interwheel lock together with the platform heating.
If you take a complete set with an American Cummins engine with 400 horsepower, the cost will start from 2 600 000 rubles If you install additional equipment, the price will increase to almost 3 000 000 rubles. But this is not the biggest price among its competitors, especially if you use the dump truck rationally, it will pay off quickly enough. It is also possible to rent a car, so it will be estimated from 7,000 to 9,000 rubles.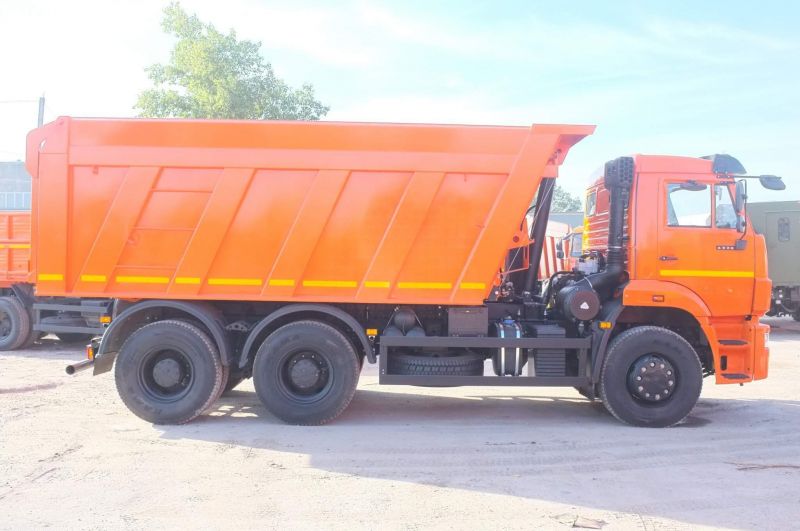 Modifications
To date, the Kama plant provides a number of modifications with different capabilities:
CamAZ-6520-029 – this model is almost no different from the standard modification. Carrying weight is the same, but the model has an increased volume of the body – 20 cubic meters instead of 12, as in the standard;
KAMAZ-6520-010-60 – the model can unload cargo on three sides of the body. Cost starts at 2 500 000 rubles;
KAMAZ-65221 and KAMAZ-65225 are semitrailer tractors equipped with a fifth wheel to transport a semitrailer with a GVW of 17,000 kg to mark 65221 and 22,000 kg to mark 65225. The price starts at 4 000 000 000 rubles;
KAMAZ-6520-73 is a dump truck version with a body heating function to eliminate freezing of the load. You can buy from 2 300 000 rubles;
KAMAZ-6520-43 – this modification has a powertrain that meets environmental standards Euro-4. It can be purchased from 3 500 000 ppm. Many modifications consume about 50 liters of fuel per 100 km off-road.
Pluses and minuses
Pluses cars
No hood, which increases visibility;
Heavy payload (road train up to 62 tons);
Acceptable ground clearance height;
The machine is not heavy in operation and repair;
There are no problems with purchasing parts and spare parts;
The moderate price policy of the Kama company and possibility of acquisition of second-hand variants;
Powerful power units (there is a foreign more economical engine);
High-quality German mechanical gearbox;
Later versions have an improved appearance of the cabin, which is distinguished by style and improved aerodynamic performance;
Improved dynamic component of the truck tractor;
More elaborate interior;
Comfortable air suspension seats;
Some equipment is available with up to two beds;
There is a stand-alone cabin heater;
There are many modifications, which allow you to use the car in different areas;
Branded saddles.
Cons of a car
Still outdated dump truck cab;
Problems arise over time with regard to the quality and level of assembly of the interior and the machine as a whole;
The chairs could have been made much better, so they still can't reach foreign competitors;
No bedding;
The generator power is often not enough;
Hard to find some spare parts and components for a specific row of 6520;
Shortcomings during operation of the hydraulic system mechanism;
Brake and fuel system issues arise;
Slow speed with the dump truck loaded;
Low quality bearings in the middle and rear axle gearbox;
Slightly overpriced.
We sum up
Paying attention even to the updated Russian dump truck KAMAZ 6520, there are mixed feelings. Of course, many upgrades have made the model much better, it began to have a pleasant appearance, the body began to make different shapes and introduce a heating function.
Power units were supplied with increased capacity, and also introduced a foreign Cummins engine. The interior of the cab is more spacious and more pleasant. Sitting on the seat, which has an air suspension, is very comfortable. Moreover, the seats, as well as the steering column, can now be adjusted to suit your needs.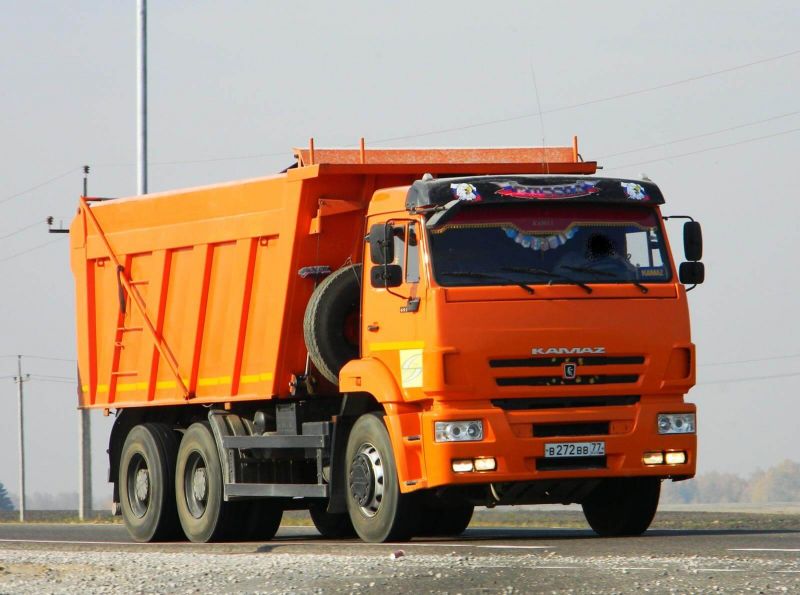 By the way, the cabin itself also received pneumatic cushions, which allowed to work at KAMAZ with increased comfort. As a separate option, even an air conditioner can be installed, which is very necessary in hot weather or when working in quarries. Power units still consume a lot, and the level of interior and appearance of the car obviously does not reach the European competitors, however, it is created for heavy and dirty work, and with the problems, it is necessary to recognize, copes well.
Although, many people complain about frequent breakdowns, especially of bearings, it is possible to eliminate this defect at the plant later. But the fact that KAMAZ is trying not only to produce new trucks, but also to modernize existing ones, says that it is competitive and wants to win the respect of car enthusiasts in many countries around the world.
We advise you to read the article: KAMAZ – cars of the era
KAMAZ-6520 photo
Test drive
Video overview
Similar news