Infiniti Q30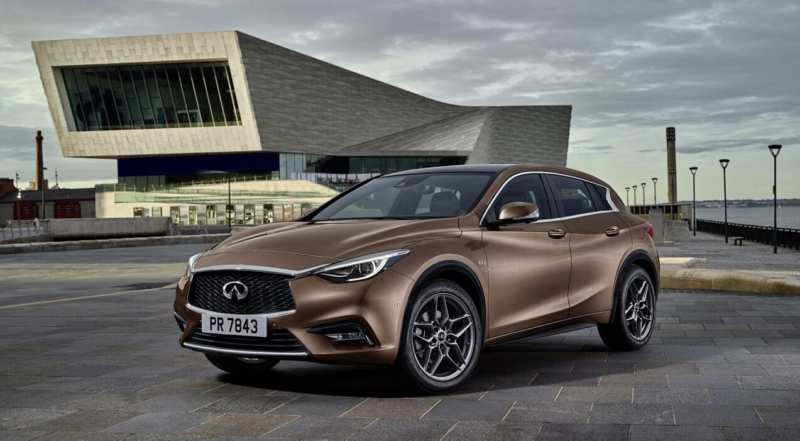 Infinity Q30 2016-2017 was the first hatchback in the history of the Japanese company, which was created in close contact with German specialists from the world-famous Mercedes-Benz company. The pre-production variation of the new Infiniti Q30 was shown in the autumn of 2013, and the prepared machine for production was delivered to the Frankfurt Motor Show in 2015.
The five-door luxury hatchback was very interesting for all visitors, as the Japanese were not expected to produce a compact car of this type. However, this is not all, the company promises to declassify another new compact hatchback soon. The whole model range is Infiniti.
Exterior
Appearance of the new Infiniti Q30 has undergone not so many changes, if we compare it with a conceptual machine, which became its prototype and white demonstrated a couple of years ago. However, despite of it, the car, for all long time of tests has received the whole list of corrections, completions and improvements. Initially, I would like to highlight the complete picture of the Japanese appearance. It seems as if, despite the considerable number of complex lines, the engineering staff took advantage of a popular saying and the compartment is all superfluous. The body component has style, power and dynamics.
Partly, it is noticeable to others on its various elements. For example, the nose of a compact Japanese hatchback is decorated with the presence of a branded radiator grille with a characteristic shape of partitions, which were chromed. Separately, it is necessary to speak about headlights, fog lamps and tail lamps, which seem to have been specially born for such a car. Starting from the hood edge, unusual and complex patterns stretch the edges of the sides, which turned out to be quite skittish.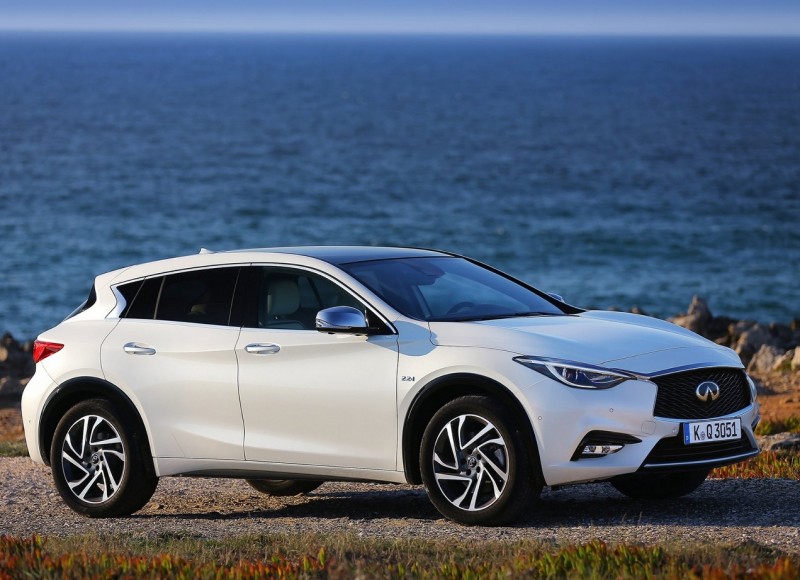 They seem to emphasize their forms of high glazing line and large doors, which are able to provide security for any passenger. This is completed with a folding roof, a sophisticated luggage compartment door that has not lost the comfort of opening and the ease of loading/unloading luggage. The front part of the Infinity Q 30 has a majestic "face" with blown "cheeks" of the front wings.
This view is achieved thanks to triangular pointed headlamps with angles of LED running lights. Very unusual look large fog cells, which have a square shape. If to speak for a lateral part of Japanese compact hatchback Infiniti Q30 it turned out courageous, extravagant and vigorous. The rim of the side glazing received chrome, there is also a rigid stamping.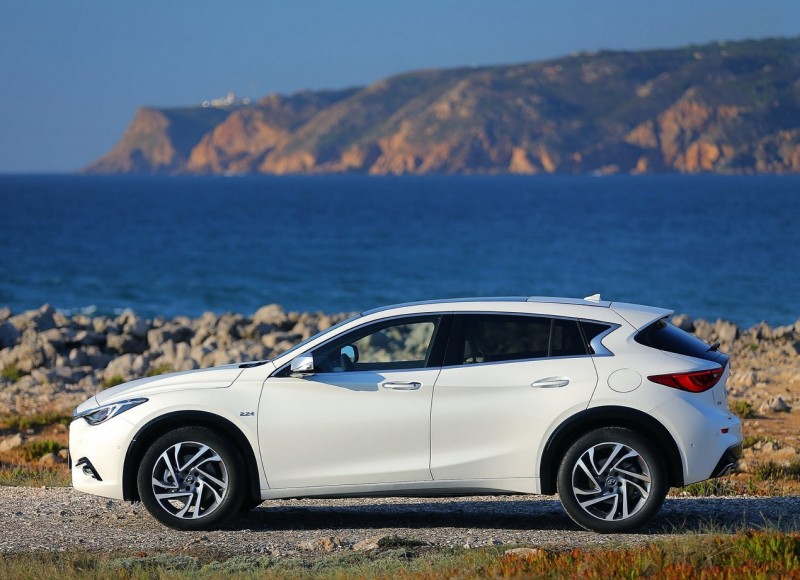 The machine has a fast-paced character, which is just right for the sports format. Experts from Japan have applied ideal radii of arches of wheels, have underestimated racks of a domed roof, have made fantastic stylish ribs on the doors established on each side. The aft part of the car has no less attractive design elements, which were successfully worked on by Japanese specialists.
The presence of heavily overwhelmed rear window, triangular taillights, powerful bumper with a large number of folds has a considerable effect. The latter has a large number of atypical elements, which makes it quite original. Since it has an unusual "wrinkle", which is very harmoniously intertwined with the overall appearance of the Infinity, it increases its attractiveness.
Interior
After a pleasant appearance, the logic suggests that there will be an excellent ergonomic component inside the car, multiplied by the quality of execution. Here, without exaggeration, there are all the details that are typical for premium cars. This includes expensive leather, perfectly matched parts and advanced technology. To make sure these words are true, just sit on any seat. It is clear that a special level of comfort was given to the driver's seat Infiniti Q30 2016.
It has an anatomical seat with a pronounced side support and electrical adjustment, a comfortable multifunctional steering wheel with audio system adjustment keys and on-board computer, which can be readable in any lighting by pointers on the instrument panel and the trip computer display.
To provide due comfort and safety while driving can become a standard system of climate control and speed, warnings about the presence of objects in the "blind" zone, there is also a presence of stabilization, active parktronic, cameras for all-around visibility, automatic control module of lights, electric power steering wheel, electromechanical parking brake, assistant when driving in the mountain and a new system that can suppress unnecessary noise. The latter system works as follows: when driving at 120 km/h, the car Infiniti Q30 2016 rides 10 percent quieter than its classmates. The newest dashboard makes you proud of your own car.
It looks majestic, solid and stylish. Its structure is simple, however, and not without elegance. Thanks to the wide visor, the sun and external light influences, not only the dashboard, but the entire top of the center console is covered. Between the two instrument wells, a board computer with a larger 5-inch screen was installed. The center of the torpedo is decorated with 8-inch color display of InTouch multimedia system, which was first seen on the model Q50. Designers and engineers have been able to highlight a pair of deflectors that look like petals in shape.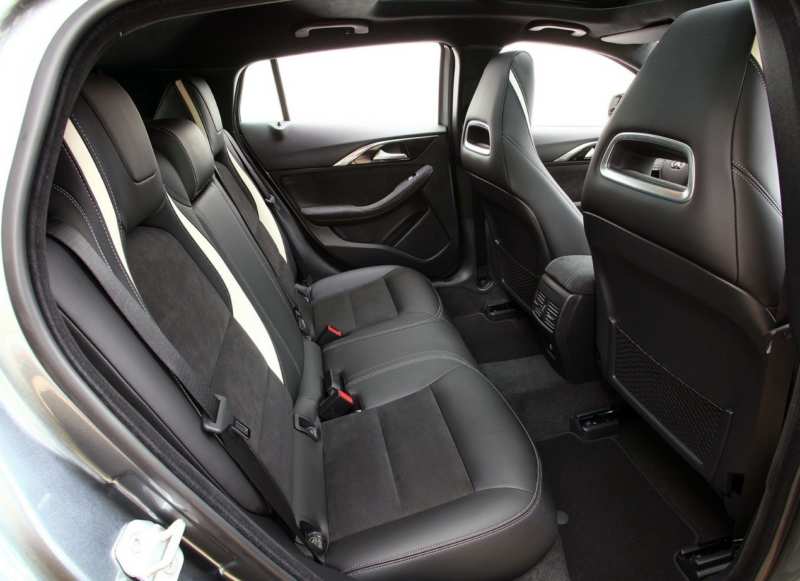 A little below are a large number of keys, switching regulators. All of these elements go neatly into the gearshift panel, which in the new hatchback is just a little bit older. It is also worth noting that the machine has only 4 seats. About the quality of seats installed in front and behind, there is nothing to say bad about, everything is at the proper level. Of course, there is a driver's seat here. There are high rollers and an anatomical backrest, which provides the proper level of comfort. Inside the interior there is leather of the most delicate dressing.
There is also the presence of original decorative elements made of natural wood and aluminum. This is partly due to the specific shape of the rear seats with noticeable silhouettes of a pair of seats and a massive central tunnel. The luggage compartment is not famous for its record liters of volume, there are only 368 liters of useful space. But it can be enlarged if necessary, while adding up the rear row of seats in the proportion of 60/40, which will provide about 850 liters of free space.
Specifications
Powertrain
The Japanese Infinity Q 30 will be powered by four different powertrains, which are capable of operating together with a 6-speed manual transmission, or with a 7-range "robot". The range of diesel engines is represented by a junior, 1.5-liter, 109 horsepower and 2.2-liter, capable of developing 170 horses. Next comes a pair of gasoline engines, with the same volume of combustion chamber, 1.6 liters, which produce 122 and 156 horsepower, respectively. Torque is transmitted to the front wheels, but if necessary, you can order the AWD version (4Matic).
There is a surprise for the North American car market. It means a 2.0-liter engine that produces 211 horsepower. Such power units are controlled by Mercedes-Benz. 1.6-liter 4-cylinder engine with chain drive of 16-valve gas distribution mechanism, turbine, direct injection of 3rd generation and the mechanism of adjustment of gas distribution phases at the outlet and inlet is able to accelerate hatchback up to 100 km/h in 8.9 seconds together with the "robot", and its maximum speed will be 214 km/h.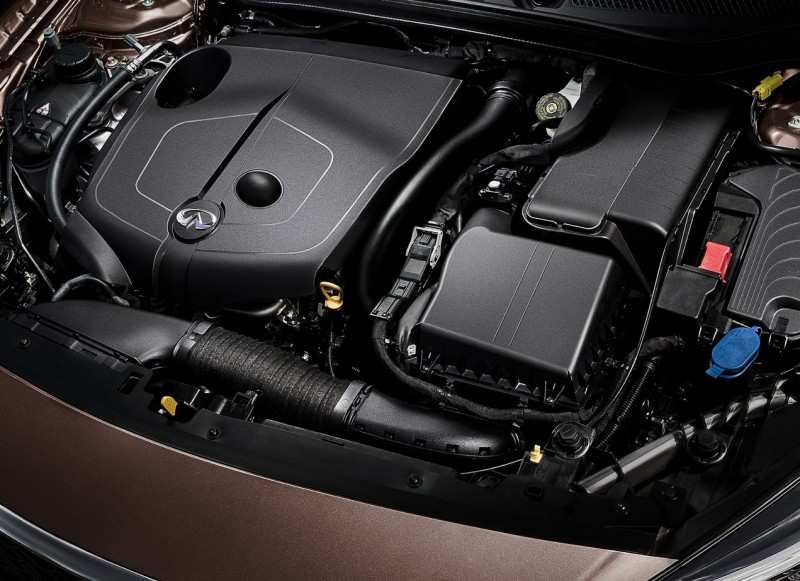 The average fuel consumption will be 5.8 litres per 100 km mixed cycle. Top versions come with 2.0-liter turbocharged 4-cylinder units, where there is a direct fuel supply, chain drive, mechanisms for adjusting the stroke of inlet valves Camtronic and piezo injectors. Together with the robotic box, and all-wheel drive with electrically controlled multi-disc clutch, which throws up to 50 percent of torque on the rear wheels, Infiniti Q30 2016 reaches the first hundred in 7.3 seconds, and the maximum speed of 228 km / h. For 100 km, the car consumes about 6.7 liters in combined mode.
If to speak for a suspension, it on Infiniti Q30 2016 is presented by independent, ahead stands McPherson, and on a back axis multilever system. The suspension was adjusted for driving with high vertical and lateral loads. According to manufacturers, the car can be easily used in urban areas, as well as on mountain serpentine.
Dimensions
The car was classified as a C-class car. This is eloquently evidenced by its size. Infiniti Q30 2016 is 4,425 mm long and 1,805 mm wide. Its height is 1,495 mm. The height of the ground clearance was a pleasant surprise, it is here at the level of 172 mm, and this is very good for a compact hatchback, especially if you consider the quality of roads in the Russian Federation.
Safety
To security systems refers to the presence:
Infiniti car immobilizer alarms with an encrypted counterpart chip that is mounted in the electronic key;
Electric door locks;
Key chip.
Passive safety includes availability:
Infiniti Advanced Inflatable Airbag Systems (AABS) with seatbelt sensors and human locator recognition;
Dual-mode front airbags;
Additional side airbags installed on the front seats to protect against side impacts;
Additional side airbags installed on the front seats
Auxiliary inflatable curtains installed in the passenger compartment ceiling to protect front and rear occupants;
ISOFIX systems (the fastener is placed lower with the belts);
Head restraints with mechanical 4-position adjustment;
Forward and rear head restraints for all passengers;
Rate Limiters;
3-point front seat belts with height adjustment, pretensioners and tensioning force limiters.
The active safety and suspension can be attributed to the presence:
4-channel anti-blocking system;
Machine dynamic stabilization systems;
Emergency braking assistance systems;
Tracking system;
Parking sensors in front and behind;
Rear visibility cameras + parking display;
Electronic brake force distribution system;
Hoistening assistance systems;
Cruise control;
Gearbox mode Eco-Sport switches;
Wheel pressure systems;
Robotic 7G-DCT 2nd clutch gearbox.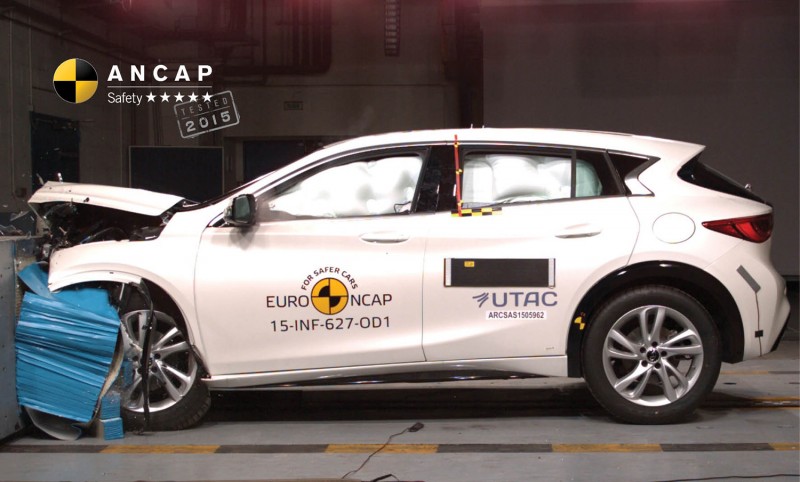 The new Japanese-made car is able to demonstrate a wide range of different security systems and electronic assistants, including automatic parking assistants, panoramic cameras, moving object detection systems, car tracking and detection systems in blind areas of exterior mirrors, frontal collision warning systems with emergency braking option, lighting system control assistants, adaptive cruise control with a sensor that has been hidden behind the nameplate A service that alerts the driver to the environment can alert the driver to other road users in blind spots.
Thanks to the frontal collision warning system and the emergency braking system, the driving tension in urban areas will be reduced. With the help of automatic emergency braking, the system is able to prevent or minimize the consequences of a collision. Automatic high beam control is an intuitive technology that increases safety and confidence on the road in the dark. And thanks to intelligent cruise control, the vehicle can automatically maintain a safe distance for a safe and secure ride.
Complections and prices
For the Russian market, Infiniti Q30 2016 will be offered in three equipment variations – City Black, Café Teak and Gallery White. For a Japanese luxury car in the standard version will need to pay from $36195,43. There will be a 1.6-liter engine and front wheel drive. If the 2.0-liter engine and all-wheel drive system are installed, it will cost $4723,20 more.
This equipment includes 6 airbags, 18 inch wheel rims, LED headlamps with adaptive lighting technology, Nappa, ESP, ABS and EBD leather trim, an "assistant" when starting to climb and an emergency assistance option. In addition, the car will have a 2-zone climate control, four power windows, multimedia system, heated seats installed in front, rain and light sensors, speed limiter and other "chips".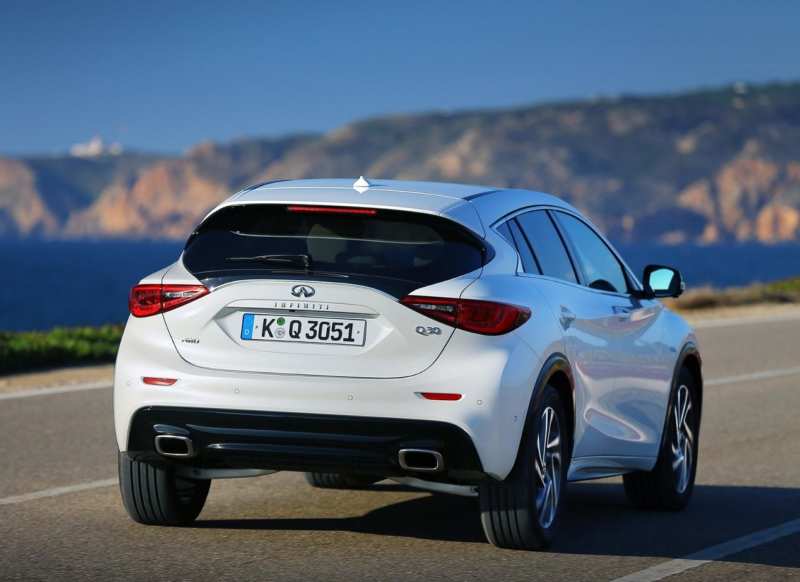 The Café Teak and Gallery White version, with a standard powertrain, will cost from $39344,23 and with a top engine from $44067,43. Among other things, the more expensive versions will have a premium Bose audio system with 10 speakers, a panoramic roof, interactive navigation with traffic information, a parking assistance option and technology of circular visibility. The difference between the performance data and the interior decoration will be the same. In the initial version will be the presence of brown upholstery with a black stitch, and the top equipment shows off white upholstery with red stitching.
Pluses and minuses
Pluses cars
Availability of a luxurious, memorable car design;
Comfortable salon;
Perfect quality interior decoration;
Comfortable seats with a large number of settings;
Modern security systems;
Resistant bodywork;
Efficient braking system;
Personal optics;
Good noise isolation;
Resistant suspension;
Good maneuverability and dynamism;
There are nice and stylish lines that make the car youthful and even sporty;
Nice dashboard;
The central console is quite intuitive and easy to reach;
Many assistants to help the driver on the move;
Pretty strong power units;
It is possible to install a full drive system;
Little fuel consumption.
Cons of a car
Higher car price;
Expensive maintenance;
Bad visibility of the rear window;
Absence of diesel engines;
Small volume of luggage compartment;
Back can only sit comfortably for two people.
We sum up
The car company from Japan, Infinity, has always been famous for its quality cars, and the luxurious hatchback Infiniti Q30 2016 was no exception. The appearance turned out to be very pleasant and attractive, which is just impossible to pass by. Starting from the nose part of the car, it becomes clear that it has all the ambitions to be fast, sporty, youthful and at the same time stylish. Large radiator grille, stylish LED headlights, large arches of wheels with no less than large rims, variable line and stamping, which can be found on the side doors, indicates the desire of the company to comply with modern trends in the appearance of cars.
The rear part also looks very nice, with narrow lanterns and a pair of large chrome exhaust pipes. When you get to the Infiniti Q30 2016 salon, you realize that you are in an unusually pleasant place, which you do not want to leave much. Everything is trimmed with quality leather, the dashboard is very beautiful and informative, and it is very convenient to read information.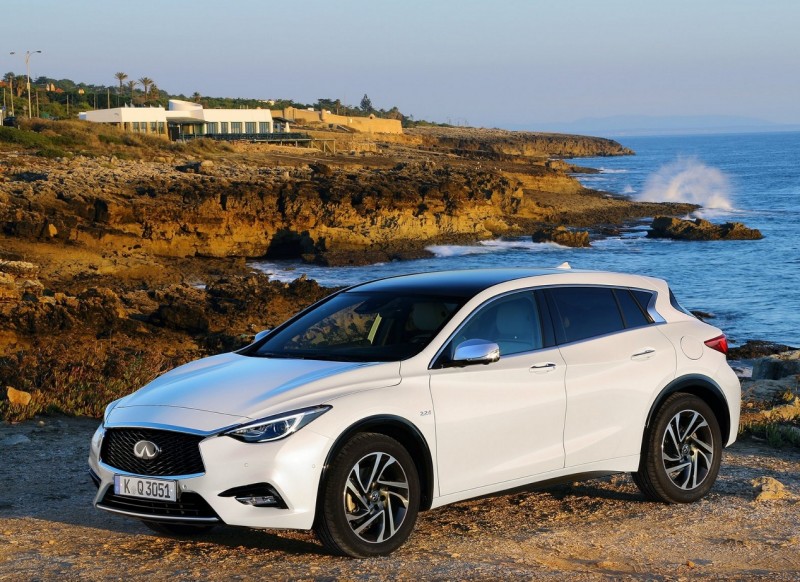 The central console has a large display, considerable deflectors of the climate system and pleasant finishing with metal and natural wood inserts. Front seats are simply magnificent, have various adjustments and systems, such as heating. Also at abrupt turns it feels confident enough as there are high rollers of lateral support. On the back row, only a couple of people will be comfortably seated. The luggage compartment does not have a record volume, but if desired and necessary, it can be enlarged, while folding the rear seat backrests.
Infinity Q 30 comes with good traction motors, which are characterized by low fuel consumption. There are also various systems and assistants that are actively involved in helping the driver when driving on the road. The Japanese have not forgotten about providing a high level of safety, not only for the driver, but also for the passengers sitting next to him. Despite the high price, there is no doubt that the luxury hatchback will be implemented, because there are people who are willing to pay, even if not a small price, for a quality, comfortable and dynamic car, which is Infiniti Q30 2016.
We advise you to read the article: History of Infiniti
Infiniti Q30 2016 photo
Test drive
Video overview
Similar news