Kia Soul 2020: recognizable design and Hyundai Kona engines
The 3rd generation parquet will be shown on November 28th at the Los Angeles Motor Show, sales will start in winter 2019. It is possible that the model will get all-wheel drive and an unusual design. The entire KIA range.
Soul is ready to surprise
A week before the official presentation the first teaser of the Soul car appeared in the network. Judging by what we saw, the model received narrow lights in front, round headlights and the same "fog lamps". Tail lamps have grown in size – now they come to the trunk door and are made in the style of "boomerang".
We note the presence of C-pillars, which look very organic. The roof of Kia Soul 3 remains unchanged. Thin turntables, DHO LEDs hide above the grid. It is likely that there will be an electric version of Kia Soul 2020, which will have an original design.
Sports modification will receive turbocharging, central exhaust, mesh grid. The third generation Kia Soul 3 will get a more spacious salon with amazing finish. The door inserts are decorated with geometric patterns that resemble gemstones. The third generation of Kia Soul 2020 is similar to the Lexus LS.
The elegant steering wheel is accentuated by aluminum, black lacquer, and the dashboard is fully digital. Like the new body, the interior is fully in line with modern trends. Right underneath the vents is a screen with a good, responsive sensor. Instead of the classic mechanism, the interior of the new Kia Soul 2020 is complemented by a rotating disc with a stop button, parking and heating settings.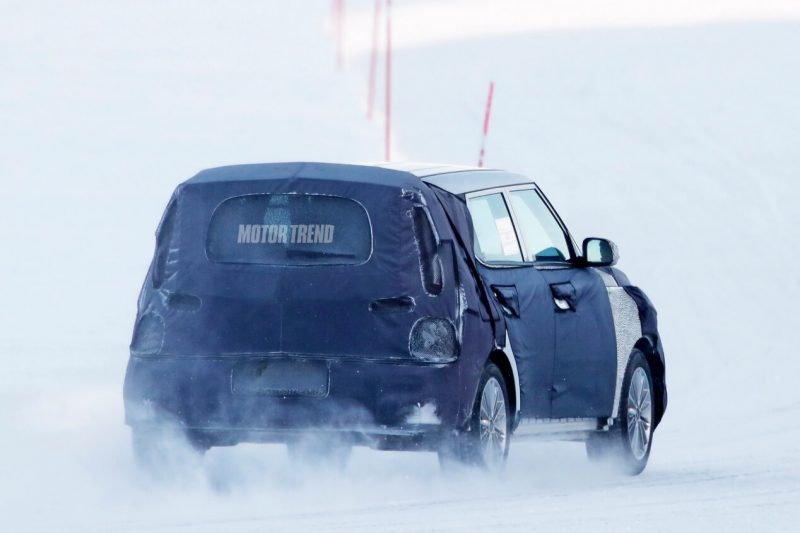 Little is known about the technical characteristics of the new car. Most of the bodywork is made of strong AHSS steel. The optional B-SUV platform provides extreme rigidity and good handling even at high speeds. Since the novelty divides the platform with Hyundai Kon, the characteristics of the Soul parquet flooring engines can be the same:
The engine is 1.6 liters, 177 horsepower.
"Turbottroyka" with a capacity of 1 liter and 120 horsepower.
"Atmosphere", 2 liters, 149 "horses".
Diesel engine 1.6 CRDi, whose power can be 115 and 136 hp
However, the biggest interest is the fact that the nearest competitor Hyundai Kona has a four-wheel drive version. It is possible that Kia Soul will get a 4WD version. For the European market the novelty will be available only in an electric car modification. Which installation will be equipped with an electric Soul, remains a mystery.
Recall that the previous version was equipped with a 110 hp engine, battery 30 kWh. The power reserve was 250 km. The Russian market does not have an electric car. But if the crossover is equipped with all-wheel drive, it will be almost the main technical update of the car.
Similar news