John Deere 6110B universal wheeled tractor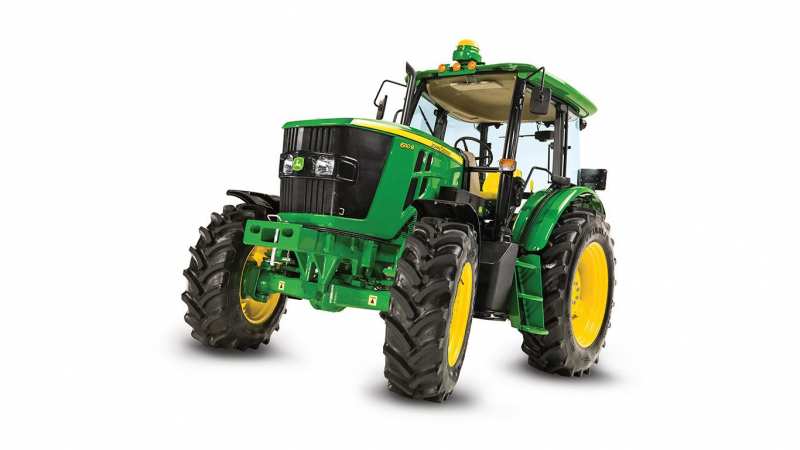 One of the general purpose agricultural machinery produced by John Deere is the wheeled universal tractor 6110B. It is a medium power model, well suited for basic agricultural applications. It can also be used in utilities, construction, and manufacturing – wherever good cross-country ability, increased thrust-to-weight ratio, ease of operation, versatility, reliability, and efficiency are required.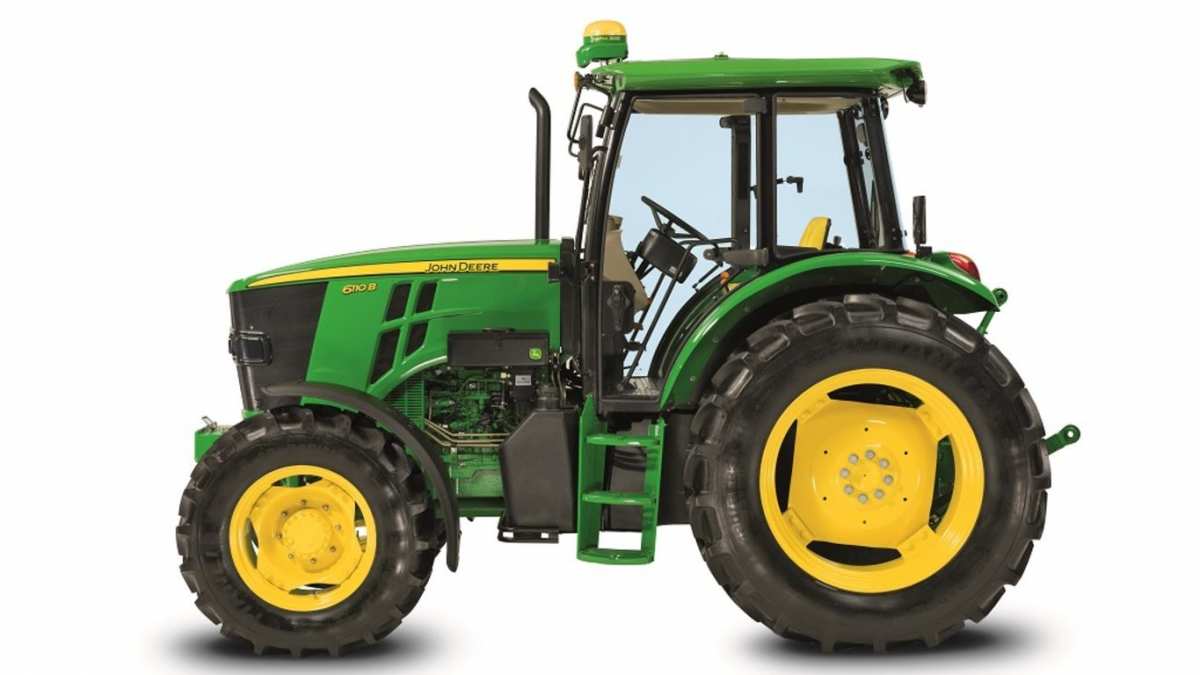 Operating features, benefits
John Deere 6110B tractor designers have thought through the design to the smallest detail. The machine can handle different types of topsoil tillage, heavy trailer transportation and off-road transportation. At the same time, the steering process does not tire the tractor driver – it is facilitated by an ergonomically designed and optimally designed operator's cabin. Some other significant advantages of the 6110B:
continuous, trouble-free operation in all operating conditions;
optimal wheel load distribution;
power pack with power reserve;
power pack
Smooth speed change;
Precision farming system usability.
Powerful engine, special transmission with synchronized gear system, reliable clutch ensure intensive operation of the tractor under extreme loads. Economical operation is achieved by the perfect high-pressure fuel injection system (CommonRail).
The operator's comfort is maximised by a cab with extended interior space, low noise levels, excellent visibility, comfortable controls and a shock-absorbing seat. The cabin is supplied with air-conditioned or heated cleaned air.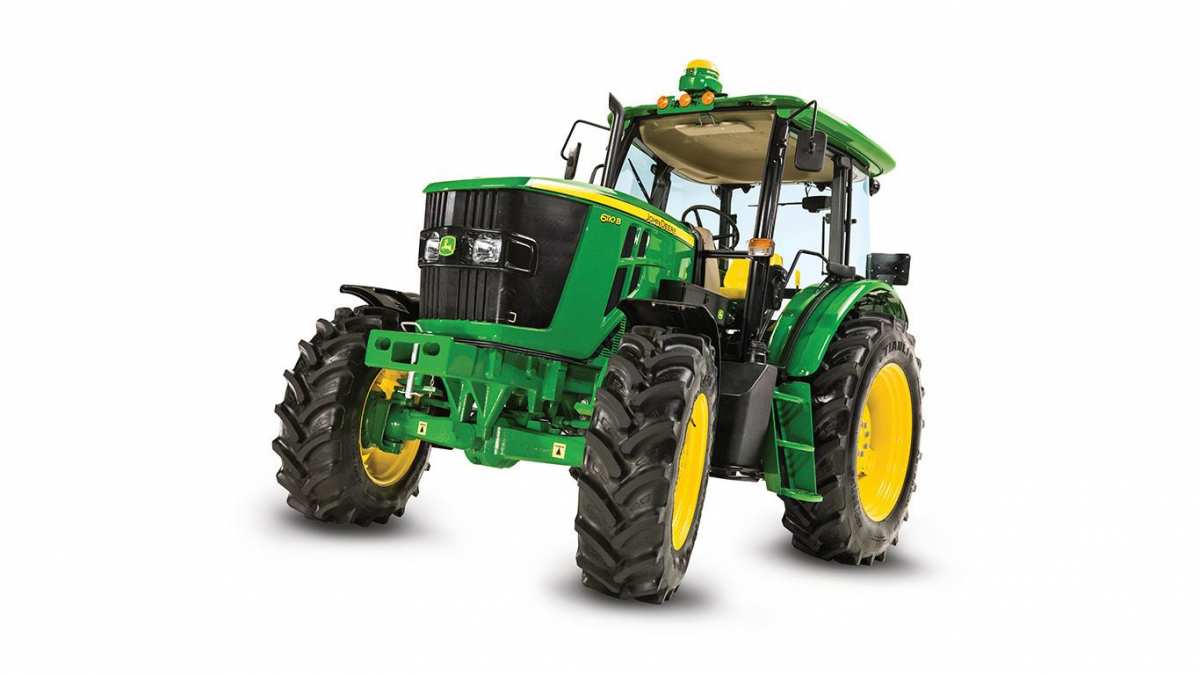 Optimal dimensions and oversized wheels contribute to the high manoeuvrability and passability of the 6110B. In combination with the correct weight distribution (ballasting flexibility), maximum ground adhesion is achieved. The tractor of this model is capable of performing complex agricultural and other similar works.
The design allows the machine to be equipped with a front loader with a mechanical levelling system. The combination of attachments and front loader makes the 6110B universal. It can easily handle loads of up to one tonne (powerful hydraulic system). The suspension system is used to transport various trailers and other agricultural machinery.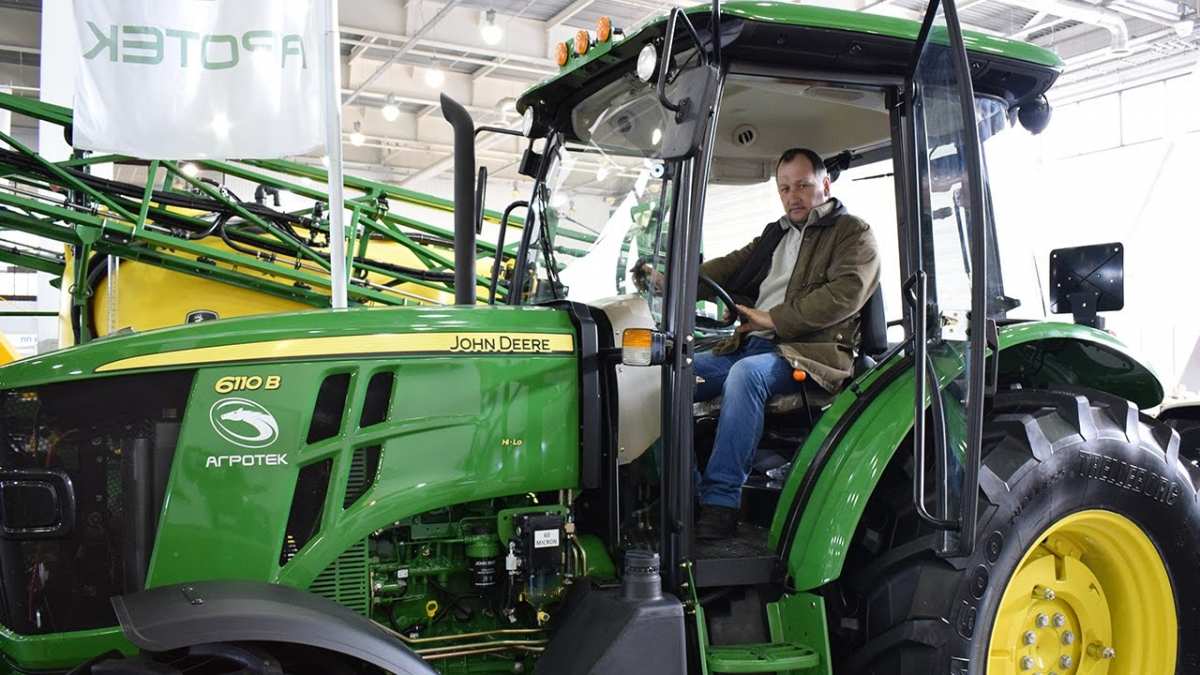 The availability of a rear power take-off (PTO) significantly extends the machine's capabilities. The tractor is connected to various mechanisms for agrotechnical processing of tilled crops.
The AUTOTRAC automatic driving system (optional) with the possibility of setting and monitoring standard operating modes of the machine (precision farming system) is provided.
Long uninterrupted operation of the 6110B is guaranteed if the rules of operation are observed and maintenance work is carried out on time. Tractor is not difficult to maintain. Access to controlled devices, mechanisms, assemblies, systems, pouring tanks, measuring probes is maximally facilitated.
Technical features
High consumer properties of the universal wheeled tractor John Deere 6110B are determined by a well-thought-out design, use of quality and efficient units, units, systems and other structural elements.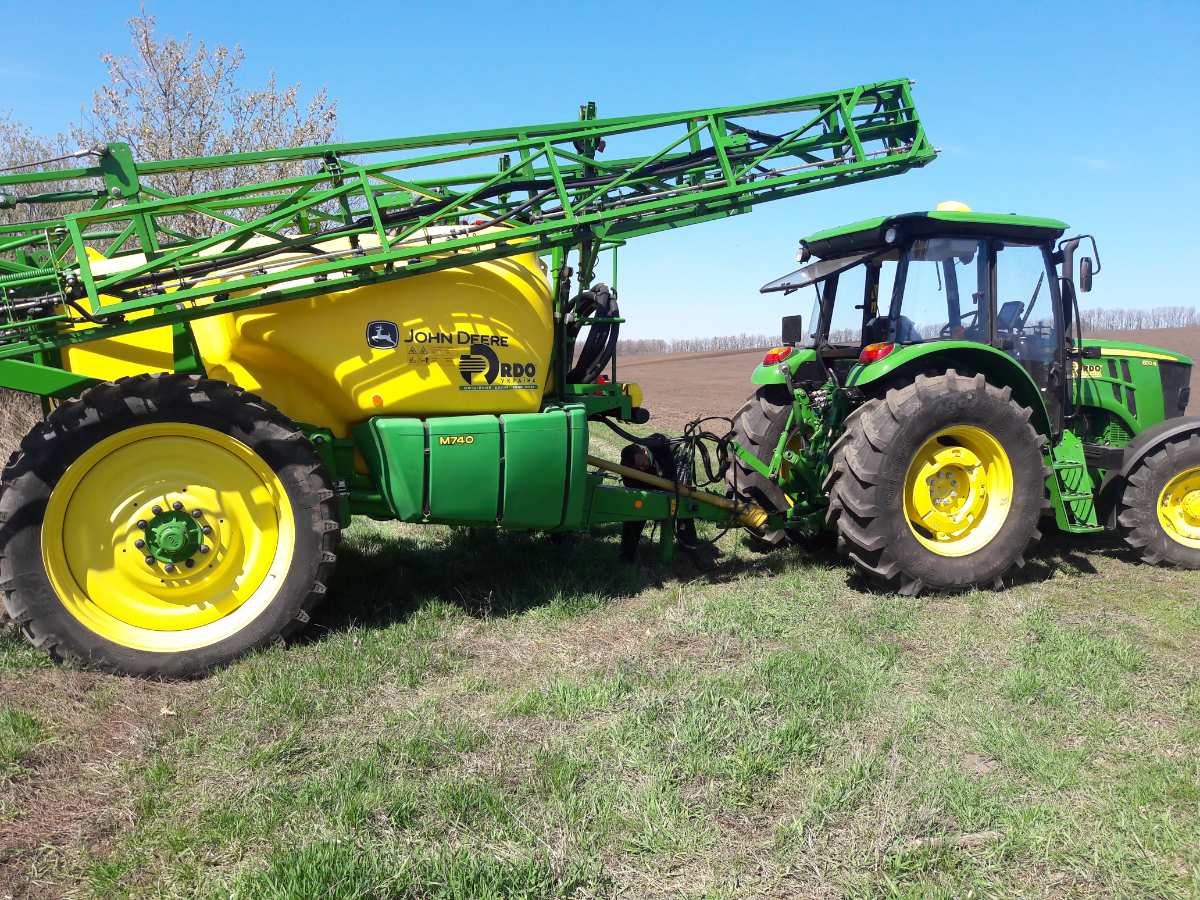 Motor power
The tractor is equipped with a 4-cylinder PowerTech M diesel engine with a rated output of 110 hp. (81 kW) with electronic control of high pressure fuel injection and charge air cooling. Reliable operation at power levels is ensured by an efficient cooling system.
Transmission options
TOP SHAFT synchronized transmission with dry or wet clutch (Standart or Premium version) ensures smooth operation of the power plant.
Bridges
The front and rear flanged axles with a standard 1710 mm front track and 1729 mm rear axles are installed. The track width can be adjusted. A spacer hub can be fitted.
Differential lock
Complete mechanical rear axle differential lock directly from the operator's cab.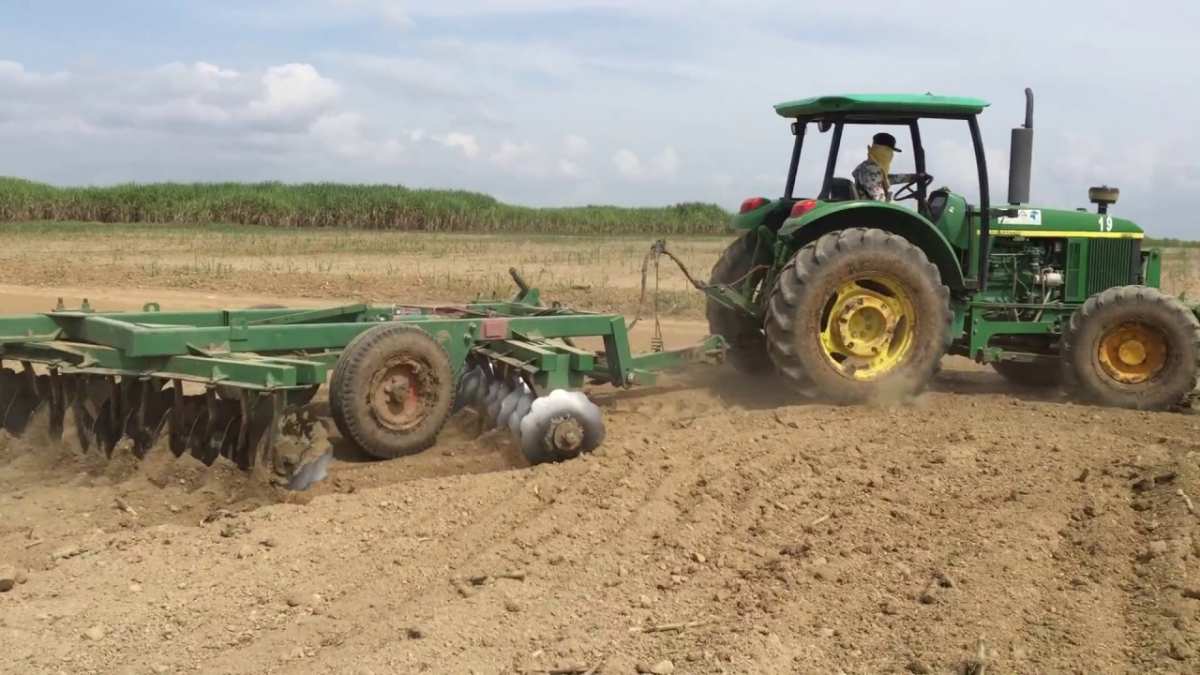 Electric system
A 12 V battery type power supply system with a 90 A generator was installed. Battery provides cold engine start with maximum current up to 960 A (CCA).
Rule control
Hydrostatic steering with amplifier is installed. The standard steering column is non-adjustable, the Premium version is tiltable and retractable.
Hydraulic system
The hydraulic system is supplied by a hydraulic pump with a nominal flow rate of 60 l/min and a maximum pressure of 200 bar. The hydraulic selective control valves are controlled by means of a lever.
Rear linkage
Category II rear linkage with ball heads, load and depth control. Load capacity is from 3300 to 5400 kg.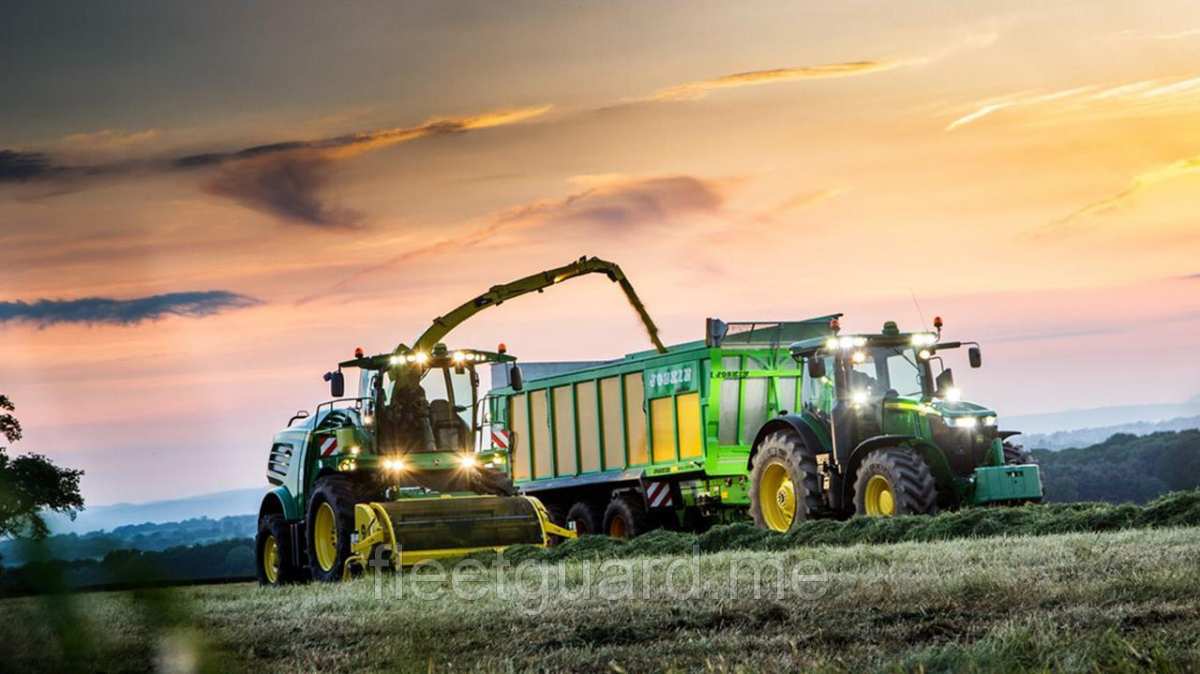 Trailer hitch and trailer hitch
A swivel traction bar with a 31 mm pin (category II) and a maximum static load of 1900 kg on the coupling is installed. The trailer coupling can be installed with a maximum vertical load of 2000 kg.
Rear PTO
The rear power take-off shaft can be with a dry clutch and can be operated manually (Standart version) or with wet clutch and electro-hydraulic actuation (Premium) at 540 or 1000 rpm.
Forward PTO
Optional front PTO with electro-hydraulic actuation and multi-disc modular clutch (available through Laforge). Speed of rotation is 1000 rpm at crankshaft speed of 2200 rpm.
Cabin
Spacious cabin with two doors, tilt protection, with a glazing area of 5.2 square meters. Ventilation, heating, air conditioning.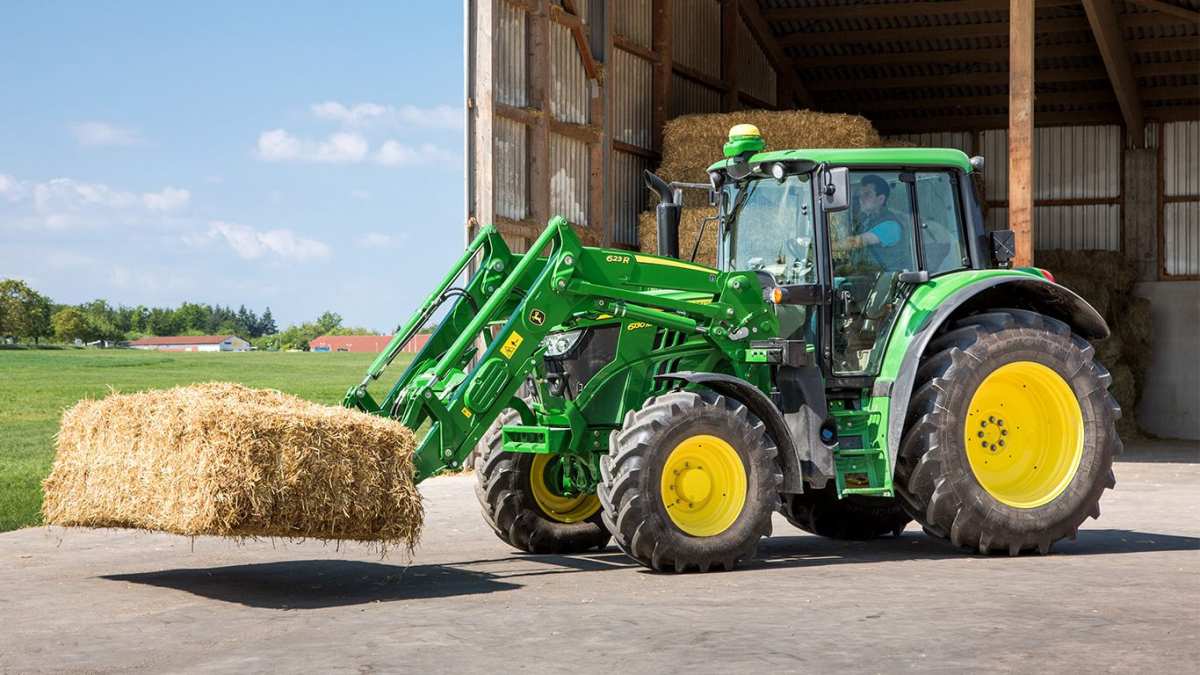 Dimensions, weight
The total height is 2830 mm, width – 2220 mm, length – 4415 mm (without load). Wheelbase – 2560 mm, ground clearance – 480 mm. Weight of Standart tractor is 4290 kg, Premium – 5050 kg.
Carrying capacity
The maximum payload of the rear linkage is 4100 kg. Load capacity of the mechanical self-levelling front loader is 1057 kg with a maximum lifting height of 3438 mm.
Different
The tractor is equipped with systems and devices in accordance with GOST. Additionally it is possible to install AutoTrac Universal navigation system (automatic driving), display, pneumatic braking system for trailer (options).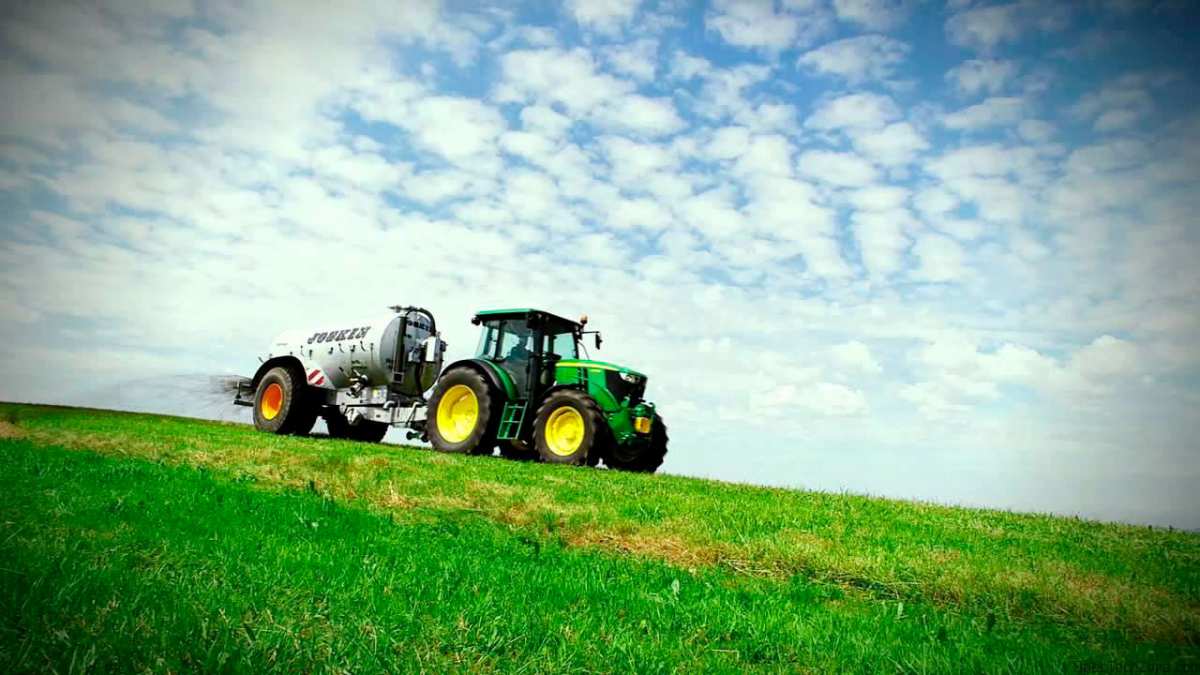 How to buy a John Deere 6110B tractor
John Deere appliances are the international benchmark for quality and reliability. The oldest American company develops and produces wheeled universal agricultural machines and supplies them to the markets of different countries, including Russia. To buy a tractor 6110B, use the services of the site https://dealerlocator.deere.com/servlet/country=RU?locale=ru_RU, where you can find the nearest dealer and read the terms of purchase.
Similar news