MAZ-6422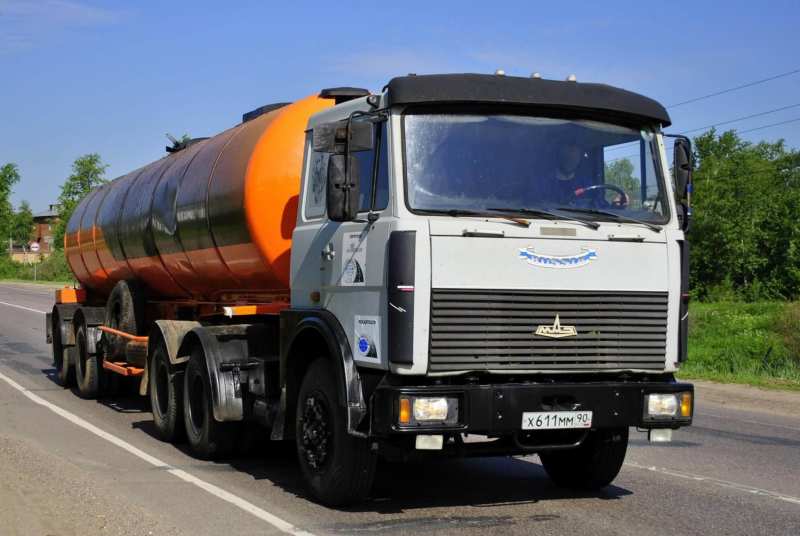 History of appearance of MAZ-6422 – modifications from modifications. Technical characteristics in the tables and description of the advantages of the car help to see the excellent desire of the manufacturer to improve their products. And the branches of modifications show the practicality of the entire range of tractors. The whole model range is MAZ.
Car history
The appearance of MAZ-6422 in the world is foreshadowed by an abnormal number of modifications at the Minsk plant. The roots date back to the early 70s of the last century. The thread stretches from the "5429" model through numerous changes and improvements in mediocre upgrades. The desire of the manufacturer to produce better and better products led to such results. A kind of forefathers of this truck were MAZ-5336; MAZ-6301 and MAZ-6302 were produced with two types of cabins, extended with a sleeping place and a usual short one. In addition, they differed in the number of axles – there were two or three.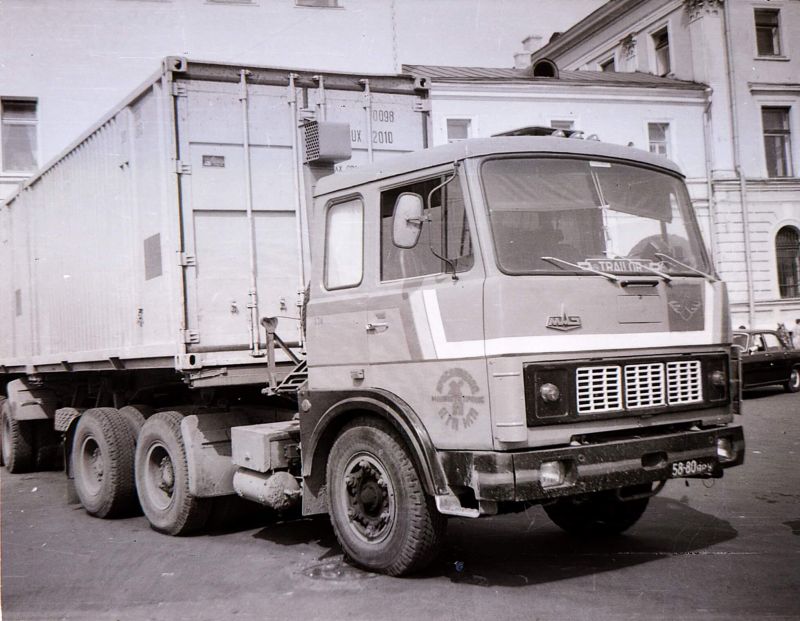 The Yaroslavl engines with different power ranges were still used as power units. The direct basis for the design was a typical MAZ-515 tractor, on its base and it was decided to develop a new modification. As a result, in 1978, the MAZ-6422 began to come off the assembly line. The truck almost immediately received the nickname "SuperMAZ" and established itself as a great toiler. The main purpose was to transport both long-distance and international cargo. It was for the purpose of long-distance trips to the cabin that a sleeping place was added.
Cabin saloon
Wrestyles was a regular feature of these models. The changes affected almost everything when compared to the earlier versions of "6422". Modern tractor looks very decent. First of all, the shape of the outside of the cabin has changed significantly, streamlined forms, which were popular in the 60-70s, were abolished.
The two-piece windshield, which was considered effective, disappeared, and instead – panoramic, and it significantly improved the view. We look at the front and notice the absence of a huge bumper, its absence reduces safety, but adds presentableness to the car. Instead, there is a bumper with smaller dimensions, which now houses the headlamps.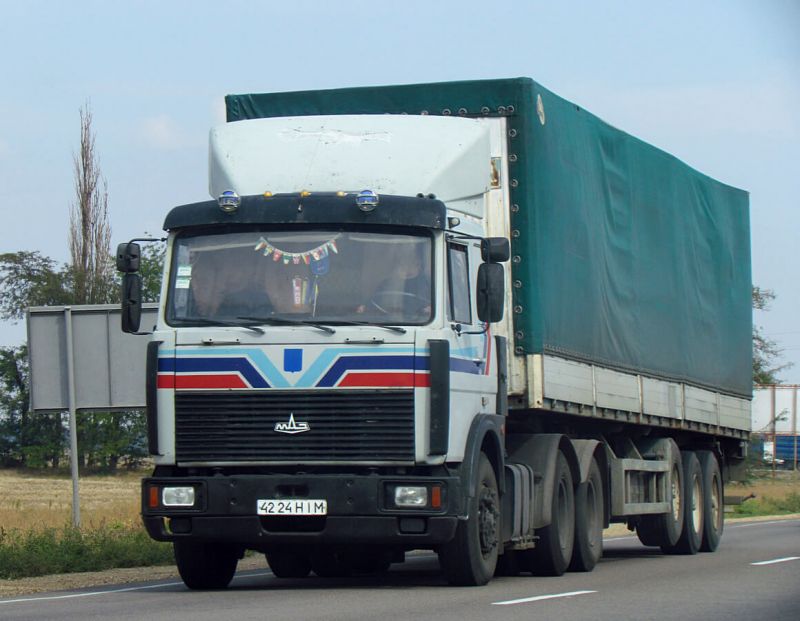 The roof is equipped with an improved spoiler, which helps to reduce resistance and fuel consumption. As for the interior of the cabin, it is much more comfortable to stay there. The steering wheel is now equipped with a buzzer. All functions are located within reach and do not need to be reached. In all previous models, the driver could signal with a special cord.
A special difference is the comfort of the cabin, as other trucks, produced during the Soviet Union, could not boast of anything like this. The highlight of all this was a special driver's seat, which allowed you to conveniently operate the MAZ truck.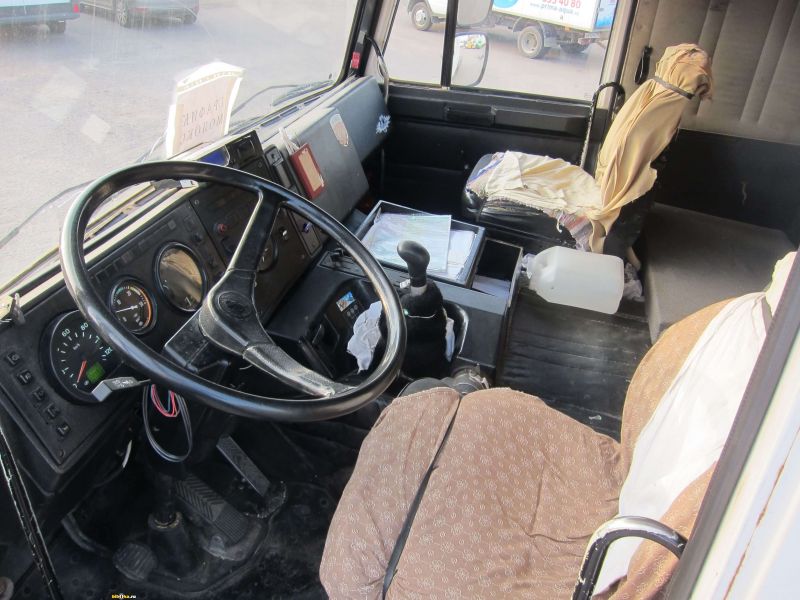 Currently, MAZ-6422 is one of the priority long-haul tractors. Many factors contribute to this at once. Convenient steering wheel allows you to maneuver comfortably, sitting in a chair equipped with shock absorbers – that's what a modern driver needs to improve productivity. The comfortable wardrobe is made so that things that are there, do not interfere even during the shaking of the cabin. Thanks to the two berths, drivers can rest in turn while driving, as well as on different shelves while parking.
Specifications
If you put in a row all trucks, tractors manufactured in the USSR, for MAZ-6422 can be confidently allocated a place as the most perfect car. This was significantly affected not only by the comfort features, but also by the performance characteristics. This proves the fact that the truck still copes with modern tasks perfectly.
Engine
Automobile
MAZ-64229
MAZ-64221
MAZ64224
MAZ-6422
Model
YAMZ-238F
YAMZ-8421.10
YAMZ-8424.10
MAN D2866 LF15
Volume (liters)
14.86
17.24
17.42
12.0
Compression degree
15.2
15.2
15.2
15.2
Power in kilowatts
243
265
312
274
Horsepower
330
360
425
370
Maximum torque in Newton meters
1225
1510
1686
1575
Ecological class
Euro-3
Euro-3
Euro-3
Euro-1
Maximum speed (km/h) with limiter
85
118
Turbonaduve
Yes
Number of cylinders
8
Cylinder arrangement
Lengthwise V-shaped at 90oo
Procedure
1-5-4-2-6-3-7-8
Injectors type
Closed
Air filter type
Dry
Heater (model)*
15.8106
Fuel
Diesel
N litres of fuel / 100 km
At the trace
33
Mixed mode
45.5
*The device serves as both a starting heater and a means of heating the cab.
Transmission – ZF 16S-151
Automobile
MAZ-64229
MAZ-64221
MAZ64224
MAZ-6422
KPP type
YAMZ-2381 (YAMZ-239)1
YAMZ-2381 (YAMZ-239)1
YAMZ-239 (12JS200TA)2
YAMZ-239
Number of steps
9 (8 – forward; 1 – back)
9 (8 – forward; 1 – back)
12 (9 – forward; 3 – back)
9 (8 – forward; 1 – back)
Transfer number of the driving axle
5.49 (4.73)1
6.59 (5.49)1
3.97
4.73
Type of clutch
Double disk dry
Type
Mechanics
Synchronizers
All but reverse and I stage
Type of cardan transmission
Two cardan shafts
Main list of driving axles
Double*
*It is this type of gearboxes that results in an increased number of gearboxes.
Dimensions

| | |
| --- | --- |
| Length | 6 570 mm |
| Width | 2 500 mm |
| High- | 2 970 mm |
| Wheelbase | 2 900 mm |
| Forward gauge | 2 002 mm |
| Rear gauge | 1 792 mm |
| Minimal turning radius | 9 200 mm |
| Road clearance (clearance) | 260 mm |
Carrying capacity

| | |
| --- | --- |
| Concentrated mass | 9 050 kg |
| Beam Axle Load | 4 630 kg |
| Rear axle load | 4 420 kg |
| Gross weight with cargo | 24,000 kg |
| Beam Axle Load | 6,000 kg |
| Rear axle load | 18,000 kg |
| Permissible trailer weight | 32 700 kg |
The obvious advantages of this technique are still practical and continue to be improved by users. There are a lot of fans of modernization and tuning now and they often get to MAZ-6422.
Modernization
MAZ-6422 is a basic version, which received a diesel engine. The car was produced from 1981 to 1985;
MAZ-64224 is a modification equipped with a more powerful 425 hp engine. Its production started in 1989;
MAZ-64221 – a version with a YaMZ-8421 engine of increased capacity, production of which began in 1989;
MAZ-642205-220 – modification with the power plant "YaMZ-238DE2", corresponding to the ecological class "Euro-2";
MAZ-64226 – model with 360 hp foreign-made unit (German company MAN) and 16-speed gearbox;
MAZ-64227 is a modified version of MAZ-6422 with 8-cylinder diesel engine "YaMZ-238F" and modified front end. Production of this model lasted from 1985 to 1988;
MAZ-64229 is an improved version of MAZ-64227 with 8-cylinder engine "YaMZ-238D". Production of the model started in 1987.
Pluses and minuses
For the Soviet consumer MAZ-6422 and its modifications were a big step not only to greater productivity, but also to increase the comfort of jobs. Remembering this machine, it is this quality that is the first thing to talk about. Availability of a wide range of stuffing is only pleasing, and the buyer can choose exactly what suits him best.
The implemented German engine from MAN increases the reliability of the machine, but at the same time, increases the cost of maintenance of equipment. Now the model "6422" has undergone a lot of overhauls, restyles and other changes. This proves that there is a place to grow, and there are always disadvantages. In this model, negative indicators are shown by aerodynamics, which increases fuel consumption.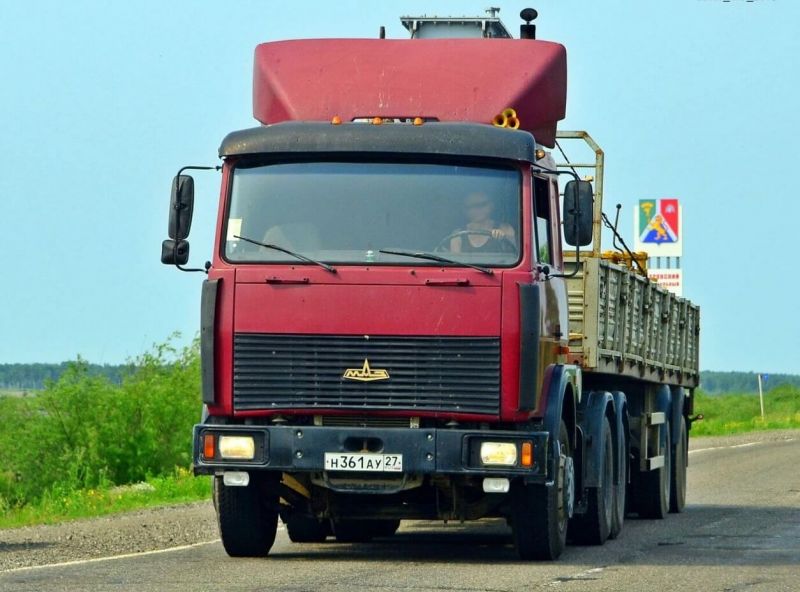 We sum up
MAZ-6422 started to prove its worth at the very beginning of its production and use in various spheres all over the Soviet Union. Nowadays, various modifications can be found not only in the territory of the post-Soviet space, but also in the expanses of Europe.
Owners of these tractors speak highly of the performance of the systems in the truck and, while continuing to use it, also improve some of its systems, strengthening the chassis or improving the equipment of the interior. One way or another, it is possible to buy a tractor with mileage, a relatively recent production, at a price of up to 1.5 million Russian rubles. And with proper care the car will be able to serve for a very long time.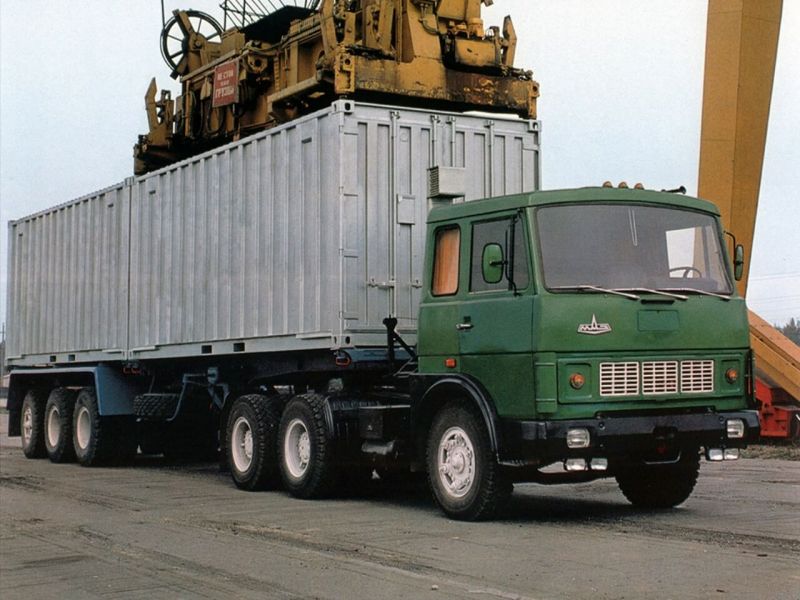 We advise you to read the article: MAZ – history of Minsk Automobile Plant
MAZ-6422 photo
Test drive
Similar news