FAW V5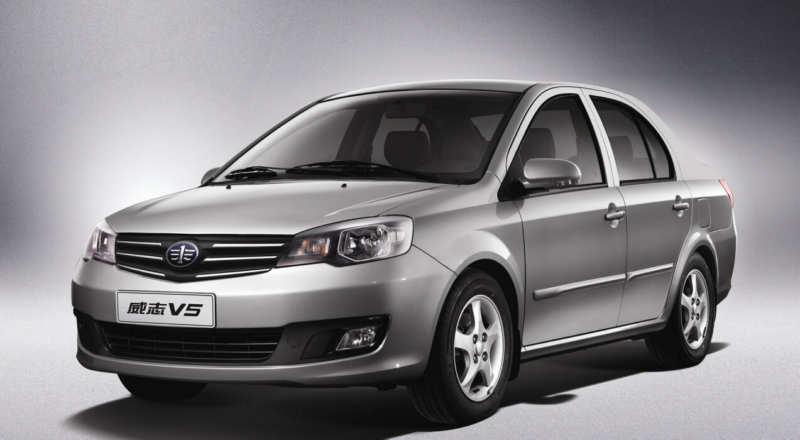 The FAW V5 is an upgraded sedan version of the Vita model. The car is produced in China since 2012. The number of cars that Chinese manufacturers enter the market all over the world has increased noticeably recently. All the more so because of the low cost cars, such as the B5. Next spring, 2013 saw the start of Chinese sales in the Russian Federation. The whole model range is FAW.
Exterior
Paying attention to an ordinary budget car, there is a feeling that such a design was somewhere. And it happens for quite understandable reasons, because many Chinese manufacturers often repeat the successful decisions of more famous brands. Therefore, in this Chinese man will not be able to meet something fresh and innovative.
The car is not famous for its appearance, although it does not look scanty. The front side is decorated with quite standard headlights, radiator grille, which looks not so bad because of its non-standard shape. The spirit of modernity can be noticed only in the bumper, which is located in front of the bumper, which has foggers and air intake.
The calmness and smoothness of the hood breaks the small punches near the headlights, which are stylishly transformed into stylish wheel arches. The appearance of the wheels does not allow them to admire, the diagonal of which is only 14 inches. The rear part of FAW V5 sedan ends, in general, with a sad appearance, where again there is nothing new. There is a quite a massive bumper, a lot of bulky lamps, a big trunk door. LED optics for some reason decided not to use, which is very strange, it would be just in time.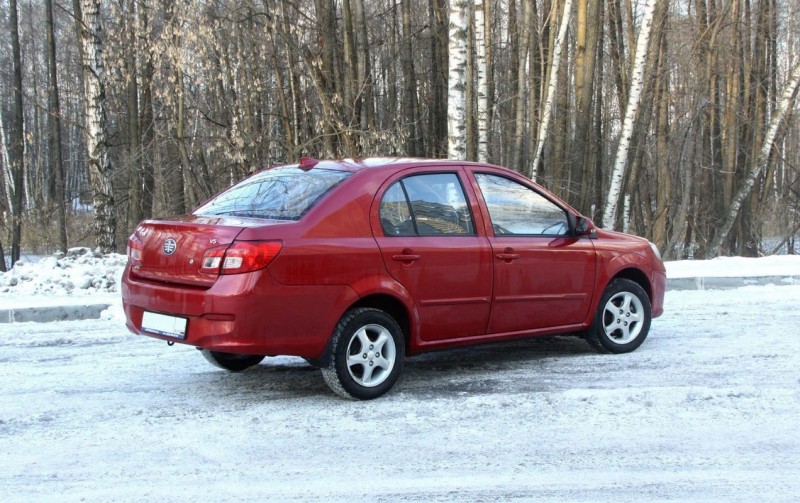 Generally speaking, and in front and side, the Chinese man looks a little like Volkswagen Polo. Small mirrors for the rear view are made in a modern style with repeaters. It is clear that the designers did not pursue fashion and visual effects of their work. Large rear dodger and geometrically correct shape of the doors confirm this. The ground clearance is modest 150 mm, which by current standards and qualities of the roads, it seems, is obviously not enough. Speaking in general, it is possible to tell that outwardly FAV B5 sedan looks interesting, restrained, but boring and a little old-fashioned.
Interior
Getting inside the FAW V5 sedan, there are immediately about the same emotions as from the appearance of the car. It can be seen that when choosing materials, manufacturers were guided by the main goal – to save on everything you can. This is also noticed in poor jointing and stitching. Hard plastic was used. It is impossible to say anything about a strong multimedia system with touchscreen display support, as well as about a multifunctional steering wheel. The interior was made on the principle of how to save money. However, it is worth noting that the dashboard is quite readable. The chairs, though not at all 100%, but at least something hints at the possible side support.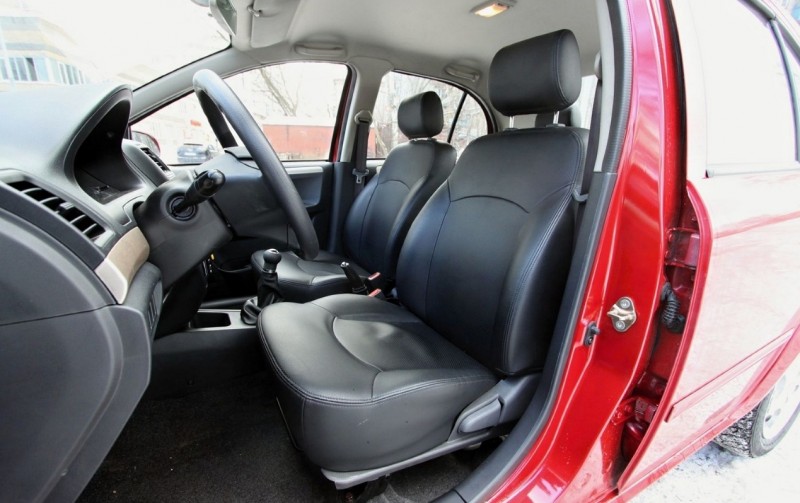 The steering wheel is not subject to any adjustments, which can also be attributed to safety belts. The front seats are too soft, which means that they will soon fail. The steering wheel is very slippery, and the dashboard has 3 dials with adjustable brightness. On the central console there are various controls and a basic audio system with USB and 4-speaker support. Here is the free space in such as it seems at first glance, in such a small sedan, enough, even tall people.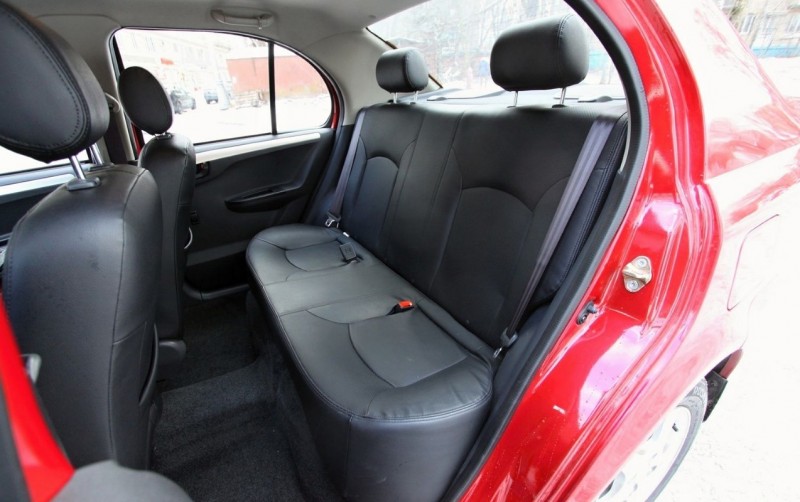 The rear sofa has room for 3 people, but there are only a couple of headrests. In fact, only two people will feel comfortable, as the pillow is made for two seats. The considerable tunnel located on a floor adds excessive discomfort to back passengers. Luggage compartment of FAW V5 sedan has about 420 liters of free space. The option to increase the volume by folding the rear backrests is excluded, as it is not provided from the factory.
Specifications
Powertrain
Speaking of the technical component of the sedan, there is a gasoline engine with a volume of 1.5 liters, which is able to develop 102 horsepower. It is synchronized only with a mechanical five-speed gearbox. The FAW V5 sedan accelerates to the first hundred in 14 seconds, and the maximum speed is 180 km/h. Average fuel consumption in mixed mode is about 5.6 liters per 100 km. Concerning the suspension – in front is an independent McPherson, and on the rear axle of the torsion beam. On a suspension it is possible to declare that it is quite soft and comfortable, and not bad swallows holes of our well-known roads.
Safety
The I-Safe-System includes passive safety:
Reinforced bodywork;
Steel beams in doors;
Energy absorbent inserts under the bumper installed in the front;
Injury-proof steering column;
Injury-proof head restraints;
Airbags.
Also there is active security. Among them:
ABS;
EBD;
BOS brake priority systems (this option works by simultaneously pressing the accelerator and brake pedal and losing control of the machine)
Wheel pressure sensors.
And yet the interior is acutely felt lack of airbags, minimal for passengers sitting behind, even in the top version of the car (because the car is listed as a family car). It is clear that it is not necessary to demand maximum safety from this manufacturer, because the tests conducted by Chinese crash-tests (C-NCAP) FAW did not allow him to gain sufficient points.
Complete sets and prices
You can buy FAW V5 sedan in the Russian Federation at a price from 469,000 rubles, for the basic version, which includes front airbags, ABS, fog lights, air conditioning, power windows and audio system with MP3 support. The Deluxe version, which is estimated at 499,000 rubles, additionally includes leather interior trim, rear parktronic and moldings, which are made in body color.
The Comfortable range includes 14 inch light alloy wheels, a fabric interior, a pair of front airbags and safety services – EBD and ABS – as well as electric power steering, electric mirror drive, gasoline tank hatch and luggage compartment lid, central locking and remote control.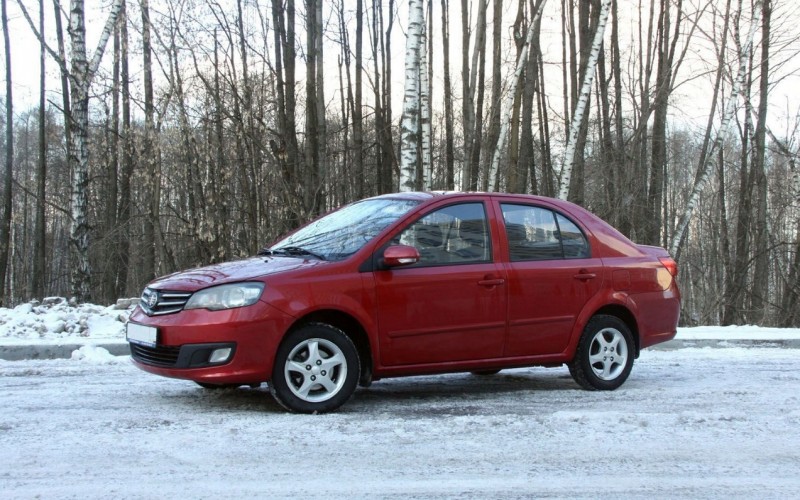 For a comfortable ride, as mentioned earlier, was installed:
Electric package which includes side mirrors, window lifters, luggage compartment and tank lid;
Air conditioning present;
CD and USB audio system for 4 speakers;
Rear window heating function;
Availability of immobilizer;
Rear parktronic;
Full size spare wheel;
Far front airbag pair;
Rear door locks for child protection;
It is possible to attach ISOFIX child seats;
ABS+EBD;
BOS;
Wheel pressure sensors.
It is worth noting that the central locking system is only available as a separate option, as is the case with light alloy wheels and fog lights. The basic protection of the car crankcase is provided only with plastic protection. As a separate option, the crankcase can be fitted with a metal one.
Products and minuses
Pluses cars
Availability of a convenient luggage compartment;
Admissible fuel consumption;
Good basic car equipment;
Approved pricing policy;
Not bad acceleration dynamics;
Pretty spacious and spacious salon;
A good suspension is installed, which is good for potholes and potholes.
Cons of a car
Low noise insulation of the interior;
Completion in the cabin of low quality;
Hard plastic;
Morphous passengers will not feel comfortable from behind because of the low ceiling;
Minimum rear visibility;
Previous fogging is difficult to replace;
Unusual landing and still cramped salon;
Not adjustable steering column;
Rear seats cannot be folded in any position, which is an undoubted disadvantage for a modern car;
Absence of airbags as standard;
Windscreen and side mirror heating options are not available.
We sum up
In the end, I would like to note that FAW V5 sedan is not the best representative of its class, in particular, if you compare the quality and pricing policy. However, the car has its own highlight and small advantages, which can be seen, at least, looking at domestic cars. The Chinese man has a nice, but not luxurious, but satisfying appearance, has a good salon, the quality of which is noticeably affected, and a good arsenal of electronics. The engine, though not the most powerful, but not badly copes with its tasks, being an example, in the matter of fuel economy.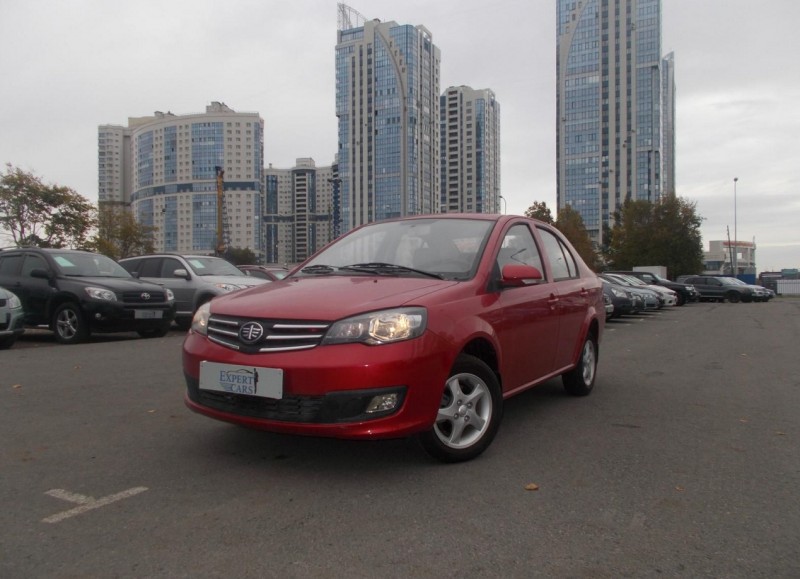 We advise you to read the article: History of FAW Group Corporation
FAW V5 photo
Test drive
Video Overview
Similar news