Fiat Toro is an informal Italian pickup truck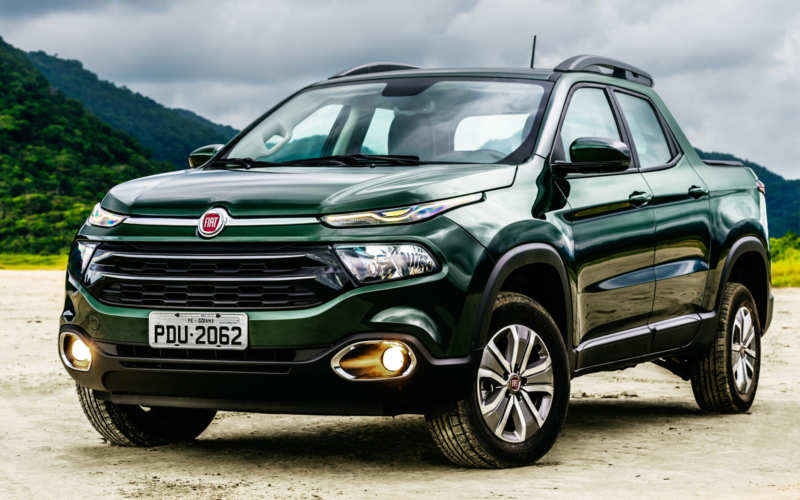 What happens if talented Italian designers and experienced American designers join forces? You will get a real masterpiece – Fiat Pickup. This car was presented in October 2015. The car hit the home market a year later, and production started in Brazil.
Italians and Americans have created a really original car with unusual lighting, stylish design, memorable interior. Under the hood Fiat Toro also has an interesting stuffing. In a nutshell about how the Italian pickup turned out. The whole Fiat model range.
Looks
As a pickup truck from the world leaders of the automotive industry, the Fiat Toro has an amazing style of performance. In the front of the car there is a powerful bumper, which is decorated with a wide false radiator grille. Fog lights with daytime running lights, headlights are lined up vertically. Lighting equipment is two-storey, looks very unusual.
Rulings on the roof as if hint at the fact that in front of us there is a crossover Fiat with an off-road character. Classical protection on bumpers, wheel arches and thresholds also contributes. Due to the abundant number of bulges, punches under the door handles even on the side Fiat Toro looks very attractive.
There are unusual shaped marker lights at the back. The tailgate is bent in three planes, the stern has an attractive appearance. The four-door pickup truck has an average size. It is 491.5 cm long and 184.4 cm wide. The length of the wheelbase is almost 3 meters, its clearance is 20.7 cm and its height is 173.5 cm. The ground clearance makes it easier to walk on the primer and completely broken road.
Saloon
Despite the solid platform, you won't feel any shyness in the Fiat Toro salon. The seats are spacious – 4 adult passengers, 1 driver will fit freely. Abundance of black colour, sharp forms and good set of electronics as if hint that Fiat Toro is a car exclusively for men.
Standardly there is an air conditioner, parking assistant, front airbags, amplifier, high-quality audio system. If you choose a better set of equipment, you can count on a complete climate system instead of air conditioning, enlarged alloy wheels.
If the basic version of the display diagonal is 3.5 inches, the extended version has seven inches. Also worth noting is the multimedia Uconnect Touch.
Technical characteristics
We want to tell you about one of the most important differences between Fiat Toro and full-fledged pickup trucks. First, it has no frame at all. Instead of a continuous bridge there is a load-bearing body. Italian "bull" (this is how the word Toro is translated) allows you to carry a cargo weighing 1000 kg.
The choice is made in two motor variants:
Atmospheric "four" of 1.8 liters. Works on traditional gasoline, ethanol. Paired with it, there are 2 camshafts functioning. The declared capacity is 130 horses.
The top engine is a two-liter diesel "four". Thanks to the turbocharger, it is possible to squeeze out 170 hp
Mechanics", "automatic" box, multi-disc coupling, front/all-wheel drive will be available. With this set of cars becomes universal.
News price
In 2016, the price of the Fiat Toro varied between R$ 77,000 and R$ 117,000. The conversion into rubles was about 1.5 – 2.27 million rubles. Today the exchange rate has changed, so Fiat Toro costs more.
Total
Together the Italians and Americans have created an unusual pickup truck with a catchy design that perfectly underlines the individuality of the owner. The car stands out in the city stream at once, but also on impassability will look organically. The interior is dominated by quality finishes. Fiat Toro is created to give pleasure from driving!
Similar news