What's the new Jeep Gladiator like?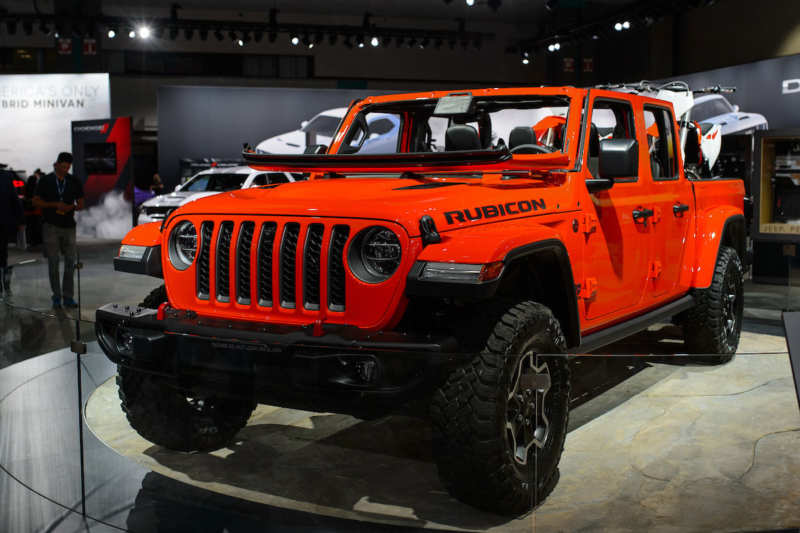 The secret becomes clear, and the upcoming presentation of Jeep Gladiator once again confirms it. A week before the official debut of the car photo was shown online. It turns out that it will have a soft top. And nobody did such a thing in this class. The whole Jeep range.
The real autumn of leaks has come to you and me! First, we have declassified the appearance of Ford Bronco, then we have watched how Land Rover Defender will look. And now it was the turn of the Internet resource Jeep Gladiator Forum to upload photos and characteristics of Jeep Gladiator into the network.
Perhaps the photos were leaked to the network by the manufacturers themselves to draw attention to the upcoming presentation, scheduled for November 28. But after the photos were published, they were quickly removed.
What is known about the new Gladiator 2018?
To tell the truth, Gladiator doesn't really need any additional advertising. Experts have already predicted that it will become the undisputed leader in the pickup segment. Jeep brand has always been on the crest of popularity, every year its cars are becoming more and more popular.
Now it's one of the top 5 most popular auto brands in the U.S. Example, for 10 months of 2018, the car concern Jeep sold 818,994 cars. The most popular was Jeep Wrangler. It is not by chance that we remembered the model Wrangler, because it is on its basis that the pickup truck "Gladiator" was built. Judging by the photos, the novelty inherited all the stylistic and technical features of "Wrangler":
Aluminum outer panels.
Detachable bridges.
Full drive party time.
2 handouts. The buyer can buy a Gladiator jeep with a "fair" locking of two differentials, alternative to the rear self-locking system.
The passenger part is practically the same as the "five-door" Wrangler Unlimited. The characteristic beveled wheel arches have retained even the rear doors. A real surprise was the possibility of ordering a car with a soft roof. It is a roll type – a unique phenomenon for the pickup market.
Body length – 154.2 cm. The payload is 725 kg. Jeep Gladiator J20 is able to pull a trailer weighing 3470 kg.
During the whole history of existence (1963 – 2018) the Jeep Gladiator pickup truck changed several engines. The new 2018 engine is the V6 engine with 3.6 liters of gasoline. It has a power of 289 horsepower, works in conjunction with a six-stage "mechanics", 8-speed "machine".
It is possible that in a few years the diesel modification 3.0 V6 with a capacity of 260 horsepower will be produced. It will be equipped with an automatic 8-speed gearbox. At the end of the month, when Jeep Gladiator will be officially presented, there will be more accurate information about the appearance, technical stuffing, prices and date of sale.
Similar news