GAZ-Sobol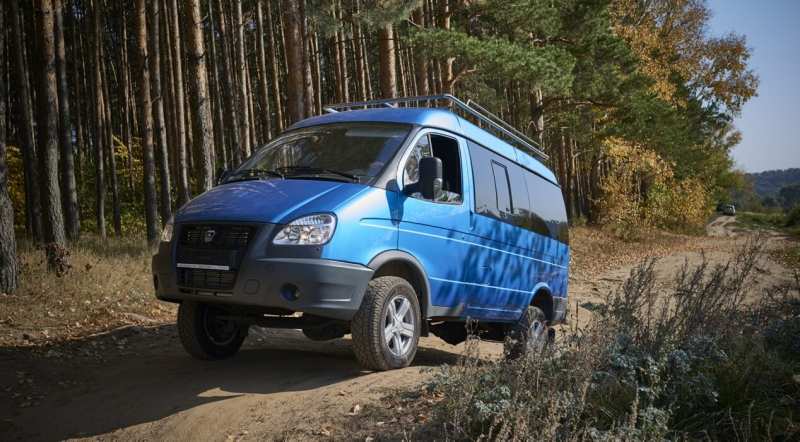 GAZ-Sobol represents a group of light-duty trucks, vans and minibuses, which have been built on GAZ since November 1998. After the development of 1994 and the appearance of a light vehicle, the automobile enterprise in Gorky decided not to stop the progress made, but to continue to move in step with the times.
"Sobol" is a general name for vehicles of various purposes, which have been created at GAZ since 98. It is possible to include a truck GAZ-2310, a minibus GAZ-2217 "Barguzin", a van GAZ-2752 Sobol and their modifications. The whole model range of GAZ.
For several years Sobol GAZ-2310 was produced in a modest circulation, and in 2006 it was decided to put it into mass production together with the Gazelle truck GAZ-3302. Following this decision, the number of cars immediately began to grow. In this article you can learn about GAZ Sobol characteristics, as well as see GAZ 2310 Sobol. Below is its price and information about all-wheel drive.
Car history
According to Vladimir Leonidovich Chetverikov, chief designer of cars of Gazelle's subdivisions, the most important advantage of this model was its weight. It had to be lowered so that it would not exceed 3.5 tons. It was planned that the car could be driven not only by drivers with category "C", but also by those who had only category "B". When the model was assembled, strict limits were set.
To create a light and compact power unit, which could be fully suitable for such a model, there was a serious struggle. Perhaps, for some people this idea was not to their liking, but the desired engine was still installed in this vehicle.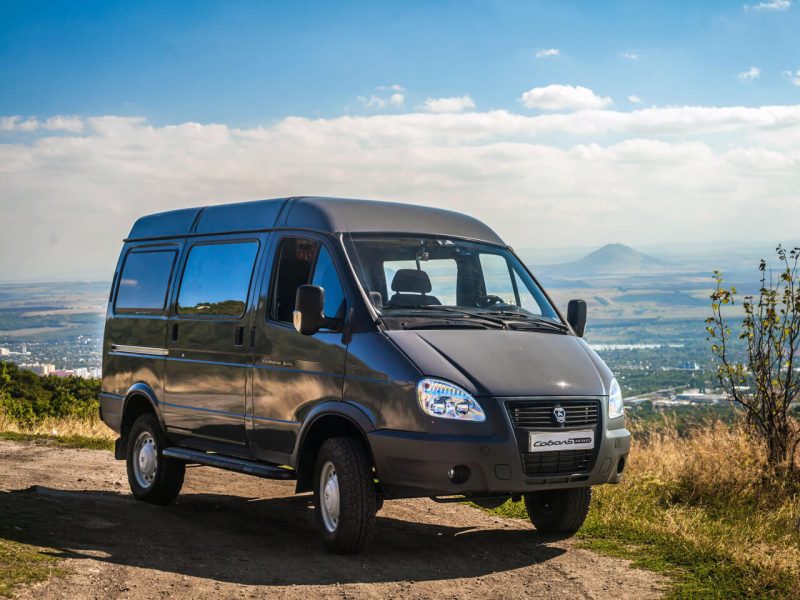 GAZ-27527 Sobol vehicle was developed by the engineering staff of the automobile plant in Gorky. The production of the standard model, where there is a sliding side door and rear swinging doors, began in 1998. After 5 years (2003), the production of the second generation of this car began. The upgrade affected the headlights, plumage, dashboard and more.
For a long time, a small truck "Sobol" was produced in small series, but starting from 2006, the model became a conveyor for serial production. The machine with external renewal in 2003 and improvement of aggregates got the name "Sobol-standard".
The model differed from the famous half-track shortened to 2,670 mm wheelbase, independent front spring suspension and single tires rear axle. The latter was designed for reduced payload of 900 kg. The division has an all-metal van GAZ-2752 and minibuses GAZ-2217 (Barguzin) and GAZ-22171. Also here we can refer a flatbed vehicle (chassis with cabin) GAZ-2310.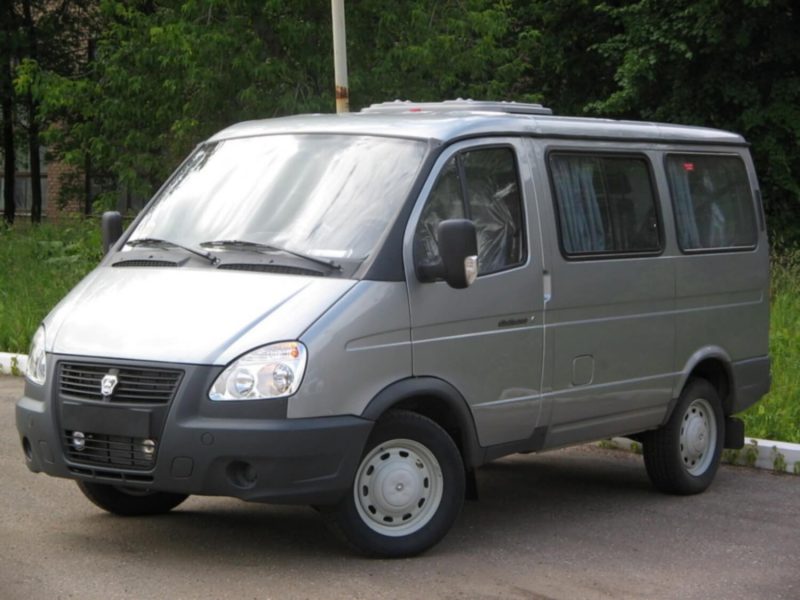 Since the beginning of 2003, the Sobol division has undergone an external modernisation, almost the same as that of Gazelle. The plumage design was updated, rectangular headlamps were replaced by modern drip-shaped headlamps and the dashboard was replaced.
Three years later, the assembly of a small Sobol truck, which had previously been produced only in small batches, was transferred to one conveyor line with the on-board Gazelle (3302). This made it possible to increase the production of such a vehicle, which was in demand, for example, in Moscow.
After all, it was there that there was a restriction on the entry to the city center of cars with a carrying capacity exceeding 1,000 kg. At the end of 2010 Sobol-Business purchased a turbocharged diesel engine Cummins ISF 2.8. It was this turbine that was also installed at Gazelle-Business.
Such a vehicle is produced only in a limited number for use by the Russian Federation power units. At the beginning of 2010, we managed to make another modernization, the slogan of which was that the model should be the basis for prosperity and should become more modern and reliable.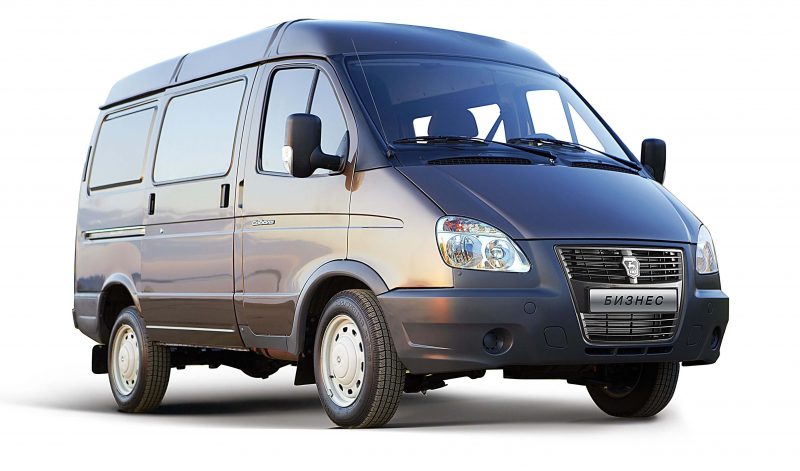 As a result, the first model of the NEXT brand was produced from the Gorky Automobile Plant. For all this long period of formation of the machine in Sobol was made a lot of changes.
To date, Sobol has a representative exterior, considerable demand, good maintainability, modern interior and power unit. It has an enlarged radiator grille, which is synchronized with the bumper.
New windscreen wipers were also installed along with heated mirrors. Inside the model the front panel was replaced, which was worked on by German company EDAG. This made it possible to move away from the obsolete appearance and improve the quality of the panel. The steering wheel was changed, a new heating system was installed and the seats were improved. There was an opportunity to purchase an air conditioner as an additional option, and also other parts of the cabin and interior were updated.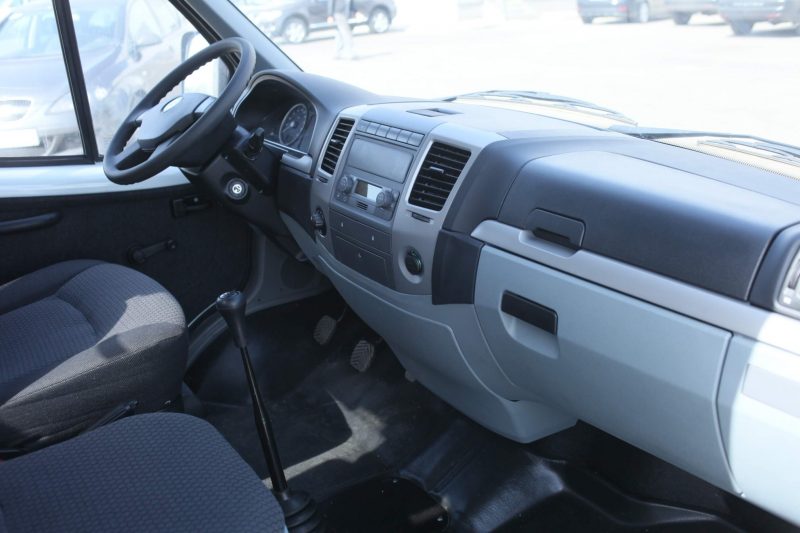 In addition to the new Cummins ISF 2.8 engine, the new Sachs clutch and shock absorbers from the company were supplied. The gearbox already included SKF quality bearings together with Hoerbiger synchronizers. The steering wheel was paired with the ZF hydraulic booster. A massive T-Rad radiator was installed together with a Webasto preheater. A total of 130 parts of the Sobol-Business model have been changed, and the improvements have been made to the units that were updated at the start of the Gazelle-Business production.
Reliable performance of the machine has been improved. Now the warranty period has been increased up to two years, or 80,000 kilometers on all modifications (except for all-wheel drive vehicles). The declared service life of the vehicles has increased up to 300 thousand kilometers, and maintenance is carried out every 15 thousand kilometers. In 2013, the Sobol 4×4 model was released, which was updated. It has been improved and began to produce for sale. The car became more modern and stylish.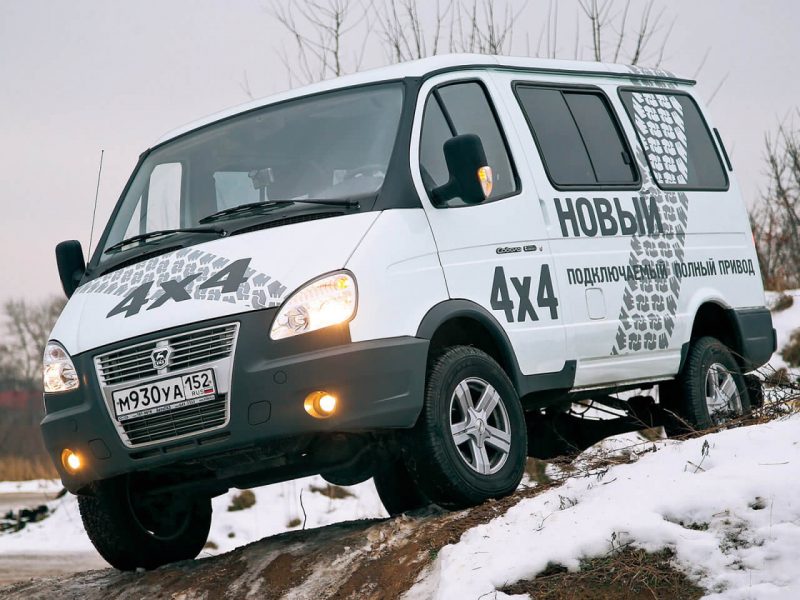 The steering wheel was made injury-free, mirrors were electrically heated, the steering switches were improved, and a hatch appeared on the roof of the car. A very nice gift was the installation of a new audio system with control buttons on the steering wheel. Additional options could be installed:
Anti-lock braking system;
Air conditioner;
Electric window lifters;
Antifogging;
Electric drive of mirrors of a rear kind;
Blocking of locks;
Pre-start heater;
Cruise control and possibility to block the rear differential.
Field of application
This car can often be found on the roads. It can be used by utility companies, which accept GAZ-2752 for use, where there are 7 seats. Due to the good capacity of the number of workers and the ability to transport the necessary number of tools, Sobole has managed to prove itself from a good side. It is not the first year that power agencies have been using these models in their service. The car can be used as a taxi in the city. Thanks to the side door on the rails, there are no problems with its operation.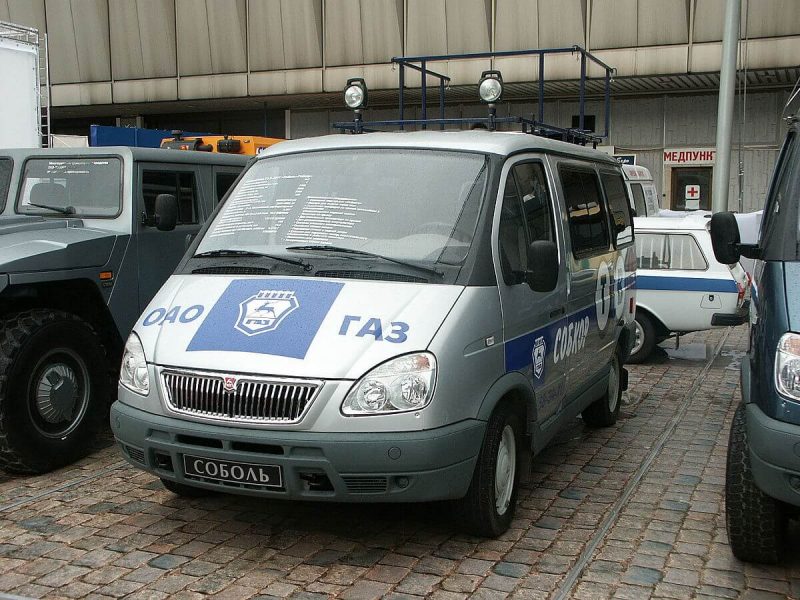 Modern machines have a small advantage, they have become higher, so the passenger and freight capacity of the machine has increased. Thanks to the increased ceilings, the vehicle can stand in it, which increases the passenger and cargo capacity even more.
Sobol GAZ-2752 has an all-metal van, so it provides an opportunity to transport large items. That's why it was used in its arsenal by many construction companies. Following the remodeling of Sobol, it began to use for their own purposes collection organizations and companies.
Specifications
Powertrain
The new model was equipped with a couple of options, including a gasoline 2.9-liter UMZ-4216 and a promising turbocharged diesel 2.8-liter Cummins. The most interesting is the American version. It has four cylinders with in-line arrangement, liquid cooling and produces about 120 horsepower.
When driving at a speed of 60 kilometers per hour, the fuel consumption of GAZ Sobol is 8.5 liters per hundred, and when driving at a speed of about 80 kilometers – 10.3 liters per 100 km. The unit complies with the European environmental standards Euro-3 and Euro-4. The engine is quite reliable and has a resource of about 500,000 kilometers to overhaul.
Transmission
Together with the above mentioned engines, a mechanical five-speed gearbox works in pairs, where all speeds are synchronized (except for reverse gear). The hand-outs are represented by two gears with gear ratios of 1.07 and 1.86. The clutch is single disc, dry and hydraulically driven.
Suspension
The front mounted rear-mounted suspension has an independent 2-lever system. Vehicles with all-wheel drive system have a dependent suspension on springs. All suspension systems are equipped with a stabilizer and hydraulic telescopic shock absorbers. The rear suspension is a spring suspension with a stabilizer and hydraulic telescopic shock absorbers. The designers spent many hours building a good 4×4 GAZ Sobol suspension.
Steering wheel control
The steering device is a type of "ball screw nut". It also comes with an integrated hydraulic booster. The steering column has a double hinged steering shaft. It is possible to adjust the steering column in terms of the angle of departure and height of inclination.
Brake system
There is a hydraulic drive with a pair of split circuits on the front and rear wheels. There is also a pressure regulator and vacuum booster. The front wheels have disc brakes, while the rear wheels have drum brakes. Handbrake on cables that affect the rear wheels.
Modifications
GAZ-2310 has a chassis on which a removable awning is mounted. It is possible to install a production van or a specialized van. The vehicle is not suitable for road signs that apply to trucks. All you need to do to drive this vehicle is to have a "B" license.
GAZ-2752 is an all-metal van and serves as the most common vehicle of all Soboleys. Between the 3-seater cabin and the cargo department a blind partition is installed. The door installed on the side can be moved backwards, and other doors are swinging. Also, these machines are divided into a diesel variation of the engine, gasoline, and front-wheel-drive and all-wheel-drive configuration.
GAZ-2752 "Combi" has a seven-seater double-row cabin. The presence of a side door is necessary for boarding and disembarkation of people in the 2nd row. The cargo compartment has been reduced.
GAZ-2217 "Barguzin" – the car is 100 millimeters lower than other cars, and its capacity is 6 passengers in the cabin and a couple of people near the driver.
GAZ-22171 is designed for 6 or ten seats, rear doors are swinging, and the height is 2.2 meters.
GAZ-22173 – is designed for 10 seats, seats are located in rows. This vehicle can be used as a shuttle bus. The car to order is made.
GAZ-27527 – has a four-wheel drive system (GAZ Sobol 4×4). It has increased its cross-country ability, reduced its dimensions and improved maneuverability.
Cost
Onboard GAZ-23107 together with GAZ-231073 is estimated from $10 946. GAZ-2752 van will cost from $11 252. The minibus GAZ-221717 is estimated from $12 783. Best of all, of course, to buy a new GAZ Sobol. But there is a possibility to buy cars from hands also in automobile salons as these models have passed pre-sale diagnostics together with service. Moreover, it may be possible to use additional services of the car salon.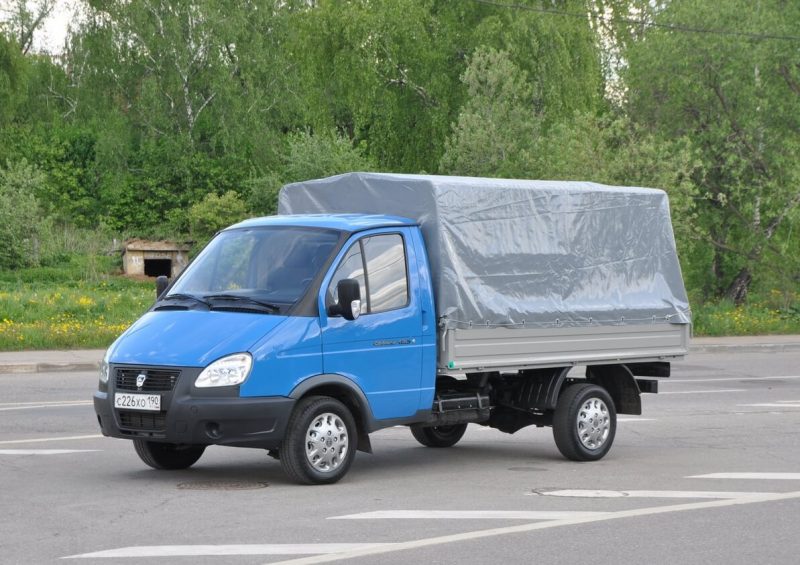 In the secondary market you can buy GAZ Sobol in normal condition from $ 3062 and above. The price will vary from year of manufacture, installed technical devices and general condition.
The pros and cons
Pluses cars
The car is easy to use;
Completely justifies its purpose;
Not bad appearance;
Availability of a spacious and spacious interior, high ceiling;
It is possible to organize a sleeping place;
Good visibility of the driver;
A spacious luggage compartment;
Presence of qualitative and simple in service of the power unit Cummins;
There is Webasto for start of work of the engine in cold time;
There is a hydraulic amplifier of a steering wheel;
Good cross-country ability on the dirt road;
Quite democratic price policy;
Reliable rear suspension;
On comfort Sobol will surpass UAZ or GAZ-66;
Many modifications;
There is a possibility of installation of the conditioner;
There are updatings with system of a full drive;
Small fuel consumption;
Small dimensions.
Cons of a car
Poor quality of workmanship. Many cars do not even travel 40,000 km with the declared guarantee of 80 thousand;
Weak frame construction;
Often there are problems with the 5th speed in the box, which is a factory defect;
The car does not compete with UAZ, if there is heavy soil Sobol will not pass and can just sit on the bridges;
Despite the large volume of trunk, it is quite uncomfortable. It is tall and short, so it often falls off the top of the load;
Insufficient adjustment of the driver's seat;
There are no niches and pockets inside for different things;
Frequent rolls when turning at speeds.
We sum up
If you like to travel or get out with family and friends to rest far from the city – this car is for you. Also, it is well suited for small and medium-sized businesses in urban areas, thanks to its small size. It is clear that Sobol has no quality materials, a high level of comfort and good dynamic characteristics, but remembering its fairly reasonable price, you can forgive him many of its shortcomings. The latest models have already started to go with a good American Cummins engine.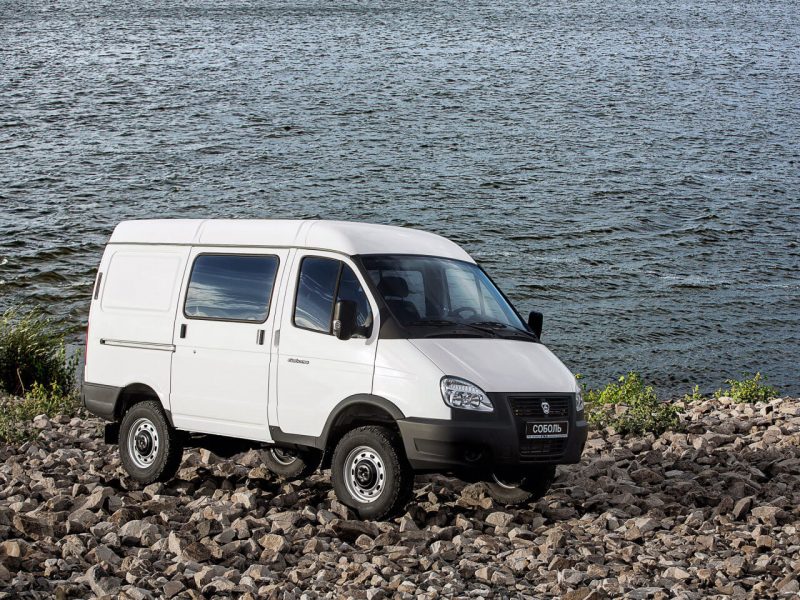 Also, if necessary, it is possible to establish the conditioner, system of a full drive that will allow to use the car in full, without fear to get on impassability. Inside the model there is a lot of free space, so it will be convenient for any person.
Also, there is a spacious boot for luggage transportation. I would like to believe that the specialists of the Gorky Automobile Plant will be able to modernize Sobol even better in the future so that it can even compete with foreign cars.
We advise you to read the article: GAS – history of car production.
GAS-Sobol photo
Test drive
Video overview
Similar news