Mercedes-Benz GLE Coupe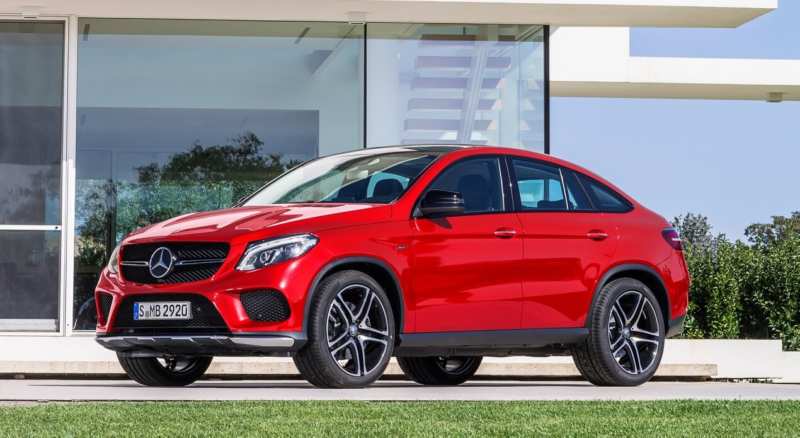 The story about Mercedes GLE Coupe is best to start in April 2014, when the Germans presented a prototype of Mercedes-Benz Concept Coupe in Beijing. The updated GLE Coupe was shown first to Americans in Detroit, and then to Europeans in Geneva. The Mercedes GLE Coupe itself is a merchant response of Stuttgars to another German SUV BMW X6. The car is called GLE according to the recently changed Mercedes name principle and is built on the basis of ML-Class variant. The whole model range is Mercedes-Benz.
Exterior
The appearance of the new jeep, if you pay attention to the official photos and videos, the German car Mercedes-Benz GLE Coupe, will not allow you to call the new car elegant, stylish and beautiful. And if to compare with the main competitor of the new BMW X6 (F16), the crossover with the Mercedes-Benz GLE Coupe looks rather simple and heavy. Perhaps, it is connected with the large size of the Mercedes body? Based on the size of the German, it becomes clear that the body part of the car is 14 mm wider, 29 mm higher than the BMW X6, but 9 mm shorter, which applies to the size of the wheelbase, which is less than 18 mm.
It can be said that the designers, along with marketers and designers, wanted to be safe, and therefore decided not to take any chances and did not put into production an amazing and stylish car Mercedes-Benz Concept Coupe, on which you can easily see the elegant roof dome and lightweight stern. Their move was more practical – the production received a variant with a roof, which is higher and more powerful than the stern. To find out whether the German specialists with the design solutions of the new car were able to guess or not, all this will become clear in due course.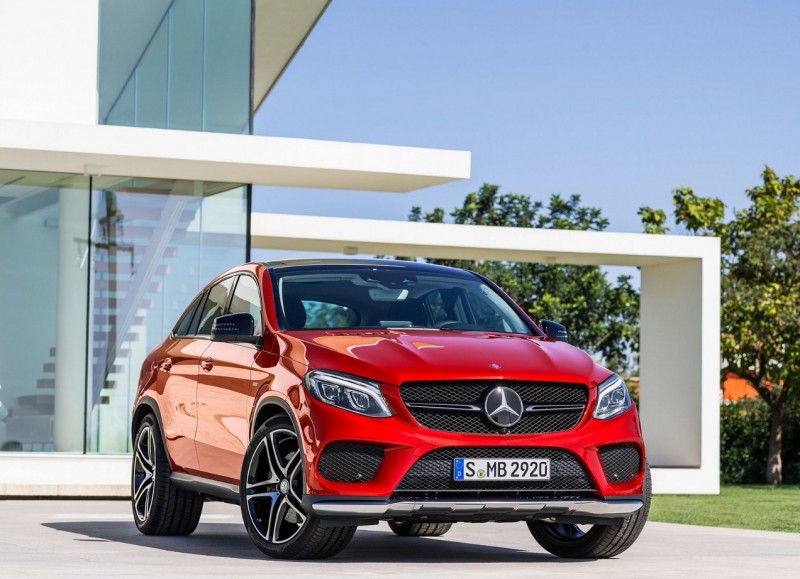 Mercedes-Benz GLE Coupe makes you look at it with its neat headlights, where you can find the presence of adaptive xenon, a line of LED daytime lights. Also attracts attention is a mighty false radiator grille with a massive front bumper and large compartments of the air intake. Because of the non-standard hood, it feels as if the metal cover of the power unit section rises under the pressure of the unrestrained force generated by the engine. The side bodywork of the new Mercedes-Benz Glee Coupé demonstrates power, power and superiority.
All of this is evident in the huge bonnet nose, large 1st and 2nd row doors with high window sills, compact side windows, high and smoothly running on the back of the roof, solid rear body and large size wheels (22 inches), which fit perfectly into the huge wheel arches. The GLE450 AMG Coupe version features a variety of rubber sizes on beautiful 22-inch rims. In addition, a slightly smaller 21-inch wheel rim is available as an option. Such rims can be optionally purchased for a standard Mercedes. As basic, the car is equipped with 20 inch wheels.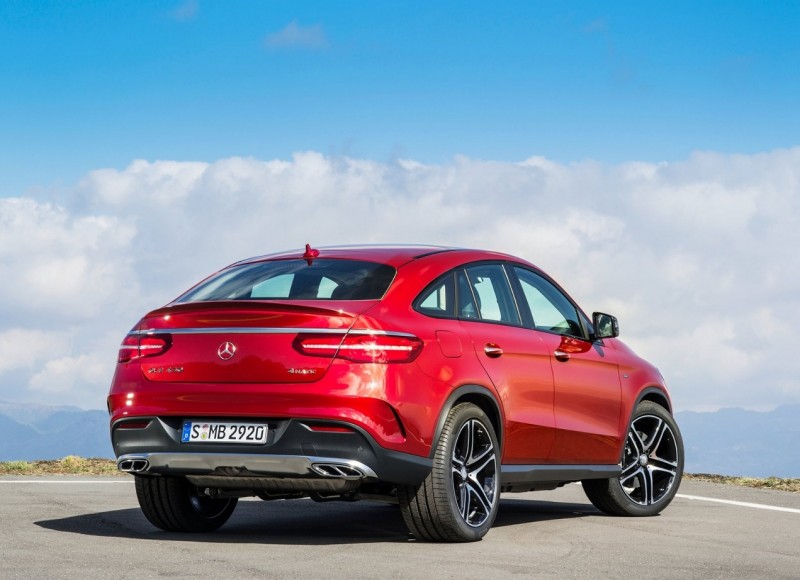 The rear part of the German novelty Mercedes-Benz GLE Coupe is perfect, with a neat luggage compartment lid, chic overall lamps that flaunt the built-in LED lighting system, a huge rear bumper and unique nozzles on the exhaust pipes. It will not be possible to say that the appearance turned out to be very successful. Still, some double feelings arise after the new crossover. Even comparing Mercedes-Benz GLE Coupe with the BMW X6 of 2016, which serves as a rival in the automotive market, the Bavarian crossover wins a lot, which is partly achieved by more attractive appearance and non-standard stylistic solutions. On the other hand, to say that Mercedes is an ugly car, too, the language will not turn.
Here are such dual senses, because, in his appearance, there is a certain weight, he is deprived of refinement, and conceals a fresh execution. To confess, one could hardly expect such a company. But it's not so bad, it's a pity that the car didn't get the design decisions that were made on the concept of Coupe SUV. That model actually turned out to be great. It is not clear whether the company was so afraid to make decisions, or marketers considered the appearance of the concept does not fully meet the requirements of customers. It does not matter how and what, but in the end there was a serial model GLE, which at the moment gives doubts, for its prospects in the automotive markets of the world.
Interior
Taking into account the size and roof line, there is plenty of room in the upper part of the car and in front of the passengers sitting behind. On this basis, we present a real 5-seater crossover. If we speak for the materials of interior decoration, all in high quality. Here the Mercedes company is fully recognized. Ergonomics at the highest level, there is a considerable quantity of the modern equipment and various security services. In addition to the multifunctional steering wheel, you can find a highly informative dashboard with color display, which is also multifunctional. There are also front seats, made under the sports class, which are clearly expressed side support.
All equipment has been competently organized and placed on the console, located in the center. For the new Mercedes Coupe, the presence of decorative inserts in the interior with the use of natural wood, aluminum or carbon, adaptive cruise control with the option of automatic braking and resuming traffic, 3-Zone climate control, electric drive of seats installed in front, with the option of memorizing the positions, heating, ventilation and massage is provided as standard and additional equipment. Unrivalled German quality can be traced everywhere.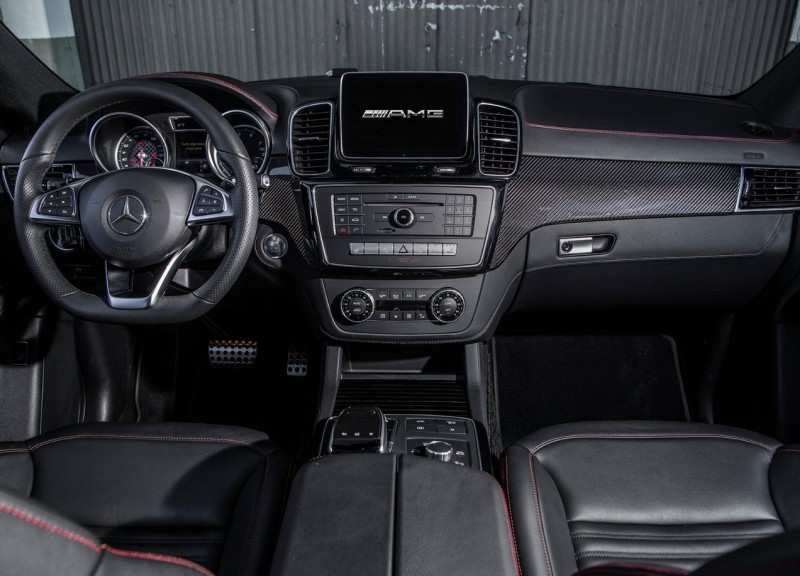 There are also various safety systems: PRE-SAFE (BAS PLUS with Cross-Traffic Assist, Active Lane Keeping Assist, Active Blind Spot Assist), Traffic Sign Assist with sign detection, pedestrian brake service in front of the vehicle, ESP Dynamic Assist and Crosswind Assist. There is also a parktronic, rear view camera or camera that provides panoramic visibility, Intelligent Light System for headlamps, electrically operated luggage compartment door, the latest COMAND Online multimedia system, which features an 8-inch colour display and supports touch-screen input, Bang & Olufsen Sound, an entertainment system with colour displays for rear passengers. In fact, this large list of functions and systems is quite traditional for Mercedes, which cannot but please.
Specifications
The vehicle traditionally uses a platform from W166 Mercedes M-class together with a usual spring suspension. As an additional option, the car enthusiast can always order a suspension with ADS Plus system. The first Mercedes GLE Coupe cars will be available with a three-liter V6 diesel engine with a power of 258 hp (620 Nm) and a similar volume of gasoline 333 hp "six". The GLE 450 AMG Sport Coupe will be equipped with a boosted engine with a power of up to 367 hp (520 Nm). By the way, the AMG Sport version is rightly considered to be an intermediate between the most usual powerful and preparing Mercedes AMG 63 GLE Coupe.
The 258-cylinder engine has a working volume of 3.0 liters. All 3 engines are synchronized only with the 9-speed "automatic" 9G-Tronic gearbox. Shortly afterwards, it is planned to release a "charged" version of the Mercedes-Benz Glee Coupé from AMG, which will get an 8-cylinder 5.5-liter engine with a power of 570 hp. Thanks to the latter, the Mercedes-Benz GLE Coupe will be able to reach the first hundred in just 4.2 seconds.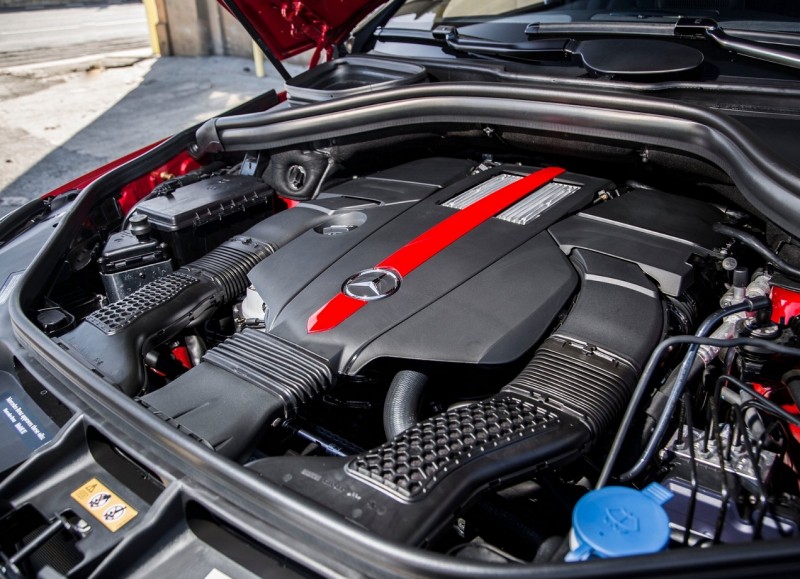 The German car was able to get a load-bearing body made of high-strength steel with the addition of aluminum parts. If we talk about the suspension, it has a completely independent structure, in front – the 2nd transverse levers, and on the rear axle – multilever system. All four wheels use a disc braking system (ventilated in front). The steering wheel is controlled by means of a rack and pinion steering mechanism, which is assisted by an electric amplifier with a variable transmission ratio.
As a separate option, it is possible to purchase an adaptive air suspension for 4 wheels on the Mercedes-Benz GLE Coupe (for example, a competitor of the BMW, the air suspension is available only on the rear wheels) and to add active stabilizers of transverse stability. The German coupe has a permanent 4Matic all-wheel drive system with a symmetrical or asymmetrical axle differential, depending on which equipment will be installed. As a standard installation, chassis and powertrain settings systems – Dynamic Select, which has 5 different modes: Comfort, Sport, Sport Plus, Individual and Slippery (for slippery surfaces).
Complections and prices
The cheapest set of the German novelty Mercedes-Benz GLE Coupe 350 d 4Matic 2016 will cost from $71048. The same pricing policy is also applied to the GLE 400 4Matic version. The car will be equipped with a 3.0-liter diesel engine, the capacity of which will be 249 horses or a gasoline engine of similar volume, but which already produces 333 horsepower. The functionality of this package includes airbags, which, incidentally, 9, leather interior, 2-zone climate system, rear view camera, a full-fledged LED optical lighting system, 20 inch wheel rims, premium "music", help at the start of the lift and collision prevention, and other equipment.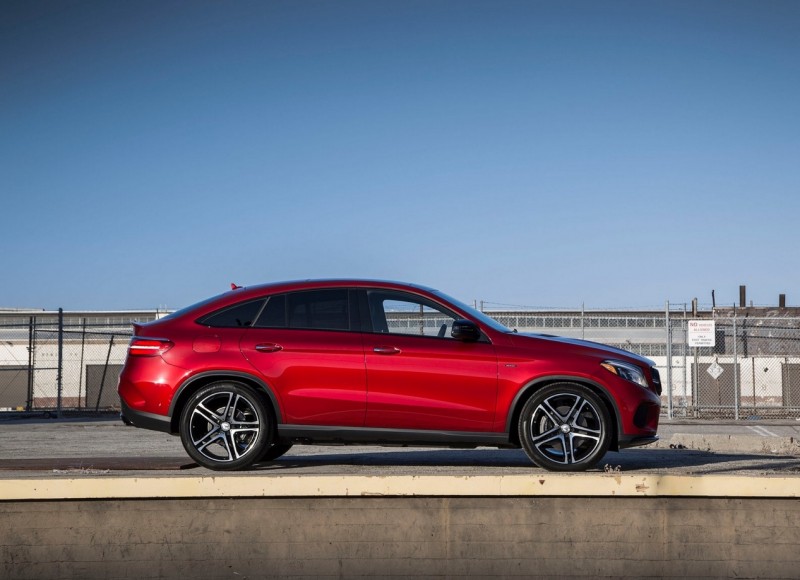 The top version of Mercedes-Benz GL 450 AMG 4Matic will be evaluated from $86663. Among its main differences and features – the presence of AMG-accounts. For example, there are sports front seats, 2-zone climate control, rear view cameras with parking sensors and LED headlights. Complete set with the name GLE 63 Coupe with a motor, which power is equal to 557 horsepower, costs from $123046. And GLE 63 S Coupe has a 585-strong motor and costs from $132415.
Pluses and minuses
Pluses cars
Uncommon appearance design;
Excellent build quality;
Large comfort level;
Higher security;
Automobile has reliability;
Good dynamic indicators;
Inside the machine is very spacious;
Quality of finishing materials at height;
High arsenal of tools;
Admissible luggage compartment;
Sporty qualities and characteristics of the car.
Cons of a car
Appearance is still for the amateur (sometimes it is not clear);
High price policy;
Expensive service and spare parts for the car;
Small clearance;
The salon does not warm up so quickly.
We sum up
In general, the fact that Mercedes is progressing and does not stop there. According to the novelty Mercedes-Benz GLE Coupe it is perfectly visible. Of course, it is possible to argue for a long time about what the German novelty looks like. Yes, it is not standard and looks huge, moreover, it almost copies BMW that doesn't make it honorable. But still, it has its own peculiarities.
Among its main features and qualities are sporting spirit, stylishness and German restraint. The use of LED lighting system allows the car to reach a new level. Large 20-inch wheels make the all-wheel drive crossover lightning formidable and great. Inside the car, everything is simply fine, ergonomics at the highest level, which can be said about the quality of materials used in interior decoration.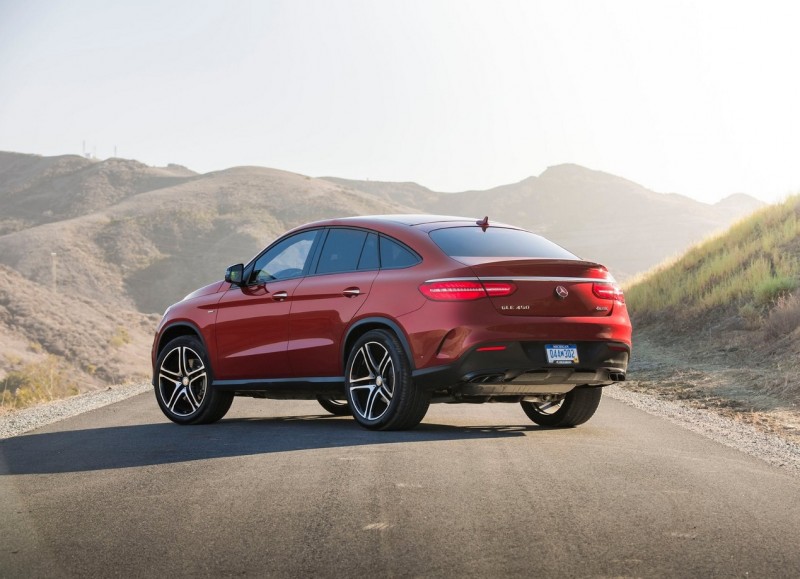 Everything is in place, quite intuitively understandable. A rich list of settings, equipment and equipment will attract even the most demanding consumer. Let not big, but there is a ruler of power units which differ the capacities and allow to feel confidently on any site of road, and also at movement in mountain and at overtaking. For safety, German engineers and specialists have not forgotten and placed as many as 9 airbags. The only thing that confuses, strange appearance and high cost of both buying and maintaining the car. new Mercedes-Benz GLE Coupe turned out to be a very fresh and modern German crossover.
We advise you to read the article: Mercedes-Benz, classic German cars
Mercedes-Benz GLE Coupe 2015 photo
Test drive
Video overview
Similar news