UAZ Pickup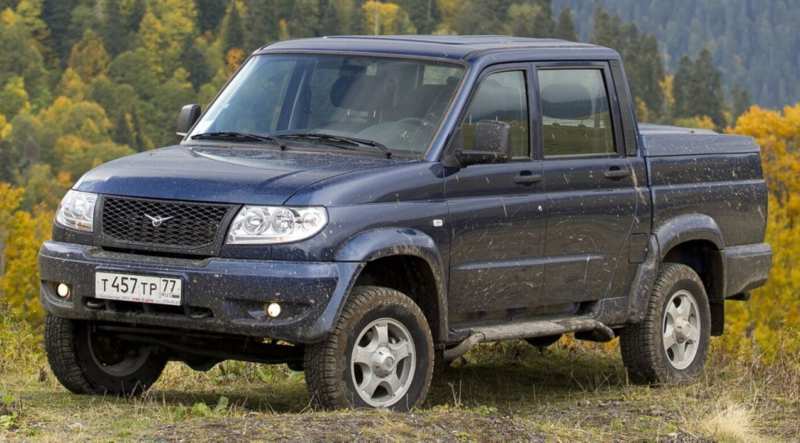 Offroadsters from the Ulyanovsk plant began to be produced seven years ago, and there were reasons for that. UAZ Pickup 2015 car demonstration took place in autumn 2014. Among the innovations we can mention another head optic with LED design, another radiator grille and bumper, rear-view mirrors with repeaters and built-in side steps with large niches. Hardly anybody could imagine that in Russia they could produce such a luxurious car. The whole model range is UAZ.
Exterior
The geometric component of the Patriot's headlights has become more complex and has acquired more acute angles. The lower part of the headlights was duplicated by a chain of running lights made of LEDs. The large bumper installed in front of the vehicle and the convex arches of the wheels, which give the vehicle a masculinity, attract attention. In the front part also stands out a strong protection, with which the front of the machine looks a little like a bulldog splinter. Also, the grille now has 3 arches with a small nameplate of the company.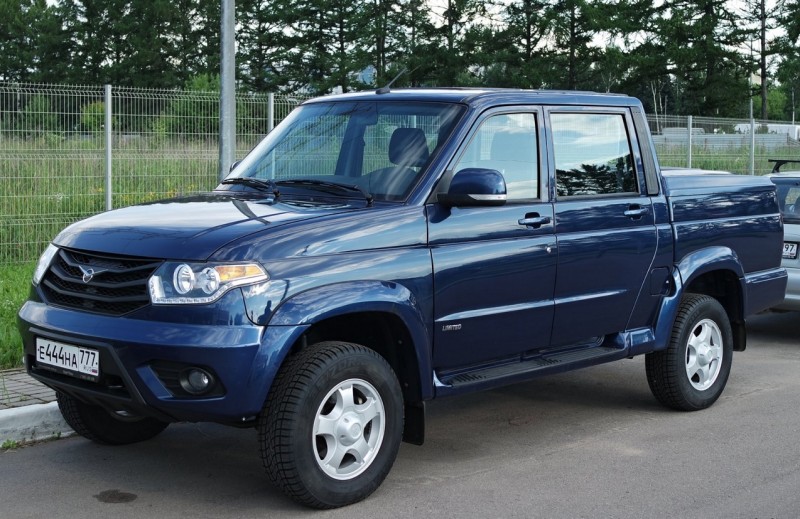 Interestingly, the new bumper is no longer attached to the frame, but to the body. As a result, the car has lost large gaps, which could be on the previous model. The side part of the updated UAZ Pickup looks eccentric and solid. There is a flat roof, large side windows with large doorways, which will facilitate boarding and disembarkation of passengers. The bottom has acquired a footrest, which is now wider and much stronger.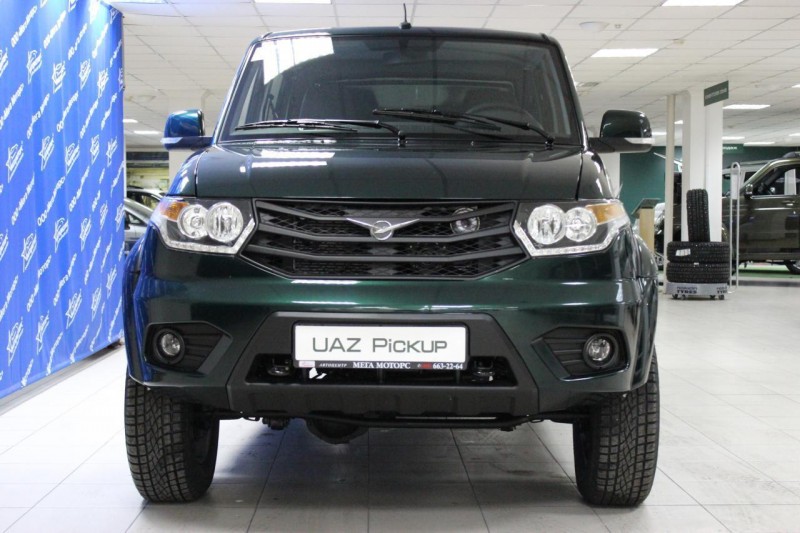 When you look at UAZ in the pickup body from the side, you realize you're looking at a brutal car. The aft part updated by UAZ pickup looks stylish and beautiful. There are rectangular shapes in which you can find the presence of rear lights, flashlights and a cut of the side of the cargo area.
If necessary, you can always equip the car with a tent or a rigid cover. Despite the fact that there were no fundamental changes, point changes made it possible to equip UAZ with a certain zest, even the right to claim the title of the most stylish off-road car.
Interior
The interior is free, spacious and comfortable. An important role is played by a modified dashboard, which is now more convex and massive. The devices look modern, there is a route computer, an air temperature sensor overboard.
The places where the devices are located are intuitive and intuitive, and the location is convenient. The presence of a new bright green backlight looks good. The rudder is made as usual with four spokes. But the manufacturer has already promised to fix this defect and not only to make a multifunctional steering wheel, but also to equip it with a heating system.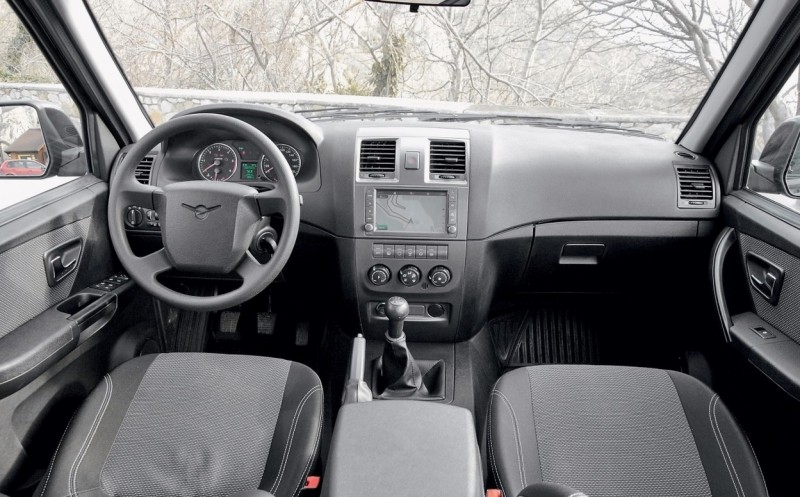 On the console installed in the center, the presence of rectangular forms is highlighted. By the way, the console has also undergone some changes. A pair of ventilation system deflectors, which have a vertical shape, have found their place at the top. Underneath them, an 8-inch display was placed, which was also supported by a touch-screen input. It is also responsible for the modern navigation system. Several rows of keys and switches are crowned at the very bottom. The chairs are comfortable. On the back of the sofa was placed, which can easily accommodate three adult passengers.
What's more, they got child seat mountings. The space available in the legs was noticeably increased as the rear seat bindings were pushed back. The driver's seat is well equipped and has all the necessary settings that allow you to adjust the seat in different directions. But earlier, in order to adjust the height of the seat, it was necessary to get up, open the door and keeping it open to get to the desired handle, but now you can make adjustments without going through such manipulations.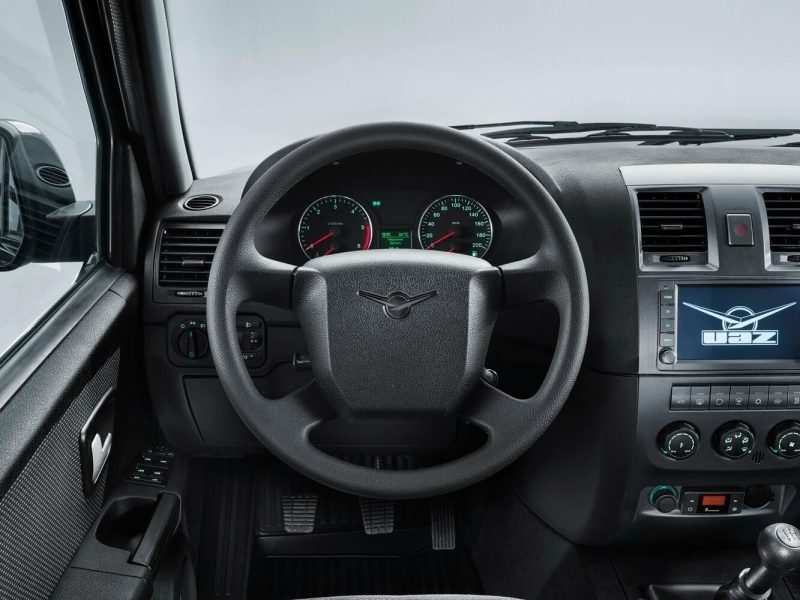 However, there is not as much side support as we would like. The quality of the finishing materials used has improved. We have also increased the number of compartments, drawers, nets and shelves to keep things safe. The pedal pads made of aluminium look pretty good. Aluminum has also found its place on the door panels and centre console.
The standard version was equipped with fenders, halogen optics, LED running lights, athermal glazing, fabric interior upholstery, on-board computer, heating and electric drive of side mirrors, full electric package, immobilizer.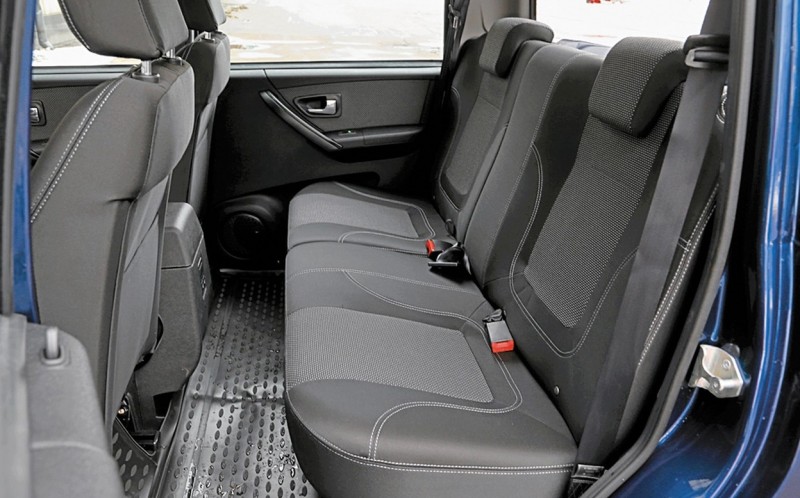 If necessary, the rear seats can be folded up to provide 1,200 litres of storage space for loading luggage. As it has been possible to expand the luggage opening, loading and unloading are now even easier than before. As for the interior materials, there are no clear claims to them. In addition, the company was pleasantly surprised to put a 12 volt socket in the luggage compartment.
Specifications
Mower unit
The updated UAZ Pickup has a four-cylinder gasoline engine ZMZ-40905 with a volume of 2.7 liters and 128 horsepower. The engine prefers fuel not lower than AI-92. Its operation is synchronized with the 5-speed manual gearbox, the ratio of the main pair of which is 4.625. With a similar engine, the SUV can reach speeds of up to 140 km/h. UAZ pickup fuel consumption per 100 kilometers is about 12 liters.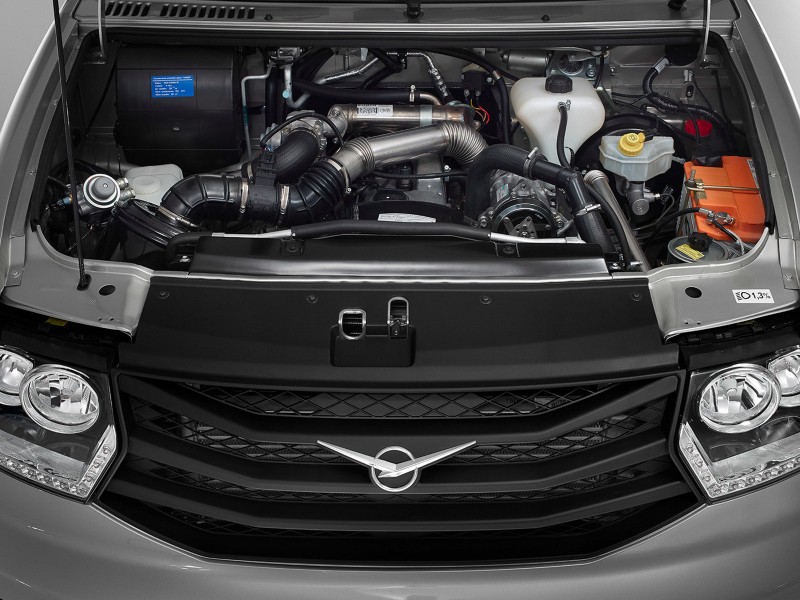 Next comes a four-cylinder engine, which operates on a diesel engine ZMZ-51432, the volume of which is 2.2 liters and which has a direct injection of Common Rail and turbocharger Bosch (the same system is set on the Mitsubishi Pajero 4). The diesel engine produces 114 horsepower. It also works in conjunction with a manual 5-speed gearbox and reaches a maximum speed of 135 km/h. It spends about 10 liters of diesel per hundred kilometers.
Suspension
UAZ Patriot was built on the existing frame base with dependent suspension. A standard spring lever construction with longitudinal levers was installed in front, and behind there are longitudinal semi-elliptic leaf springs.
Brake system
The brake system is presented on the pickup truck in the form of front disc brakes with ventilation function and drum mechanisms on the rear wheels.
Roller control
The steering is represented by a rack and pinion mechanism with hydraulic booster. Engineers have introduced maintenance-free cardan shafts and a stabilizer of the transverse stability in the rear suspension structure, which will make it possible to lower the body rolls during steep turns.
The service, which connects the all-wheel drive to the Part-Time, is based on a familiar motif – the front axle is rigidly connected through a two-stage Dymos dispenser, which is electrically operated. The car overcomes many obstacles as if it were a tank – it will pass almost everywhere.
Dimensions
The UAZ Pickup truck's cargo platform has significantly increased in size. Now it is equal to 1 400×1 500×650 mm. However, the SUV itself became a little larger. Its length is 5 125 mm, width – 1 915 mm. The height of the ground clearance simply cannot but please – 210 mm. This car is simply created for our roads.
Safety
Most likely, it seemed to the developers from Ulyanovsk that the car looks like a harsh brutal SUV to consider it safe. At the moment, Patriot and Pickup have generally accepted active and passive safety systems – front and rear seat belts, immobilizer, distance alarm, central locking, electric lock on all doors, ISOFIX system for child seat mountings, ABS anti-lock braking system with EBD option.
Complete sets and prices
Russian UAZ pickup off-road car will be offered in three configurations – Classic, Comfort and Limited. Basic configuration will be available:
16-inch steel wheel rims;
Flaps;
Lalogue optics;
LED daytime running lights;
Armal glazing;
Cloth salon;
Board computer;
Functions of heating and electric drive of side mirrors;
Full electric package;
Imobilizer and audio preparation.
The cost of UAZ Patriot pickup in 2016 will start at 809,000 rubles for a gasoline version of the engine. To buy a version with a diesel engine, you will need to put up from 1,079,990 rubles – this modification comes with a full set of installations and equipment.
Pluses and minuses
Pluses cars
Stylish appearance;
Spacious salon;
Equipment praise worthy;
Good assembly;
High ground clearance;
Powerful power units;
Available price tag;
Approved service price;
Availability of spare parts;
Good qualities of an off-road vehicle and the possibility of its improvement;
Rear row has become more convenient;
Brutalcar;
LED lighting system available;
Good luggage compartment;
Touchscreen display available;
Not bad basic equipment;
Engines consume relatively little fuel;
Full drive.
Cons of a car
Rigid suspension;
Individual noise isolation;
Weaky paintwork;
Gearbox problems;
Few joints in nodes and assemblies;
Obligatory pulling of all elements after purchase;
Indirect controllability;
Bad at over 120 km/h;
Lack of proper security systems;
The front seats do not have ideal lateral support;
All such weak powertrains as for a similar car.
We'll summarize
In conclusion, I would like to say that, of course, this Russian-made car is far from ideal, but the company is going in the right direction, gradually improving and improving its cars. The exterior of UAZ Pickup has been changed, which now will allow to gain respect of even more customers. There was an LED lighting system, the luggage compartment became larger and its width increased, which made it easier to load and unload luggage. The interior has also been slightly modified.
The instrument panel now looks much better, and the 8-inch touchscreen display on the centre console indicates that the car company is not standing still, but wants to develop. Of course, the seats are still far from ideal, but they have been improved when compared to the prerestyling model.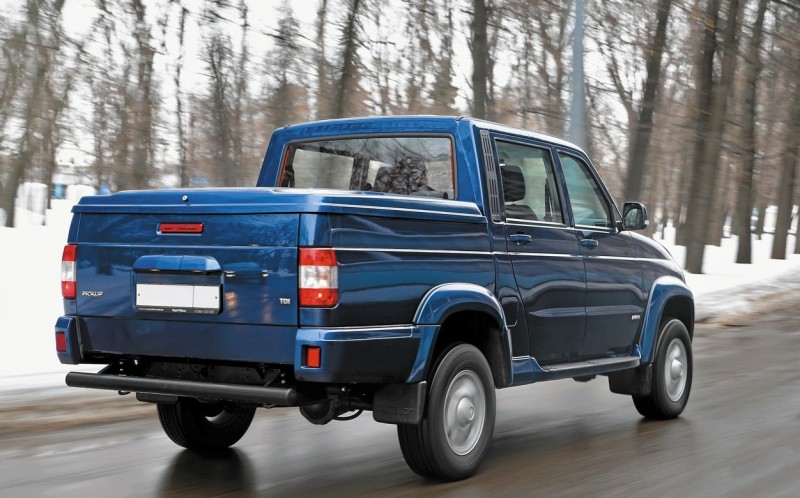 There's plenty of room in the UAZ Patriot Pickup salon. It is a pity that so far the company does not provide various safety systems or at least the presence of airbags, because the car is not a small one. The complete set, even base, has rather good list of options. Of course, the motors are not so powerful, but they cope with their task. The all-wheel drive system together with such a high level of ground clearance will allow you to pass even where other cars simply can not pass. I hope that the car company will continue to improve its cars, because they are already able to compete with European cars to some extent.
We advise you to read the article: UAZ – unique SUVs with a legendary history
UAZ Pickup 2015 photos
Test Dirve
Video overview UAZ Рickup
Similar news