Factoring for Growth: Scaling Your Trucking Business with Financial Support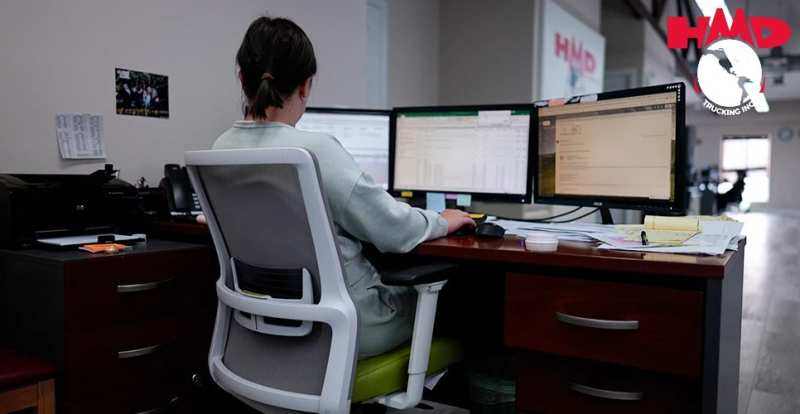 You started your trucking company with a single used rig and a dream of building something great. Success came quickly as word spread about your reliable service and fair prices. But now, you've hit a wall. Your fleet is maxed out, new clients keep calling, and you're turning away more work each week. It's time to take the next step and grow, but how can you finance new trucks and additional staff when every penny you make is already tied up in operations?
The solution is factoring for transportation from HMD Financial. We're your growth partner, providing the working capital you need to expand your fleet, open new branches, and take your trucking business to the next level. With factoring, you can get paid for your invoices right away instead of waiting 30-90 days. That means money in your account today to put toward growth. No more missed opportunities or turning away new clients. Just a clear path to achieving your ambitions.
Freight Factoring: Access to Working Capital for Your Trucking Business
Ready to grow your trucking business but need some financial fuel? Freight factoring with HMD Financial is the perfect solution. Our freight factoring services provide you with quick access to working capital so you can expand your fleet, open new terminals, hire more drivers, and take on new clients without worrying about cash flow.
Freight factoring, also known as trucking factoring, allows you to leverage your unpaid freight bills and turn them into immediate cash. Instead of waiting 30-90 days to get paid by your customers, the factoring company will buy your freight bills at a discount and pay you upfront, typically within 24 hours. This influx of cash means you have the funding on hand to keep your trucks moving and your business growing.
No longer will you have to pass up new opportunities or put growth plans on hold due to lack of funding. With freight factoring from HMD Financial, the cash you need is ready when you need it. Our factoring solutions are flexible, scalable, and designed specifically for trucking companies. We offer competitive rates, 24/7 service, and decades of experience helping trucking companies nationwide achieve their ambitions.
Discover how freight factoring can accelerate your company's growth and open doors to new possibilities. Our knowledgeable representatives will walk you through the details, get you set up quickly, and have cash in your hands fast so you can start scaling new heights right away. The future of your trucking business starts now – let's get rolling!
Why HMD Financial Is the Factoring Partner You Need
To scale your trucking business, you need a factoring partner you can trust. That's where HMD Financial comes in. We provide reliable, flexible factoring solutions tailored to your needs.
With over 30 years of experience, our company knows the trucking industry inside and out. We understand the challenges owners face and offer fast, hassle-free funding so you can focus on growth. Our factoring experts will work closely with you to create a customized plan for your business.

Our factoring services are designed to fuel your growth and set you up for success. We offer:
Competitive rates and low fees. We don't believe in hidden charges or surprise rate hikes.
Quick approvals and funding in as little as 24 hours. No long wait times when you have opportunities to pursue.
Flexible, scalable solutions. Our factoring plans grow with your business so you always have the capital and support you need.
Hands-on support. Our factoring specialists are there for you every step of the way with guidance and advice to help your business thrive.
When you choose us as your factoring partner, you're choosing a company committed to your growth and success. With factoring solutions built for trucking, experience you can count on, and a partnership approach, we have everything you need to take your trucking business to the next level. The road to growth starts here!
How Our Freight Factoring Services Fuel Your Growth
To scale your trucking business, you need capital—and fast. Our freight factoring services provide the funding you need to grow at your pace. We turn your unpaid customer invoices into immediate cash so you can stop waiting 30, 60 or even 90 days to get paid.
Fuel Your Fleet Expansion
Do you have more routes or customers than trucks? Use our freight factoring funds to purchase additional rigs and hire more drivers. Having a larger fleet means you can take on bigger jobs, serve more clients, and boost your revenues.
Open New Locations
Is your business concentrated in a specific region? Factoring lets you open new branches in other areas so you can attract new customers, reach new markets, and establish a wider presence. Gain the working capital to secure facilities, equipment, and staff for your new locations.
Pursue New Opportunities
See a chance to diversify your services or tap into a new industry? Our flexible factoring solutions provide fast funding so you can act quickly on new opportunities as they arise. Have the cash on hand to invest in new equipment, technology, or training to enhance your service offerings.
Our freight factoring services put you in the driver's seat, giving you the financial control and support you need to take your business wherever you want to go. Floor it! Your growth partner is right behind you.
Conclusion
So there you have it, everything you need to know to take your trucking company to the next level. With HMD Financial in your corner, you've got the financial backing and expertise to make your biggest growth dreams a reality. No more struggling to fund new trucks or open that new branch you've had your eye on – the support you need is here.
Imagine looking back a year from now at how far your business has come. New clients, bigger contracts, a larger fleet, and new opportunities around every corner. Growth at your own pace and on your own terms. All it takes is one call to get started. Take that first step and give your trucking business the chance to really move into high gear. The open road ahead is calling your name – time to hit the gas!