KrAZ-6510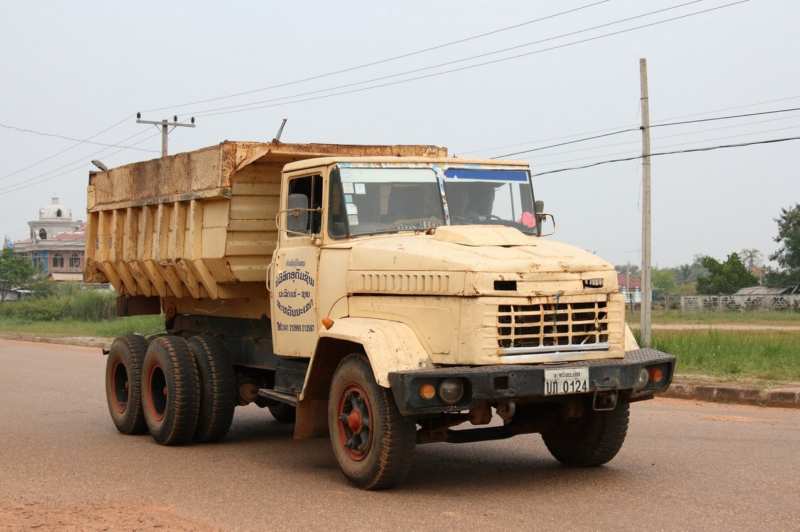 KrAZ-6510 is a Ukrainian heavy-duty truck, which production started in 1992 at the Kremenchug automobile plant. The truck was produced in several variations. It is intended for transportation of building materials (loose and bulk) on a solid roadway. The whole model range is KrAZ.
History
The Kremenchug Automotive Company was founded 80 years ago, and from the very beginning it has been focused on aviation. In wartime, a considerable part of the entire plant was severely damaged. The company was rebuilt immediately after the withdrawal of German troops. Taking this into account, we decided to change the profile of the company. Since the country needed to replace bridges and chassis, which were damaged during bombardments, the plant began to produce trucks.
The first truck was produced in 1949. After a while, the main capacities of the Yaroslavl-based automobile company, which produced heavy-duty trucks, were transferred here. The debut trucks of the Kremenchug factory were produced in 1959. When the 1960s and 1970s went on, the Kremenchug automobile plant promoted an active increase in production, and its vehicles were quite popular.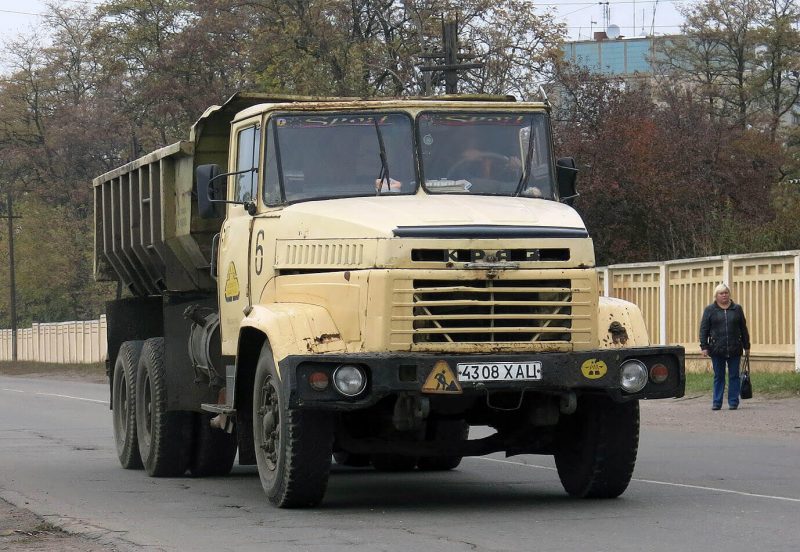 The design compositions did not cease to improve the machines already built by them, using new standard vehicles and their various modifications.  But over time, the technical component began to fade. The company decided not to improve the existing machines and to produce the latest series. As a result, KrAZ-6510 was able to appear. The completely new machine replaced the 250th version, which had already become morally obsolete by those years. The main components, along with the truck mechanisms were improved. The previous model passed only the bridges. The cargo platform was used to mount special purpose mechanisms.
The truck of the Kremenchug Automobile Plant was very popular with various enterprises of the industrial region. With the help of the 6×4 wheel formula and a pair of driving axles, the truck could feel confident on various types of roads where there was a hard surface. It is worth mentioning that the truck worked perfectly on both dirt roads and gravel roads. The KrAZ-6510 has an increased tonnage and is capable of transporting up to 16 tons of cargo. This article will describe technical characteristics of KrAZ 6510.
Cabin
The famous Ukrainian dump truck has a rather spacious cabin. But the degree of comfort in it is at a minimum level. Based on the feedback from drivers, the interior of the truck is quite cool in winter, but in summer, on the contrary, it is hot. Working on a truck in the warm season is like visiting a bathhouse. And if we take the winter time, the inside of the truck is cool, regardless of the included two heaters. Far from perfect, noise and vibration isolation. Despite this, our drivers are ready to forgive such disadvantages to KrAZ 6510.
The design staff of the Kremenchug automobile plant decided to make a full-fledged metal cabin. Just here, Ukrainian specialists completely abandoned the wooden frame. The dimensions of the car are not small, so even experienced drivers need to get used to them. Many obstacles, which are located in front of the hood, are extremely difficult for the driver to see. The steering wheel is equipped with a hydraulic booster, which makes driving such a massive car much easier.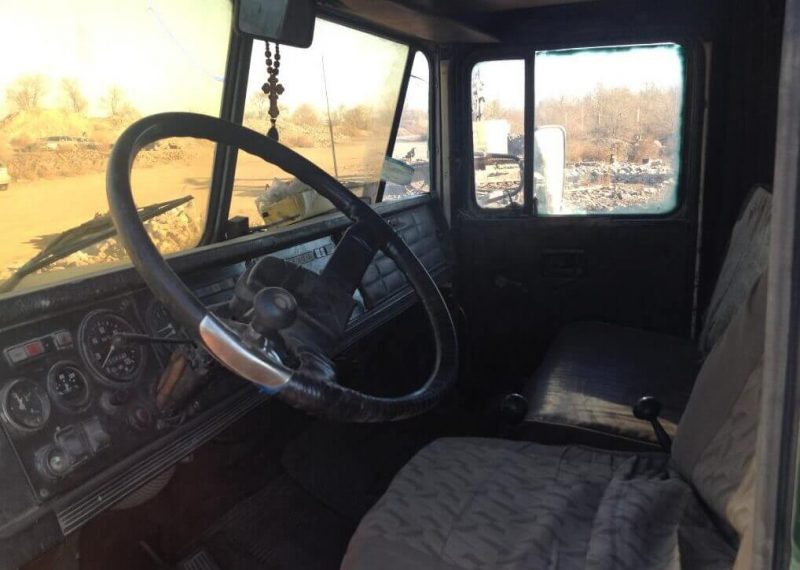 Specifications
Engine
In terms of power, our model stands out from the crowd. KrAZ-6510 has an unpretentious and reliable V-shaped, 8-cylinder, 14.86-liter, carburetor power unit "YaMZ-238M2". It develops 232 horsepower. Such an engine is produced at the engine plant of Yaroslavl and it runs on diesel fuel. As a separate option, the engine is supplied with a preheater, which allows you to start the engine in winter. In addition, there is a fuel system heater.
The engine does not have an inflatable device and does not show unprecedented dynamic characteristics. Despite this, the vehicle of the Kremenchug automobile plant reaches a maximum mark of 80 km/h, which is not a bad result for such a heavy machine. For every 100 kilometers, the motor consumes about 33 liters of diesel fuel. There are two fuel tanks at the KrAZ, each of which has a capacity of 165 liters (330 liters in total), which allows the vehicle to do without refueling for a long time.

Transmission
Synchronized is not such a powerful engine with a 5-speed manual gearbox, which works together with a 2-speed mechanical dispenser. The truck does not have a speed limiter. The truck is equipped with a dry, double disc clutch.
Suspension
The front suspension is independent and has a pair of semi-elliptic springs and works together with a pair of hydraulic shock absorbers. The rear mounted suspension is also dependent, balanced, with a pair of semi-elliptic springs.The cargo platform is designed for installation of special purpose devices and is mainly used in various industrial enterprises.
Thanks to the 6×4 wheelbase, which has a pair of drive axles, the vehicle can drive not only on paved roads, but also on the ground or covered with crushed stone. The truck has a fairly good payload (16,000 kg) and is not afraid of being overloaded. With this capacity, it is possible to shorten the travel time and carry more load at a time.
Brake system
The truck is equipped with a double-circuit brake system, which is of pneumatic type. The main brakes are of drum type and have inner pads. KrAZ-6510, has drum parking brakes and throttle auxiliary brake system, where there is a pneumatic drive. As an option, the machine is equipped with ABS.
Rail control
It is represented here by a mechanical type and has a hydraulic booster, which allows you to easily and conveniently control this vehicle, regardless of its massive size.
Specifications

| | |
| --- | --- |
| Car Weight, kg | 11300 |
| – through front axle tires, kg | 4500 |
| – through trolley tires, kg | 6800 |
| Car full weight, kg | 24900 |
| – through front axle tires, kg | 5500 |
| – through trolley tires, kg | 19400 |
| Carrying capacity, kg | 13500 |
| Platform volume, m3 | 8 |
| Motor | YAMZ-238M2 turbo-free diesel engine |
| Cylinder number and location | V-8 |
| Diameter / stroke, mm | 130/140 |
| Working volume, l | 14.86 |
| Power, kW (hp) at 2100 min -1 | 176 (240) |
| Maximum engine torque, 1250-1450 min-1 N*m /kgs*m. | 883/90 |
| Net power according to DIN-70020 at 2100 min-1, kWh/l.c. | 170/232 |
| Maximum net torque according to DIN-70020 at 1200-1400 min-1 N*m /kgs*m. | 855 / 87 |
| Coupling | two-disc, dry |
| Gearbox | mechanical, five-step |
| Gearbox ratios | 5,26; 2,90; 1,52; 1,00; 0,66 |
| Reverse | 5.48 |
| Main transmission | central, two-stage, one-speed bridges |
| Transfer number of the main transmission | 8.21 |
| Gateway numbers of the transfer box: | |
| – higher gear | 0.95 |
| – lower gear | 2.28 |
| Front suspension | dependent, on two semi-elliptic springs working together with two hydraulic shock absorbers |
| Rear suspension | dependent, balanced on two semi-elliptic springs |
| Rule mechanism | mechanical, with hydraulic booster |
| Related brakes | Relly-type wheel brakes, with inner pads |
| Stop brakes | transmission brake of drum type on the outlet shaft of transfer case; mechanical drive |
| Auxiliary brakes | throttle type, pneumatic actuator, installed in the gas outlet system |
| Rime size | 216B-508 (8.5B-20) |
| Tires | 12.00R20 (320R-508) |
| Fuel tank, l | 165 |
| Voltage onboard, B | 24 |
| Maximum speed, km/h | 80 |
| Maximum avoidable ascent, % | 30 |
| Fuel flow, l/100 km | 33.0 |
| Turn radius, m | 12.0 |
Modifications
Kremenchug automobile enterprise made 2 modifications on a platform KrAZ-6510:
KrAZ-65101, which is a 13.5-ton truck, which is equipped with a diesel engine "YaMZ-238M2" and 5-speed manual gearbox. It was developed in 91-92s. This modification had a pair of fuel tanks and a fuel system heater;
KrAZ-6444, is a large truck tractor, which was created on the platform of KrAZ-6510. The model was launched in 1990. The machine was used in conjunction with an overall semi-trailer.
Also, our guest chassis are often used for the installation platform of crane systems of different manufacturers. Truck cranes have different lifting capacities and performance characteristics. For example, the boom length of 30-ton crane KS-557, with a hydraulic device, is 27 meters.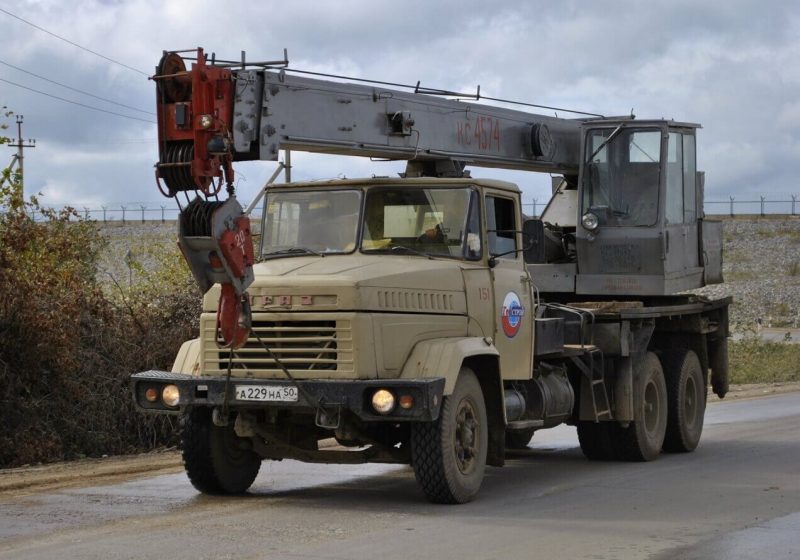 Sometimes a pump unit with a CA 320 tank is installed on the standard model. This cementing model is used for drilling work on wells or overhauls. The system itself is installed on a separate frame, where there are special metal sleds. The pump is driven by the KAMAZ power plant or YaMZ. There is a catalogue of models and superstructures on the KrAZ-6510 in the Internet.
Cost
It is clear that such a new truck KrAZ-6510 cannot be purchased, as they are no longer produced, but it is possible to buy a model in the secondary market. For used car, which has a rather small mileage (2001-2002 year), it will be necessary to pay from 650,000 to 700,000 rubles.
The price will depend on the equipment used. Cars of older production (95-96th years of the twentieth century) are estimated from 250,000 to 300,000 rubles. Also, the possibility of renting a dump truck, which will be estimated at about 950 – 1000 rubles per hour.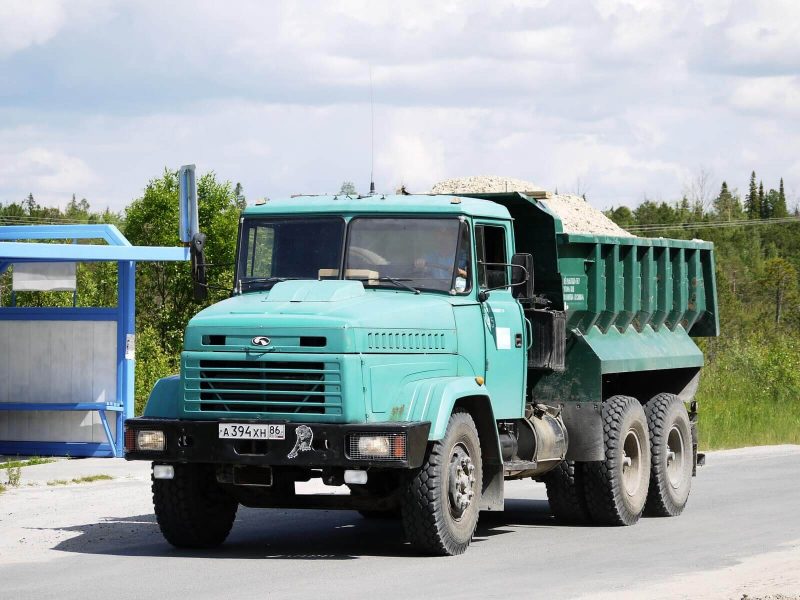 Pluses and minuses
Pluses cars
Not bad passability;
Pretty good ground clearance height;
Good maintainability;
There are no problems with the required parts and parts;
Pretty small price of cargo dump truck;
There are other modifications (crane, concrete carrier, etc.);
High load capacity;
Not afraid to work at different temperature modes;
He has a preheater;
In addition, install ABS;
Not afraid of overloads;
Seamless cab;
He has a hydraulic power pack;
Pretty powerful power pack.
Cons of a car
Older cabin shape;
Low comfort level;
Summer is hot, winter is cold in the cabin
The quality of the materials used in the assembly raises many questions;
Low fuel consumption;
The mower unit is not turbocharged;
No four-wheel drive system;
Last year of production;
Bad visibility.
We sum up
Despite its long history of production, the KrAZ-6510 dump truck is still in use today. It is clear that the level of comfort of European analogues is still very far away, but the car of Ukrainian production can work in such places, where other dump trucks can be difficult.
It is not afraid of temperature changes, overloads, unpretentious, and can also work where there is dust. Therefore, the model is often used in various quarries and mining enterprises. And KrAZ has managed to serve as a faith and truth there for many years now.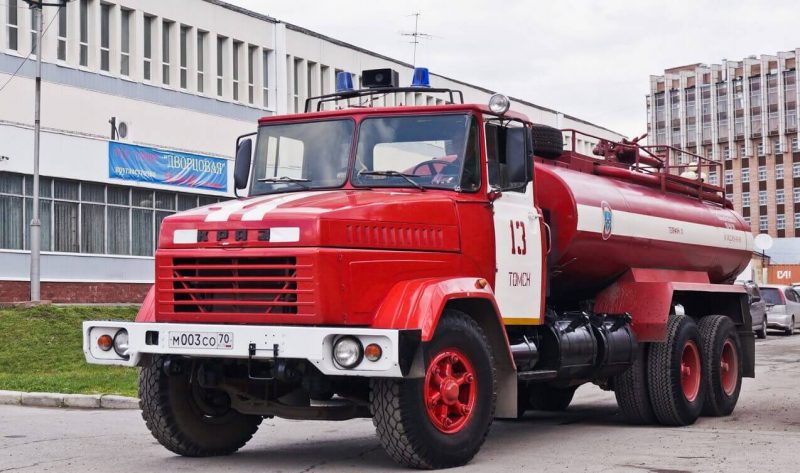 Yes, the machine has not received a four-wheel drive system, does not have the same strong motor as KrAZ-6322. However, this does not mean that the vehicle can only be used on asphalt – its acceptable height of ground clearance allows it to function normally both on rough terrain and on light off-road terrain.
Model is not afraid of overloading, so you can do much less "walking" to save time and fuel. Of course, there are also newer and more advanced models, but if you need a reliable and time-tested employee – KrAZ-6510 – you are at your service.
We advise you to read the article: KrAZ – history of the Kremenchug automobile plant
KrAZ-6510 photo
Video
Similar news