How to choose the right winter tires?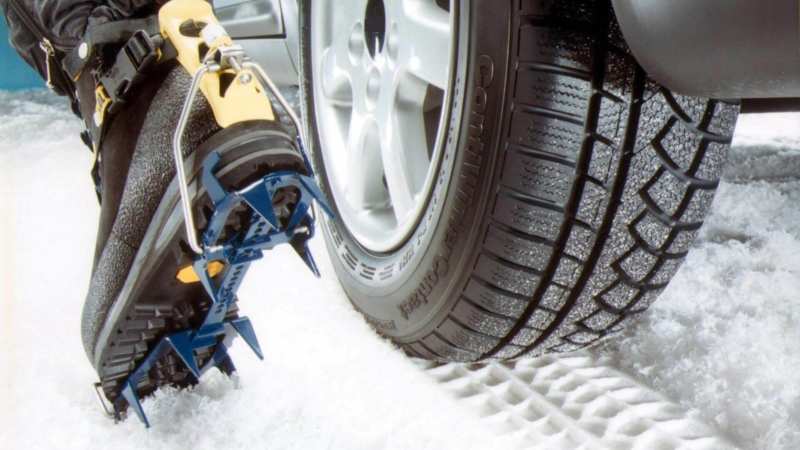 With the onset of the first cold weather, drivers begin to think about what to "shoe" their car with. Every year trends change, new models and even types of tyres appear. How not to get confused in variety, to choose really qualitative rubber for winter? We will tell you about the trends of the season 2018-2019, we will help you with your choice.
Choose tyres: 5 basic criteria
Comfort isn't the only reason to "shoe" a vehicle in November-December. If the motorist knows how to choose the right winter tires and always follows the recommendations, driving will be much safer. For example, a softer rubber is preferable for frequent ice ages and snow-covered routes. Certainly, on asphalt on it too it is possible.
But the tires selected for winter routes on the car will be wiped out much faster. Not every driver can determine the quality by eye, so it is better to buy winter tires in a specialized shop, using the help of sales consultants.
It's an important detail! Going to buy winter tires for crossover, other types of cars, it is worth to prefer models with asymmetric pattern. It is important not only to know which winter tires to choose, but also to be able to correctly install them according to the marks. After installation, they should be located near the nipple.
Buying rubber of excellent quality is an expensive pleasure. That's why some drivers save money and buy kits, which they already used before. Even if the tires look good, the characteristics of winter tires may be far from the necessary qualities.
As a rule, they are designed for 2-4 seasons. But to determine visually how long the product has been exploited, even an experienced consumer will not be able to. But let's return to the five main criteria, how to choose the winter tires and do not miss:
Manufacturer. Of course, there are all types of products on the market today. It's easy to get confused, isn't it? If you choose the best winter tires of the season 2018-2019, take a look at the products of such companies as Michelin, Toyo, Gislaved, Pirelli. Do not forget about the world leader in the production of tires – the company Nokian. By all indicators, these brands have excellent reviews.
Date of manufacture. Most often it is indicated on tires. The product of a new season costs more.
Planned mileage. Another important criterion for those who are interested in which winter tires to choose. Are you firmly convinced that the whole winter machine will "run" long and hard? Buy a set with high mileage.
Load index. As you know, it is the wheels that bear the heaviest load while riding. The manufacturer must specify this parameter on the tire. According to experts, winter tires with an index from 30 to 35% of car weight will be the best option for buying.
Marking. Does not affect the operation, but can tell you what certification standards the product meets. For example, the inscription DOT speaks about a wheel with American certification. The letter E indicates the certification in accordance with the requirements of the European Union. If both parameters are specified, it meets the criteria of two continents.
And one more useful tip to finish. For the summer they usually take wider tires, but with a low profile. For the winter season 2018-2019 it is better to buy tires with a smaller radius, width. You will save a lot of money without sacrificing comfort.
Varieties of rubber, its characteristics
Let's briefly consider the peculiarities of each type of rubber.
European. Designed for wet asphalt. Temperature deviation in the direction of "minus" is allowed. The tires have a diagonal pattern, grooves, providing an outflow of water. In what cases is its use justified? When it is snowing or raining on the street and it is necessary to provide good grip, European tires will be just right. Especially in southern latitudes.
Scandinavian. Well proven in harsh conditions. It has a unique pattern that allows the car to drive confidently on a snowy track. Also in the figure there are small strips, the distance between the elements is decent. As a result, while driving, the car tire pushes through the snow well, is cleared of snow.
Stiffened rubber. Spikes are designed to destroy the ice cover. The spikes can be round, rectangular or even cruciform. The nail-shaped version is considered one of the most optimal. In addition, studded rubber is good for snow drifts. Driving on bare asphalt is not recommended – they will not last long. Please note that studded rubber must be rolled. This is a necessary condition for lapping the spikes and securing them in the tread. Due to excellent grip, high friction force, low braking distance.
Non-sticked rubber. Many drivers are interested in how to choose winter tires for the car, when the forecasters predict rainy, snowy winter? The main rule of choice is not to buy unstitched tires. In our winter conditions they are practically useless.
When selecting studded parts, choose a "golden middle" containing 130 hooks. But the 190- bearing makes a lot of noise.
Let's sum up
Before choosing a tire for a car, you should consider factors such as the date of manufacture, mileage and manufacturer. Taking into account all the above tips, every motorist will be able to make a competent choice. Have a good shopping experience!