GMC Yukon Denali
GMC Yukon jeep begins its history with the beginning of the appearance of jeeps. Unlike other jeeps that appeared at that time, the Yukon has remained faithful to tradition and keeps the most precious things for true SUVs. For example, this is a huge size and it is surely something that many have already forgotten – the use of frame chassis. Thus, the elongated version of GMC Yukon XL is able to tow quite heavy loads, according to the developers, this figure is 3,700 kg. The whole model range is GMC.
Exterior
Looking at M.C. Yukon from the outside, it is easy to conclude that a lot of work has been done on the restyling version by designers and engineers. In the previous generation, the Yukon looked a little childish with a humorous "smile" on his face, and it seemed like the car was a little out of proportion. However, the changes in 2015 were all investigated and corrected. Now the restyled all-terrain vehicle is distinguished by a radiator grille, which is dominated by a large amount of chrome, with large letters "GMC", C-shaped LED lamps and slightly flattened side doors to reduce wind noise while driving in the cabin.
The fog lamps are surrounded by a chrome strip, and the headlamps themselves have a more expressive look, with an attractive shape that flows smoothly further into the hood of the car. By the way, the hood acquired additional lines and folds that gave it relief. Thanks to it, the car became more powerful and assertive. Sideways, the car has not undergone cunning patterned forms. Paying attention to the stern of the GMC 2015 SUV, you can see a spoiler underneath which there is a windscreen wiper, and if not used, the driver gets a full view.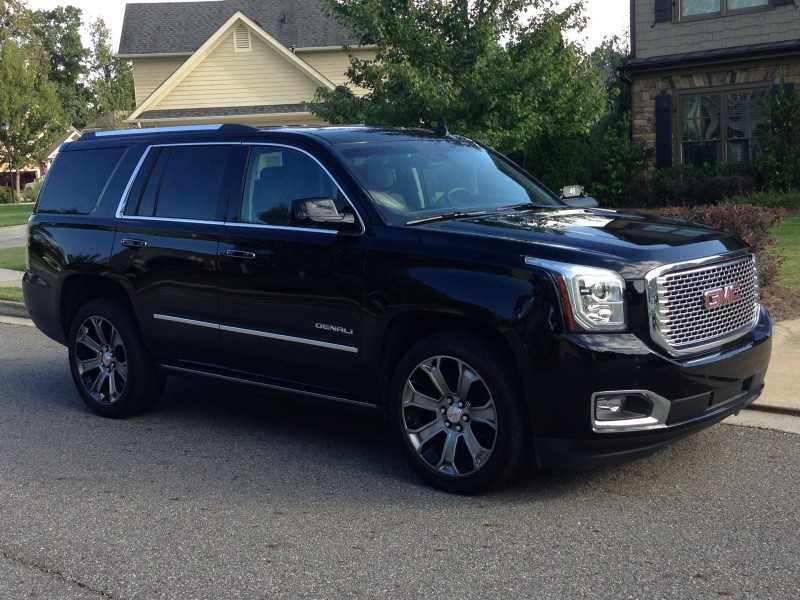 Rear lights made of LEDs and add a touch of zest to a car with these dimensions. In the standard version, Yukon can boast 18-inch wheels, and in the version of the top (Denali), 20-inch. If desired and additional payment, the company will install even 22-inch rims. His brother also appeared on the market, which in the brand XL lengthened by 35 cm, and was equipped with a folding 3-row seats. This car is a great choice for large families, for whom the factor of combination of transportation of passengers and various cargoes with huge luggage is important.
Interior
GMC Yukon jeep is immediately noticeable for its updated lighting, completely different dashboard, clear audio sound from Bose and quality cover materials. Sitting behind the wheel, you can feel the restyled seats, with a double layer of foam, made of high-quality leather, which contribute to better ventilation and have the function of heating and cooling.
A large central console, rich in USB and SD-card connectors, a 110W socket and a laptop compartment will not leave any driver indifferent. The restyled model has a height-adjustable luggage door, a laminated front window and an 8-inch radio and navigation touch screen. The salon is rich in space. If you add up the weight of the seat, you can get 2.7 cubic meters of usable space. The salon can accommodate up to 8 people. The interior has a good soundproofing, which is achieved thanks to noise-absorbing glass.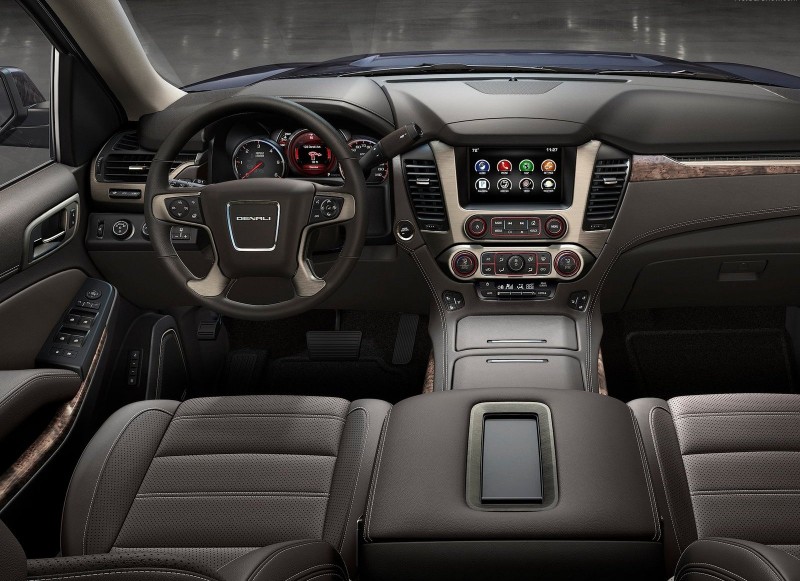 Specifications
Under the updated aluminum hood of the GMC Yukon jeep appeared a 6.2-liter V8 engine, which is included in the standard equipment. It can produce 420 hp. It works in pair with this engine with a 6-speed automatic transmission (Hydra-Matic 6L80) with the function of switching to idle mode of half (4-cylinder) engine.
I was pleased with the magnetic smooth running function, which even comes in a basic configuration. With its help, the car, weighing 2730 kg, can be felt very easy when driving at high speeds. At a low speed, the steering wheel rotates easily, and when gaining it – the steering wheel is made more rigid. Moreover, the chassis of M.C.Yukon Jeep is made of high-strength steel by 75% and provides reliable contact with the road while driving. Electrical stability control with trailer stabilization and climbing assistance is also available.
Complete sets and prices
Buy American GMC Yukon jeep is available from 6 213 000 rubles. It is clear that in the U.S. car will cost much cheaper. In an additional complete set it is possible to order disks by alloy from 18 to 22 inches.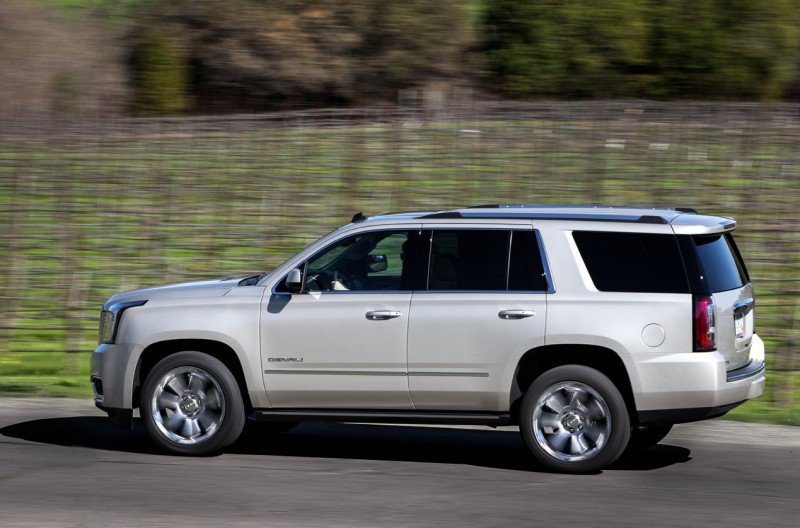 We sum up
In short, it is clear that the Yukon exterior designers have done a successful job without fanaticism. The car became more serious, but left its classics. The salon is just impressive. The car is perfect for large families and traveling, as there is a possibility of joining the trailer.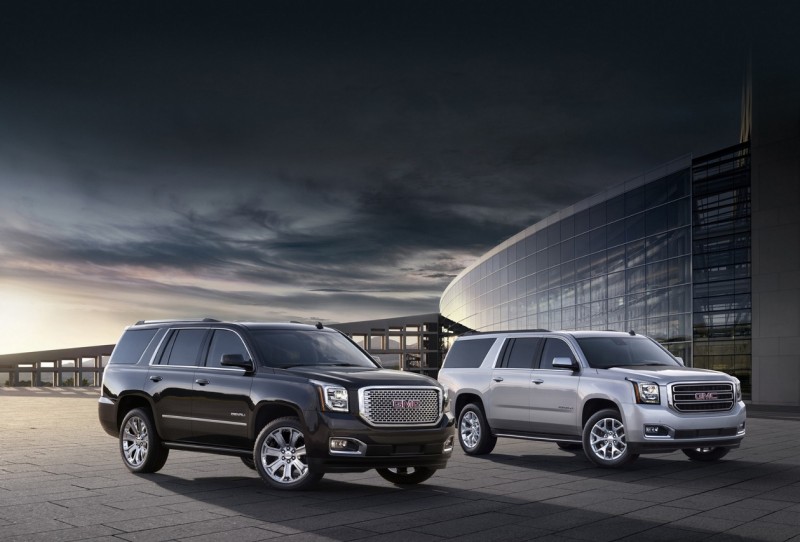 We advise you to read the article: General Motors History
GMC Yukon Denali photo
GMC Yukon Denali drawing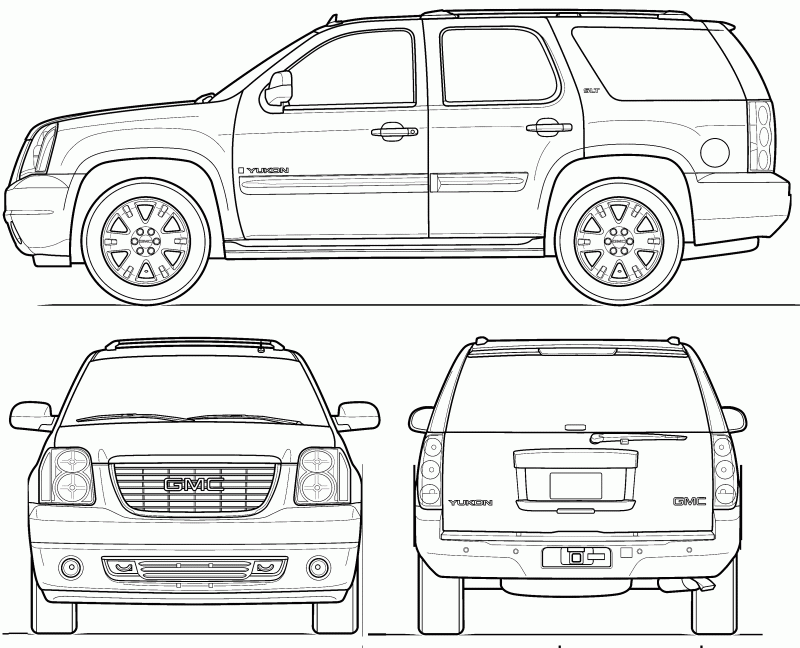 Video overview
Similar news