Luxgen 7 SUV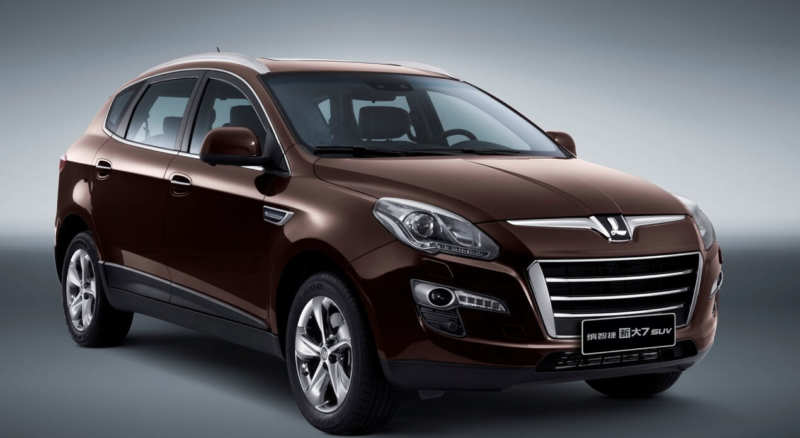 Three years ago in Moscow there was a solemn premiere of the little-known in our country Luxgen brand from Taiwan. In September 2013, the medium size SUV Luxgen 7 went on sale. Full-value production was launched directly in Cherkessk at the enterprise Derways. In general, the correct name of Luxgen brand is Luxgen – Laxgin, but we purposely call it Luxgen. This is more convenient and easier.
The brand name is based on two English words – Luxury or luxury, and Genius, also known as "genius". In just seven years of the company's existence, the Taiwanese have made a brilliant leap forward. Luxgen 7 is positioned as a representative of the premium segment, which remains relatively accessible to mass buyers. The whole model range is Luxgen.
Exterior
The design of the seventh Luxembourg is at least unusual. The determining role in this was played by a large head optics and a massive grille. If you look at the profile, the crossover looks like a pearl-shaped Infinity Ex. In our opinion, the front of the car is its weak point. Look at Luxgen 7 photo – you will see strange little grilles, strange shape of radiator, headlights.
Somehow everything is a little tedious and ugly. The back of the car looks a little better, the feeling of "tastelessness" does not arise. The nose part of the car has a considerable bumper, which in turn closes a considerable vertical "nose". On the central part of the machine there was a "trapezium" of the radiator grille, which received a chrome frame and 2-storey air ducts made of black plastic on both sides.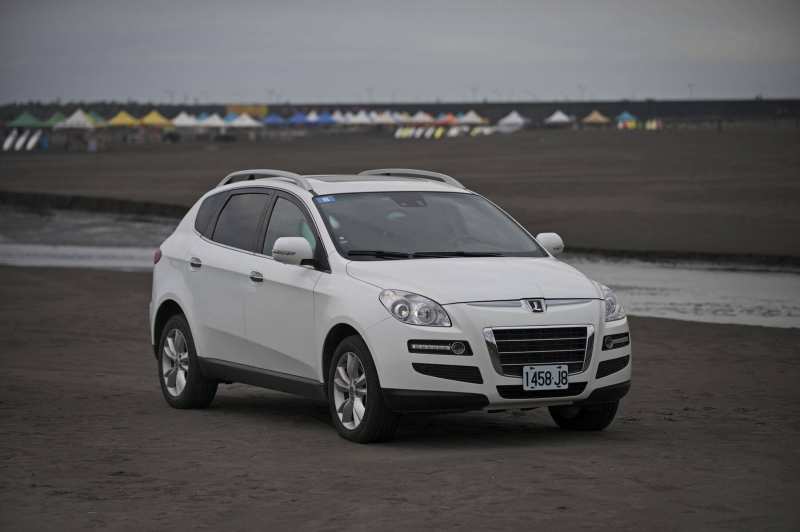 Located at the top, they were decorated with LED ribbons of daytime running lights. The fog lamps had their place quite high, almost near the headlights. The U-shaped headpiece, which has a U-shaped shape, as if "hugging" the radiator grille, stylish ribs pass through the surface of the hood and smoothly attaches to the front roof posts. The bonnet infusions into the wings have headlamps, almond-shaped.
The ancestor resembles the Peugeot 3008 indirectly. The side part of the Taiwanese car contains considerable openings of doors, ascending line of side windows with "armrest" which turned out to be rather high, rib at the level of door handles, wheel arches verified accurately which wheels of a light alloy calculated on 18 inches easily place in themselves, a roof dome with a spoiler and a compact aft part in style of today's bodies of a crossover, such as a coupe.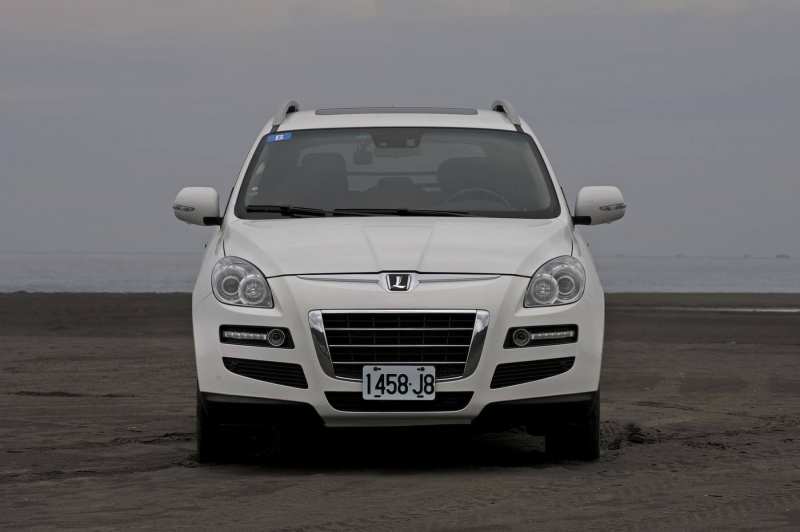 If you pay attention to the aft part of the car, it differs narrowly sized lamps, which are made in the style of LED system, a small luggage compartment door, a stylish bumper with auxiliary elements of lighting equipment and built-in exhaust pipes, which received a trapezoidal shape. The car was not bad, with proportional and nice qualities. Of course, something was purchased from other car companies, but we can confidently say that the model was original.
Interior
This is where the Taiwanese designers guessed. First of all, with space. After all, having a length of 4.8 meters (it's more than Volkswagen Touareg's title="Volkswagen Touareg" href="/655-avtomobil-volkswagen-touareg.html">Tuareg 2015), we can not doubt the availability of free space both in front and behind. The interior finish is medium in quality. This is not China anymore, but also not premium models of famous European brands.
If the exterior of a Luxgen 7 car raises more or less controversial questions, when you get into the interior you stop a little, surprised by the unexpected luxury. The interior has received leather trim, not leather substitute, but real leather. It was covered with door cards, the lower part of the front torpedo and the central tunnel, steering wheel, and seats were covered with perforated leather, which slightly hints at the function of heating and ventilation.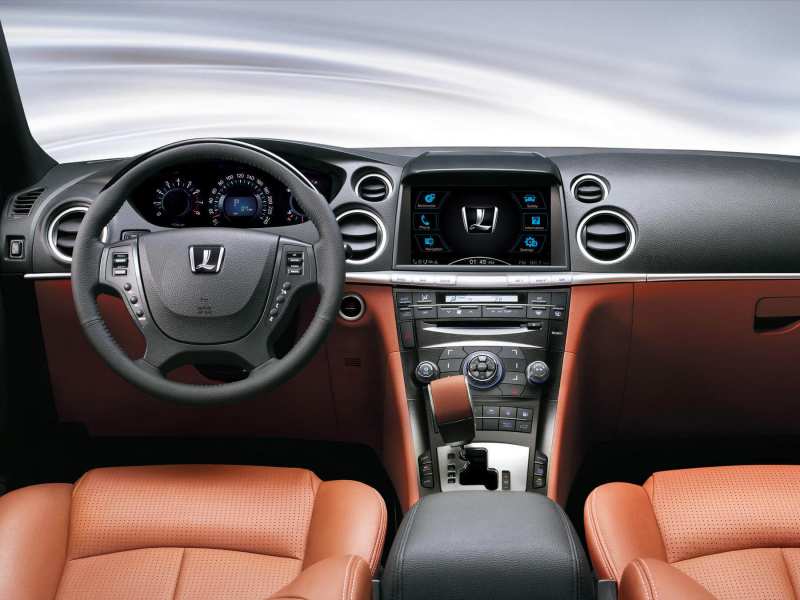 The driver's seat has an excellent profile and clearly defined side support rollers. The large, slim rim steering wheel can be adjusted purely in height, with a large torpedo flowing through the large console into a floor tunnel as high as it looks. In the middle of the central panel there is a 10.2 inch LCD display.
It displays a picture from 4 cameras, which provide all-round visibility, navigation maps, video from the night vision camera, to make adjustments to the multimedia system, 3-Zone climate control. The console, which is located in the center, has a scattering of keys, and to get used to them and know what is responsible for, it will take time. The first row of seats has sufficient free space.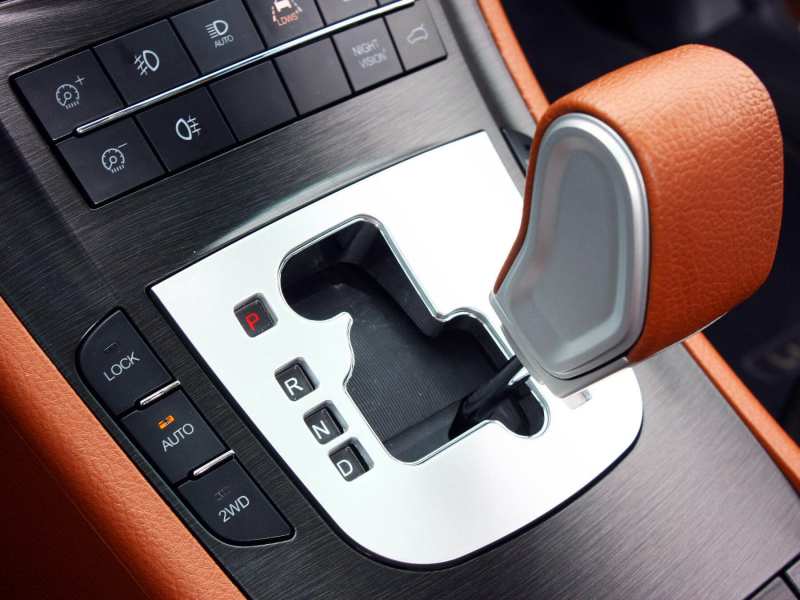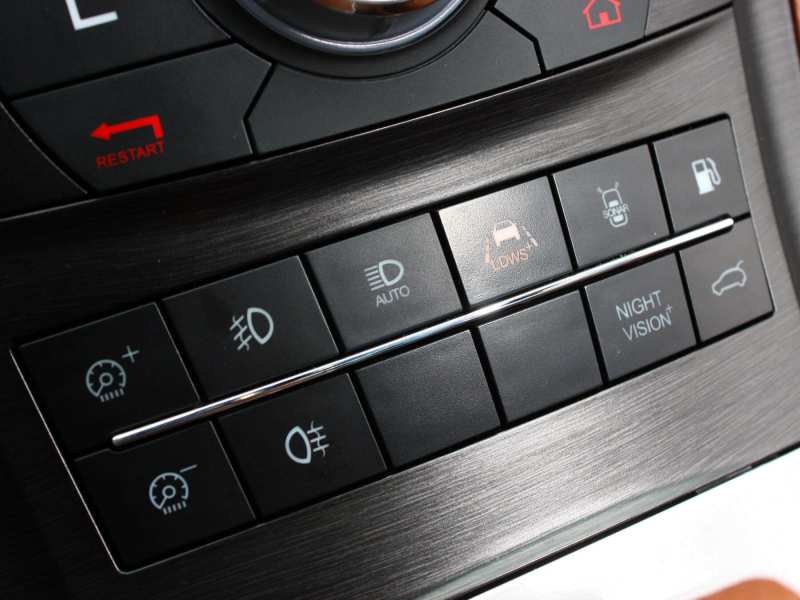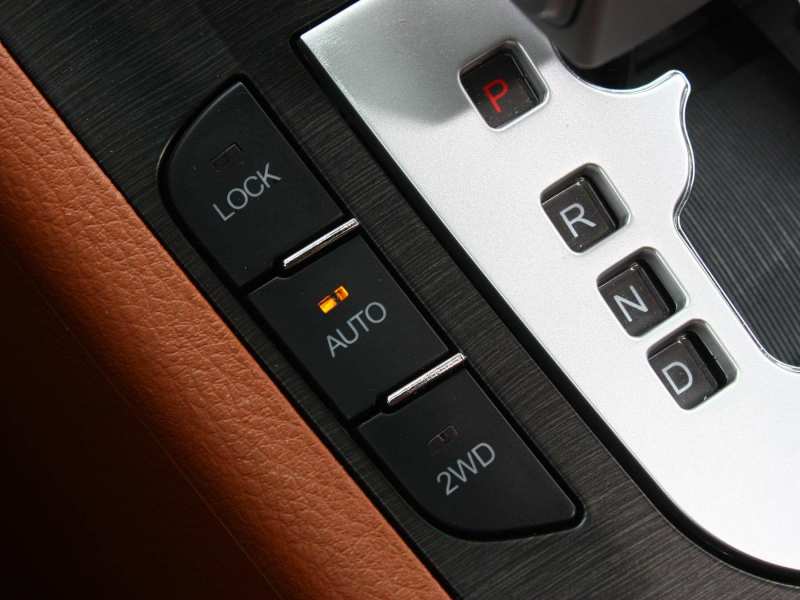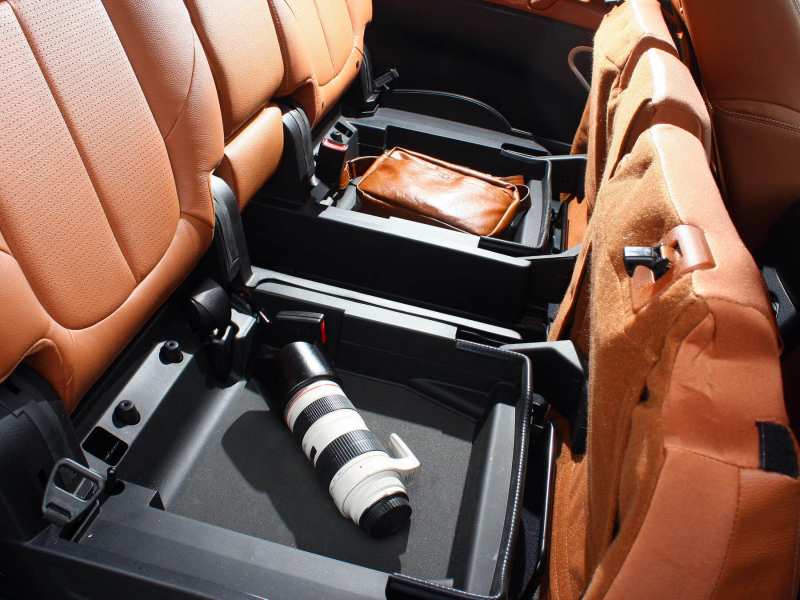 In addition, the seats are electrically powered. As for the rear sofa, there is no less free space here, so even three tall basketball players can comfortably fit in. The rear seats can be moved forwards and backwards with the help of skids, the backrest can be adjusted to the angle of inclination, and there are ventilation system's own deflectors. The floor is flat.
Luggage compartment is really huge, but its exact volume is still unknown. The Luxgen 7 SUV crossover model in its list has a lot of useful functions. Thus, there is a "smart" electric luggage door drive, which was trained to monitor the possibility of full opening of the door.
In practice, it will help in crowded parking or in the garage, where there will be not enough space for the door and it will not go up to the maximum opening, protecting itself from possible damage. There is also high-end music from the Hi-End system by Clarion, which is equipped with JBL loudspeakers, and the sound quality is excellent. The dashboard is fully electronic.
There's relatively little soft plastic inside. Any flaws you can find here are just pale before the impressive high-tech stuffing. What's worth is a side camera that turns on every time you turn on the turntable. The image is then displayed on a 10 inch monitor.
An interesting option of Luxgen Seven car is an anti-theft system. In case of a threat, the driver's seat leans forward so much that nobody but the owner can return it to its place and get behind the wheel. It is clear that a professional car thief is unlikely to stop it, but still.
Specifications
Powertrain
Under the hood the user will find only a 2.2-liter turbo engine with 175 horses and fuel consumption of 11-12 liters on a straight line. In the city mode the ride will have to be given 15 liters for every 100 km. There will be two drives – both front and rear. Thus the back-drive Luxembourg car will be higher on 4 sm.
On the road, the Taiwanese is disappointing. At high revolutions, the engine frankly lacks traction, and the sensitivity of the steering wheel leaves much to be desired. Noise insulation also failed – sometimes the engine buzzing is too loud. Speaking for the technical characteristics of Luxembourg 7, this car is designed on the basis of front-wheel drive cars, and optionally it will be possible to order all-wheel drive version with electromagnetic clutch, which serves to turn on the rear axle, from the company Getrag.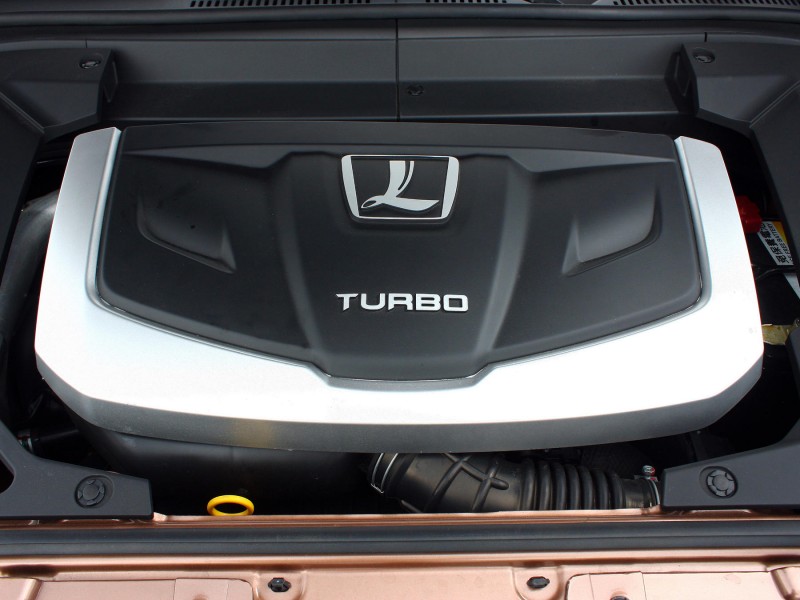 There will be three operating modes – 2WD, Auto and Lock. Speaking of suspension, it is worth mentioning that McPherson racks have been installed in front of it, and behind it there is a rotating beam with the Panara thrust. Hydraulic power steering is also installed, the brake system is represented by disc brakes, and there are a lot of electronic functions – ABS, EBD, BAS, ESC, TSC, BOS.
The power unit is synchronized with the 5-speed automatic gearbox. In addition, manual mode will be available from the Japanese company Aisin. The electronic system is able to adjust to the driver's manners, choosing from 10 existing provided algorithms of functioning. Speaking of which, such a large crossover would be better with a more powerful powertrain, because its competitors outperform Luxgen 7 in this respect.
Dimensions
Crossover Luxgen 7 has the following characteristics: length – 4 800 mm, height – 1 760 mm, width 1 930 mm, wheelbase 2 910 mm, ground clearance is 175 mm, which is very good, because such a clearance will be only by the way on our roads.
Safety
The novelty has a complete set of AirBag, which includes curtains on the sides and ABS system and electronic distribution of braking forces. There are a total of 9 cushions. Luxury is equipped with top-ranked passive safety features, as were built in and adjusted for crash-tests by the German company Continental. Active safety options were developed by Delphi from the USA.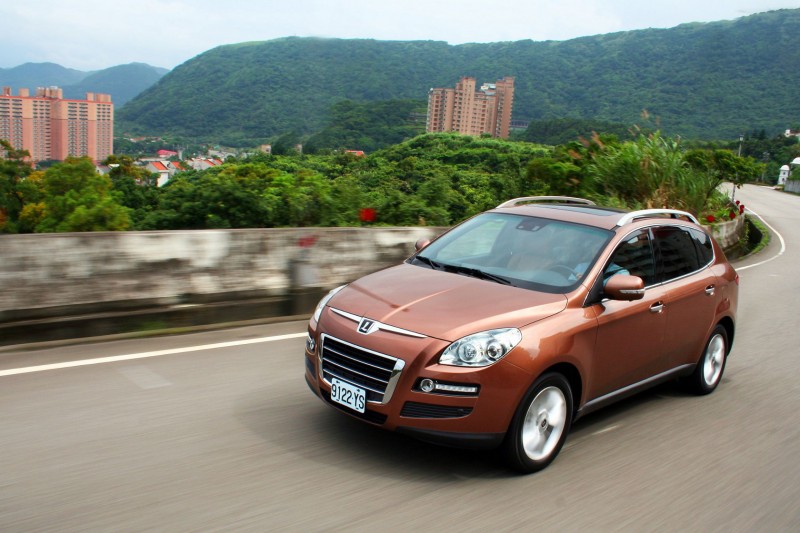 After passing a large number of crash-tests and related works, active together with the passive security system Luxembourg 7 are ready to provide protection of human health, which is certified by international institutions.
Different electrical systems help to ensure predictable vehicle behaviour on the city's roads and good off-road handling. When the vehicle approaches the separation line and the turn signal is not activated, the service will inform the driver of the lane departure by means of a sound signal.
Complections and prices
Since Russia is considered by the Taiwanese manufacturer to be the main market, three variations of this car have been released for our country at once. Basic equipment Luxgen 7 SUV will cost the buyer $20774,61. There is no all-wheel drive here, nor all the multimedia stuffing, leather interior, functional wheel and ESC/TCS systems, which were described above.
Having added 180 000 rubles, it is possible to count on occurrence of some options. Maximum equipment "Prestige" costs $25338,73. The cost of the car is justified, because the manufacturer compares his brainchild with Hyundai Santa Fe, Toyota Rav 4 and Mitsubishi Outlander.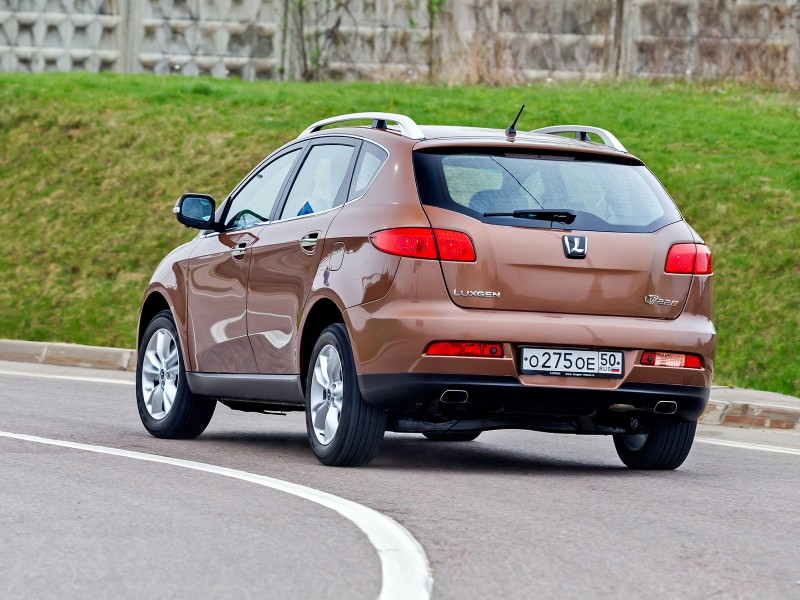 The basic modification has a front-wheel drive system, ABS, EBD, BAS, BOS and anti-theft services, start of engine operation with the help of a button and opening of doors without a key, parktronic, folding electronic side mirrors, electric drive of the rear door.
The medium version "Comfort+" is already available with all-wheel drive, which operates in 3 versions. Maximum comfort is available in the "Prestige" version, which features a combined leather interior trim, a circular video surveillance system and a navigation system.
The standard equipment has the following list:
ABS;
Availability of climate control;
Electric windows on each door;
Forward AirBag;
Function of heating on the front seats;
Driver's seat electric drive with memory option;
Availability of an on-board computer;
Multimedia system;
Capability of keyless access to the salon;
Rear parktronic;
Cast wheels;
The presence of an anti-theft alarm system.
Medium equipment "Comfort" can boast of additional devices:
Absence of side airbags;
Availability of a stabilization system;
Wheel-drive version;
The seats are made of leather;
Mirrors with electric drive;
The driver's seat has a massage option;
There are inflatable security curtains.
Prestige" has at its disposal the maximum set of equipment, except for the already available:
Few cameras for all-round visibility;
Rear view camera;
Night vision system;
Cruise control available;
Forward parktronic;
Electric hatch drive;
Light sensor;
Roller wheel with different options;
Driver's seat has ventilation and massage.
Pluses and minuses
Pluses cars
Good gearbox;
Multitude of cameras (and night vision camera);
Small 10.2-inch screen;
Unique anti-theft system;
Cabin space on any seat row;
Large luggage compartment;
Rich electric stuffing;
Good level of active and passive safety;
Availability of sockets (12V);
Pleasant view and quality of the interior;
Admissible ground clearance.
Cons of a car
Controversial appearance of the car;
Swivel castor adjustment in one direction only;
The chairs are not very comfortable;
Not a quality rigid plastic;
Complaints on automatic transmission operation;
Still a weak powertrain, as for such a large crossover;
Rigid suspension;
High fuel consumption;
The steering wheel sometimes closes the dashboard readings;
High value car.
We sum up
Undoubted advantages of Luxgen 7 SUV are its impressive size and solid appearance, rich equipment and good controllability. There are also disadvantages – for example, too high price and small errors in ergonomics. At the same time, it is felt that Taiwan is ready to conquer the Russian market and further, that Luxembourg 7 is one of the first swallows, which will be more than one dozen.
We advise you to read the article: History of Luxgen Motor
Luxgen 7 SUV photo
Drive Test
Video overview
Similar news